If you've seen Bajrangi Bhaijaan, the Salman Khan hit with the most adorable child actor, you'll know who Chand Nawab is. Even if your memory is a little foggy, you'll soon remember who he was and this news will be even more interesting! The real Chand Nawab is here and he's looking to earn some heavy cash.
Who Is Chand Nawab?
Chand Nawab is a Pakistani reporter/journalist. He made a video in 2008 in which he was trying to report how people were excitedly rushing home from Karachi. The video went viral on Youtube because he was unable to report it due to the clamor of people and their constant interruptions. His annoyance at that is also visible in the video which is why it became so viral, it's actually really funny.
This being Chand Nawab's short meeting with fame, he was granted another chance to stardom in 2015.
Bajrangi Bhaijaan version of Chand Nawab
The Salman Khan starrer Bajrangi Bhaijaan was released in 2015. It became a huge hit at the box office but here's the catch. The character that Nawazudin Siddique is based off on is the same viral reporter. Siddique acts as the Pakistani field reporter who doesn't have a really successful career until later.
They have recreated the scene of Chand Nawab's viral video in the movie. This gave the OG Chand Nawab even more fame. Many remembered him and started reminiscing about his videos.
The Video Can Be Yours
The Karachi Se video has won the hearts of many. "Karachi se log apnon mein Eid manane ke liye androoni mulk jaa rahe hain. Cameraman Kamil Yusuf ke saath, Chand Nawab, Indus News, Karachi," are the iconic lines. The Pakistani Journalist had no idea at the time that such a simple and routine coverage would become a global hit. 
Chand Nawab rocks yet again but this time not for 'apno mein Eid manane' pic.twitter.com/6mgBMrr5bT

— Fazil Jamili (@faziljamili) June 28, 2018
If you love the video too much, it can be yours. Chand's video is up for sale as a Non-Fungible Token (NFT) on the Foundation app. The minimum bid is 20 Ethereum Tokens which becomes almost Rs 46 lakh.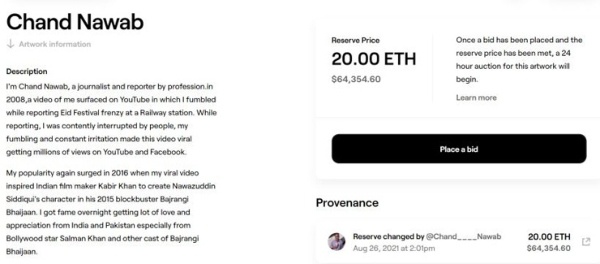 The description reads, "I'm Chand Nawab, a journalist, and reporter by profession. In 2008, a video of me surfaced on YouTube in which I fumbled while reporting Eid Festival frenzy at a Railway station. While reporting, I was contently interrupted by people, my fumbling and constant irritation made this video viral getting millions of views on YouTube and Facebook…"
Stay tuned to Brandsynario for the latest news and updates.