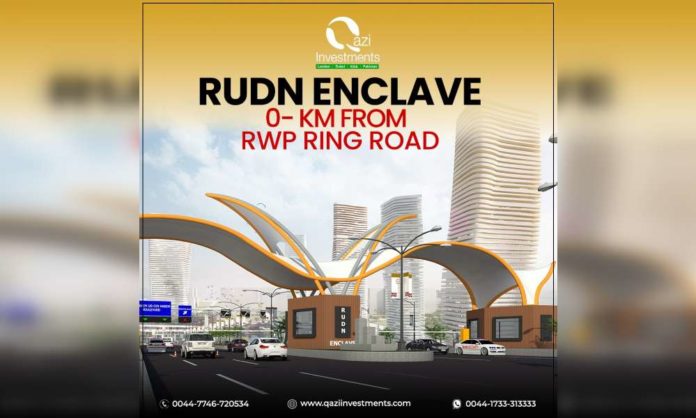 In the real real estate business what matters most is the location of a property. Location enhances the value of your property of any type. Homes in places with little expansion potential are more valued than those in areas with plenty of space. Consider a neighborhood's accessibility, aesthetics, and amenities, as well as future development plans. The proximity of property near landmarks like busy highways and community centers may make it less resaleable.
An emerging project called Rudn Enclave Rawalpindi is set to be the next great thing in Pakistani real estate. On a national and worldwide scale, Rudn Enclave aspires to become an exclusive indulgence. The area that Rudn Enclave in Rawalpindi covers is more than 3000 Kanal
Rawalpindi Ring Road
The Islamabad-Rawalpindi Metropolitan Area is extremely important to Pakistan's economy. It consists primarily of the twin cities of Islamabad and Rawalpindi and is the country's third most populous metropolitan area. Both cities are linked by road and metro bus, and their economies are intertwined. Rawalpindi is also a key logistical and transportation hub for Pakistan's northwestern region.
The National Highway N-5 is one of the country's most essential national transportation arteries. The 1,819-kilometer route connects Torkham, Peshawar, Islamabad, Lahore, and Karachi, as well as other important economic cities. This corridor is home to 96% of external trade and 65% of all inland freight flows. The portion of N-5 that passes through Rawalpindi's central neighborhoods is one of the major bottlenecks.
The development of the Rawalpindi Ring Road will aid in the alleviation of the N-5 bottleneck. It will relieve congestion in Rawalpindi's central regions, as well as free up space and reduce travel time for non-motorized traffic, public transportation, and commuting vehicles. Rawalpindi ring road would also help the city of Rawalpindi grow in a planned manner towards the south-western edge.
The city's position as a national transport and logistics hub will be enhanced by separating strategic movements toward the southwest area of the city from local traffic. Furthermore, the city's northeast section as well as Islamabad will have enough room for livability, job generation, and other service or industry growth. It will also help to cut down on fuel usage, vehicular noise, and air pollution in the city.
How Rawalpindi Ring Road would be beneficial for Rudn Enclave?
The Rudn Enclave basically connects the 5 routes with itself.  It is situated at a prime location in Rawalpindi's Adyala Road. This location is approximately 20 kilometers away. In addition, because the project Rawalpindi ring road is only 400-500 meters away from Rudn Enclave.
As the location of Rudn Enclave is connected to Rawalpindi Ring Road, which is the most encouraging feature. The freshly proposed Ring Road Rawalpindi passes right beside Rudn Enclave's Gate 1. Rudn Enclave Rawalpindi is located on Adyala Road in Rawalpindi, close to the Lahore Islamabad Motorway M2, the CPEC Route, and the New Islamabad International Airport. Besides, after the completion of Rawalpindi Ring Road, the value of Rudn Enclave would skyrocket.
Furthermore, it is expected that the designers will create a fourth entrance that connects the private local area to the Lahore Islamabad Motorway M2, the CPEC Route via Chakri Road, and the Chakri Interchange.
This private community does not really have a focal point, although it is surrounded by sophisticated and upscale networks such as Bahria Town Phase 8, DHA Phase-II, New Islamabad International Airport, Rawalpindi, and Islamabad.
Furthermore, the National Highway, N5, Grand Trunk Road is around 45-50 minutes away, Chakri Road is 29 minutes away, Phase 8 Bahria Town, Rawalpindi is 31 minutes away, Saddar, Rawalpindi is 48 minutes away, and Rawat Chakbeli Road is roughly 24 minutes away. Similarly, Islamabad farmhouses are 9.8 kilometers away from this newly developed community.
As above all locations, Rawalpindi Ring Road is the most encouraging feature of this project because the Rudn Enclave project is developed within the boundaries of Rawalpindi Ring Road. It bisects the Rudn Enclave society which means half of the society's area falls under the  Rawalpindi Ring Road.
The main perk of the area falling in Rawalpindi Ring Road is that the commercial plots, residential plots, and farmhouses that were booked at old rates, their prices are increasing now. Commercial plots are of 4,8  marlas and 1 Kanal and residential plots of 5,7,10 marlas and 1 Kanal and farmhouses are of 4 and 8 kanals. If we talk about the commercial plots, initially the plots were booked at 22 lacs with the down payment of 20% a year ago. Now the plots of a good category will give you the profit of 5-7 lacs on average. Farmhouses give 2.5 lacs profit on average.
Overseas Block
Overseas Block will be launched soon by Rudn Enclave, a new housing society with the best location. It is a well-planned and eagerly anticipated block in this society. The best houses at unbelievable pricing will be featured in Overseas Block. This block is producing a variety of appealing residential and business properties.
The most expected property deals will be available at Rudn Enclave Overseas Block. Qazi Investments provides complete guidance and consultancy regarding investments in overseas blocks. This block will provide you with the best residential and business properties available. Plot sizes of 5 marlas, 7 marlas, 10 marlas, and 1 Kanal are expected. These plots will all be offered in manageable portions.
Now the question that is being constantly asked is why the development of Rudn Enclave has not started yet? It is because, as mentioned above, the Rawalpindi Ring Road is passing through society and the development has not started yet. It will be inaugurated on 25th December 2021. As soon as the development of Rawalpindi Ring Road will start, the builders of Rudn Enclave will also start their development work.
If you people invested in Rudn Enclave then it is good news that you are in safe hands and incoming time you will get a fruitful profit from your investments.