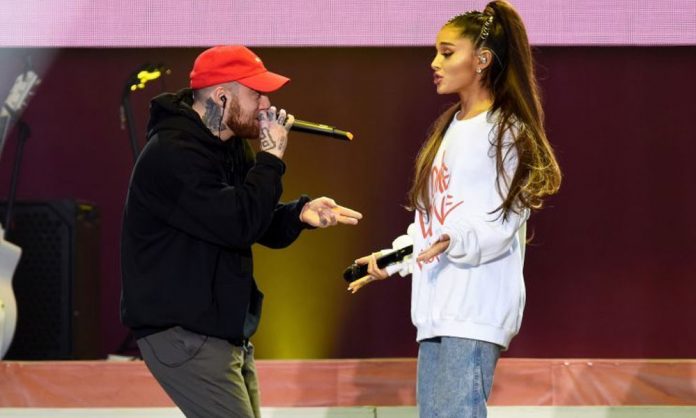 The artist, who just a month ago released his fifth album whose new maturity and introspection won him once-elusive critical acclaim, was found unresponsive at his Los Angeles home by emergency personnel who pronounced him dead, the coroner's office said.
His family confirmed his death in a statement, calling the rapper born as Malcolm McCormick "a bright light in this world for his family, friends and fans."
Neither side revealed his cause of death, but the celebrity news site TMZ, which first reported the death, cited unnamed sources as saying he had overdosed on drugs.
Miller's death comes several months after he ended a high-profile, two-year relationship with pop superstar Grande, who was often seen as the inspiration for his songs.
She guest-starred on his 2016 album "The Divine Feminine," and a year later Miller — sporting his signature baseball cap above his tattooed neck — welcomed Grande on the airport tarmac when she returned to the United States following the deadly attack on her concert in Manchester.
In May, shortly after their breakup, Miller crashed his car and was charged with driving under the influence.
Grande at the time wrote on social media that she had long tried to help Miller become sober but described their relationship as "toxic" and said, "I am not a babysitter or a mother and no woman should feel that they need to be."
Grande, who quickly became engaged to comedian Pete Davidson after splitting with Miller, did not immediately comment on the rapper's death but blocked comments on her Instagram page after a slew of critical remarks.
– Open about struggles –
Miller has been open about his trouble with substance abuse including an addiction to powerful cough syrup — known on the street as purple drank.
He addressed both his drug use and his fragile emotional state on his latest album, "Swimming," and said he was improving.
He told Rolling Stone when the album came out: "Have I done drugs? Yeah. But am I a drug addict? No."
In an interview published just days before his death, Miller told New York magazine he was trying to tame his negative emotions.
"I don't want to be depressed. I want to be able to have good days and bad days," he said.
Born in Pittsburgh, the rapper first found fame releasing music online as a teenager, choosing a minimalist style with heavy beats that harked back to early hip-hop.
His delivery was uber-masculine, with hard-spit lyrics that often graphically described sexual encounters. On his debut album "Blue Slide Park," which went to number one on the US sales chart, he introduced himself: "I ain't no hipster / But girl I can make your hips stir."
But Miller gradually tried to evolve from his frat-boy image. His later work incorporated jazz elements and he was set to tour later this year with Thundercat, the wide-ranging bassist whose music has gone from experimental hip-hop to thrash metal.
– Feud with pre-White House Trump –
In 2011, Miller wrote a song about becoming fabulously wealthy and, seeking a metaphor, entitled the song "Donald Trump."
The future president was flattered by the song, although he described the lyrics as "a little hard to understand." Trump hailed Miller as "the new Eminem" — the most famous white rapper.
After Trump's surprise political ascent, Miller reversed the message of the song and would vociferously denounce the mogul in concert. Trump in turn changed his mind about the song and said he deserved to be paid royalties.
Tributes to Miller came from rappers including Wiz Khalifa, a fellow Pittsburgh artist who took Miller under his wing. Khalifa tweeted, "Praying for Mac's family and that he rest easy."
Chance the Rapper credited Miller with helping him early in his career and called him "one of the sweetest guys I ever knew."