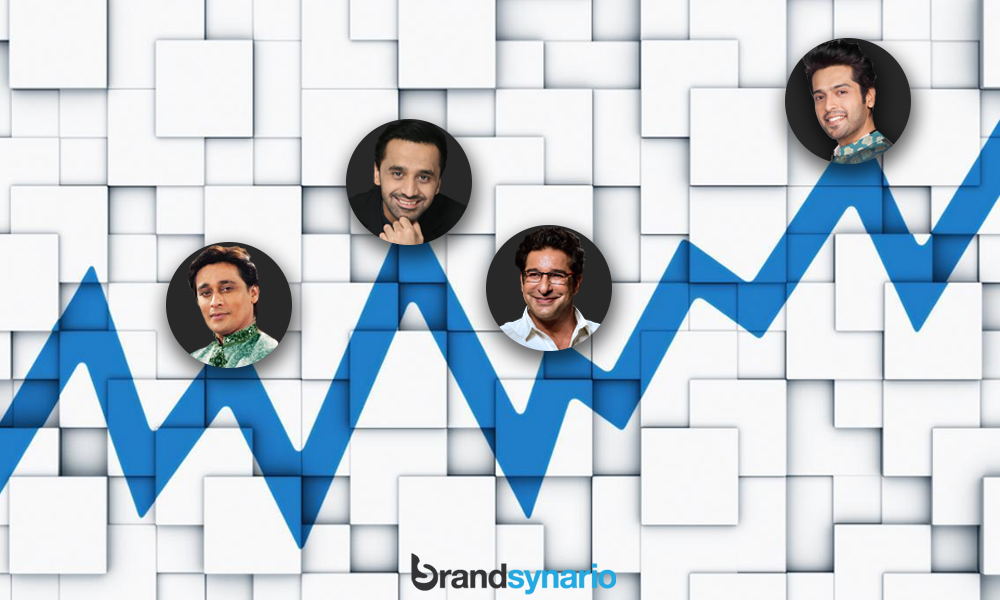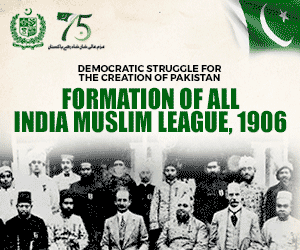 For our entertainment industry, Ramadan kick starts an aggressive tug-of-war between our television networks. Seemingly, T.V sets have been hijacked by multiple rounds of uninterrupted transmissions for the Holy Month, aired on almost every channel.
Gone are the days of simple spiritual shows regarding the sanctity of these blessed days, Now Ramadan Transmissions 2017 are a package of Sehri, Iftar and Post-Iftar entertainment.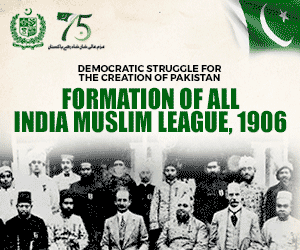 Television networks literally leave no stone unturned to offer round-the-clock transmissions to keep the viewers hooked to the screens. Undoubtedly it's a yearly ritual now that Ramadan becomes the prime, rating-reaping season and the bitter battle of ratings between the broadcasters intensify.
But who is being the best at this money-making & rating-reaping game?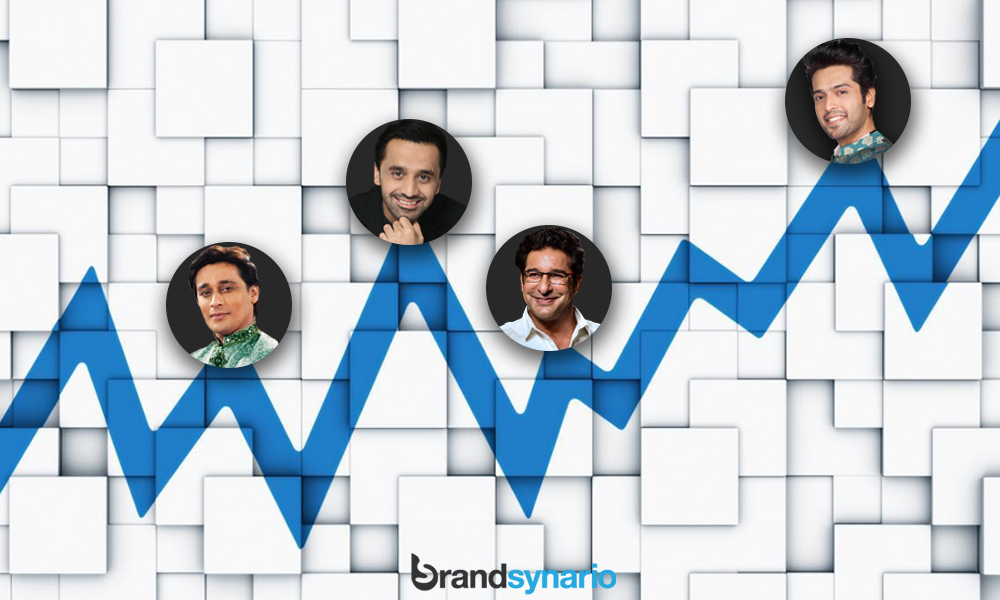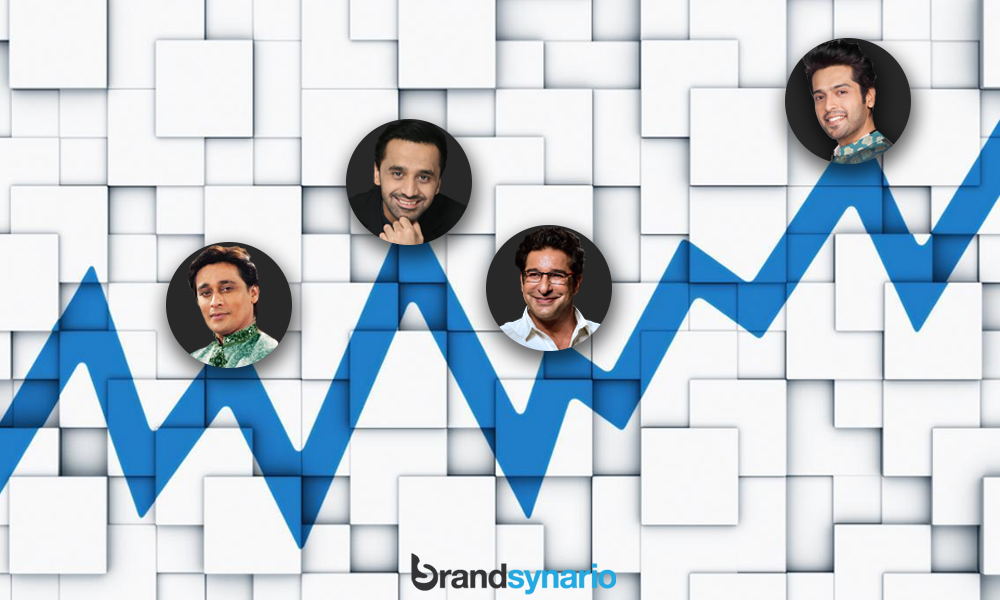 Take a look at the average ratings of Sehri Transmission for 1st Week of Ramadan (1st Ramazan – 8th Ramazan)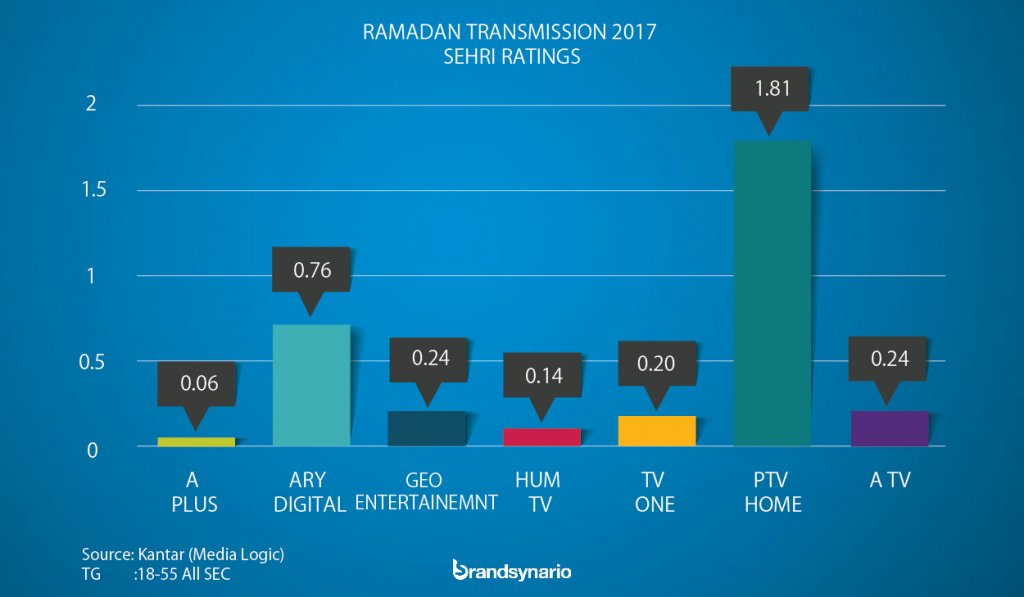 Evidently, amongst entertainment channels, ARY is taking the lead with average ratings of 0.76. However, PTV takes the chunk amongst terrestrial channels with an average rating of 1.81.
And guess who is rocking the Iftar Transmission 2017 ratings for 1st Week of Ramadan (27th May-4th June)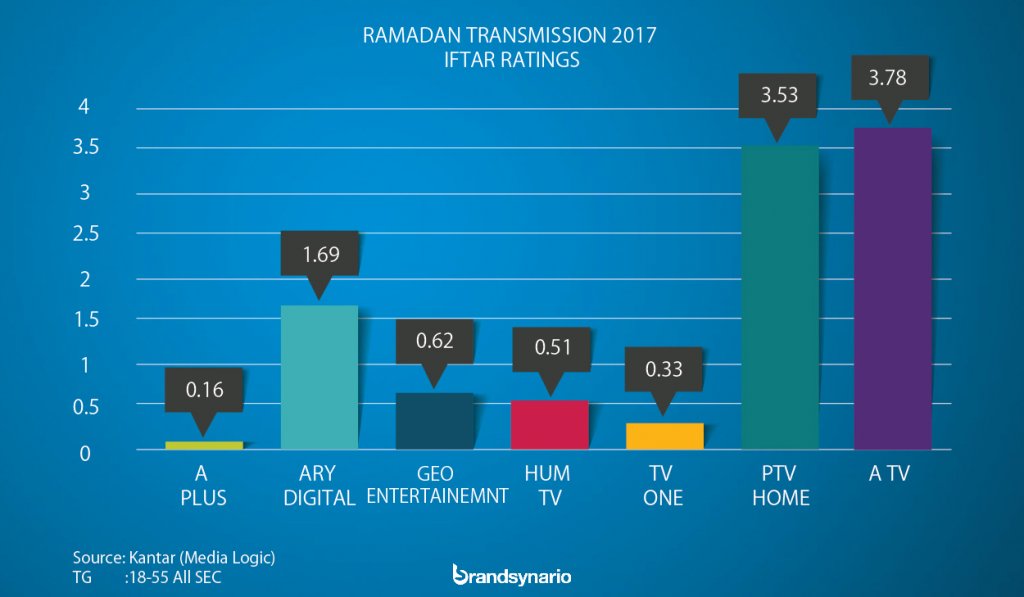 Amongst entertainment channels, ARY takes the lead all over again with an average rating of 1.69. Geo did not reap even half of ratings of ARY, achieving an average of only 0.62. Seems like so many hosts on its transmission failed to work their magic.
However, there is a tough competition going on between the terrestrials, ATV and PTV!
And last but not the least, check the average ratings of Post-Iftar Transmission 2017.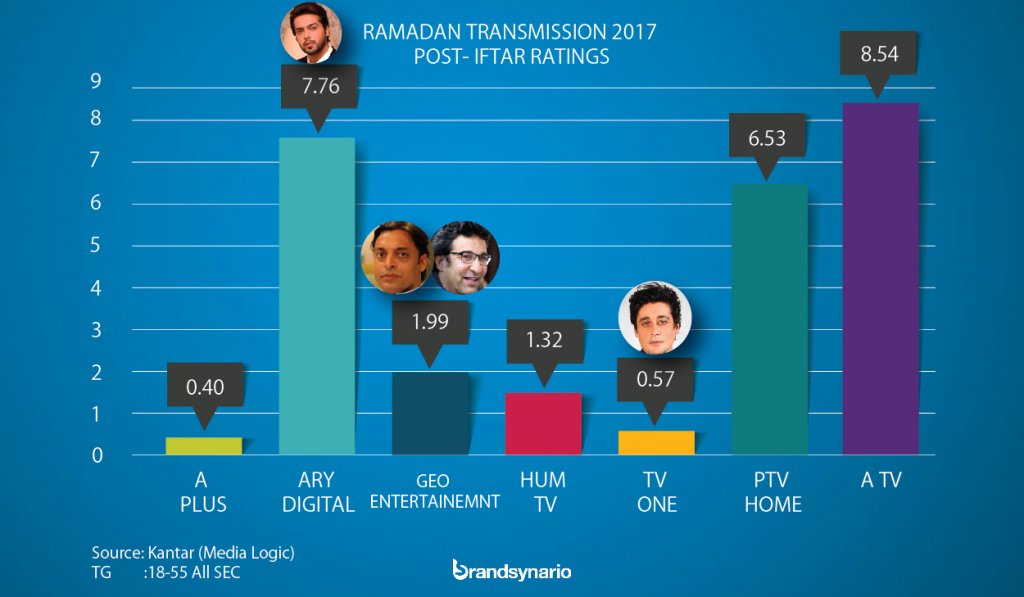 So ARY is the champion of the day. Major credit goes to Fahad Mustafa who is on a roll and is receiving all the love from his fans on Jeeto Pakistan.  Reeling below is Geo with nothing but an average rating of 1.99. Geo Khelo Pakistan ft. Wasim Akram and Shoaib Akhtar are clearly not as impressive as Fahad.
ATV takes the throne in the terrestrial channels with an average rating 8.54.
Overall, Hum TV is lagging behind in the rating game. One wonders why they did not introduce Ramazan Transmission this year.
TV One whose transmission, being helmed by Sahir Lodhi is at an even poor state in Sehri, Iftar and Post-Iftar rounds.
So clearly, ARY is the winner this year amongst entertainment channels! Kudos to them for acing the rating game in the first week of Ramadan. Let' see if the trend remains the same for the remaining weeks.
Stay tuned to Brandsyanrio for more updates!