The filmmaking duo Fizza Ali Mirza and Nabeel Qureshi, are best known for their socio comedies that deal with issues affecting people within our society. Namaaloom Afrad, Actor in Law and Load Wedding – their previous films – carried very strong moral lessons and QAZ is no different.
The film centers around Gulab (Fahad Mustafa) whose father (Qavi Khan plays the older version later in the film) is an honest police officer and teaches his son to refrain from dishonesty and fraud. He tells Gulab that our currency has Quaid's image on it 'takkay wo hum pay nazar rakh skien' (so that he can watch us). As a child, Gulab learns that his father's philosophies do not match his needs and desires. Hence, he grows up to become a corrupt policeman indulging shamelessly in illegal activities and accepting bribes.
The second half depicts his journey from bad to good cop. With spiritual awakening, he starts enforcing law and order and patriotic duties at his best. His love interest revolves around Mahira Khan who is a vet and also an animal rights activist. She drives a scooty and is dedicated to rescuing injured and abused street animals. Within the narrative of the film, her character represents kindness in contrast to corruption.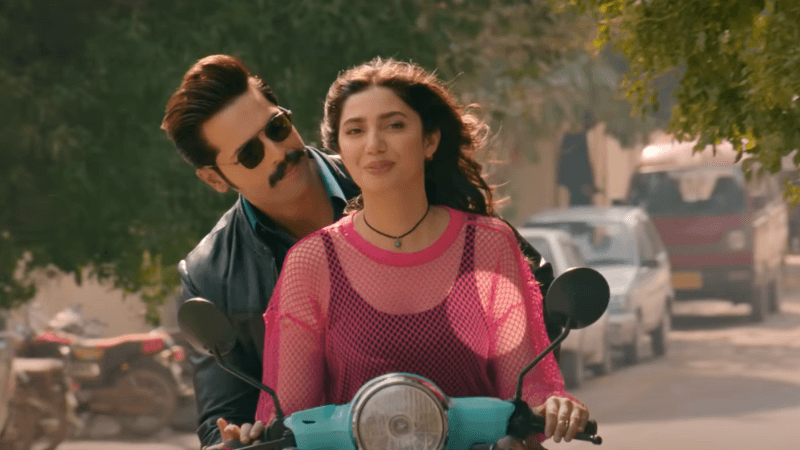 Both leading actors have played their part well. Fahad Mustafa in particular truly deserves to be applauded for he carries the weight of the entire film on his shoulders. Whether its romance tragedy, action or dance, he proves that he is here to stay for long. Mahira looks absolutely gorgeous and her costumes are lovely designed by none other than Nomi Ansari. There are some funny moments between the two and the chemistry is charged throughout, specially in the songs.
Watch the trailer here:
We also get to see Javed Sheikh as the sub-inspector and Gulab's confidant who is ready to support his boss in both good and bad times. Javed Sheikh is one of our veteran actors who is extremely versatile and even though his role is small, the cinematic presence is incredible; especially with the auburn hair and mustache, which make him look very charming and fits perfectly in the skin of the Sindhi policeman.
Mehmood Aslam as Babar Jillani (Gulab's boss) and Nayyer Ejaz as Rana Kamran the mischievous politician, play the lawbreaking agents who back up each other for their selfish means. There is one scene in the end when Rana Kamran is finally caught and amidst a police encounter, Gulab slaps him, a very poorly-timed, irrelevant, needless reaction that kills the seriousness of the scene.
QAZ is a definitive action-packed police film with a unique and original concept and fantastic music. Though some of the action sequences in the first half have been replicated from the Bollywood flick Singham resulting in severe backlash from the audience. However, the sequence shot in the plane is a must-watch and sets the bar high for future fight sequences in Lollywood films.
Stay tuned to Brandsynario for the latest news and updates!