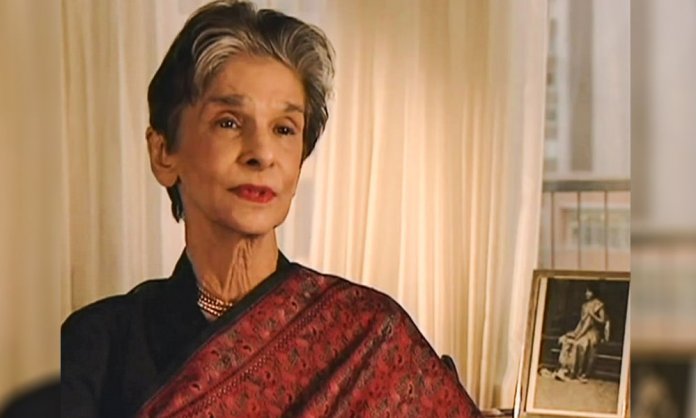 In a sad state of affairs, another life comes to an end, and this time, it is none other than our beloved Quaid's daughter. His only daughter, Dina Wadia, passed away in her home in New York at the age of 98.
Dina was born on 15th August 1919 and married a Bombay-based Parsi businessman, Neville Wadia.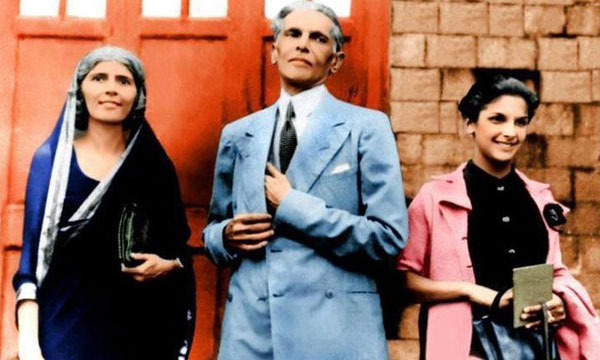 She is survived by her children Diana N Wadia, son Nusli N Wadia, her grandsons Ness and Jeh Wadia and two great-grandchildren Jah and Ella Wadia.
Dina was the only child of Muhammad Ali Jinnah from his second wife Rattanbai Petit who was also known as Maryam Jinnah after marriage.
She has last visited Pakistan back in 2004 for a cricket series between Pakistan and India and had not visited the country since her father's passing in 1948.
"This has been very sad and wonderful for me. May his dream for Pakistan come true," wrote Dina Wadia in the visitor's book, during her visit at the mausoleum of Quaid-i-Azam. She had also visited the mausoleum of Madar-i-Millat Fatima Jinnah to pay respects to her aunt.
Social Media Tribute
Bollywood Diva Pretty Zinta remembers Dina Wadia
Sorry to hear that the elegant & spirited Dina Wadia is no more. I was fortunate enough to have met her & really admired her🙏#RIP

— Preity zinta (@realpreityzinta) November 2, 2017
Pakistani Politician Sherry Rehman also pays tribute
It's ok to romanticise Dina Wadia as she passes away at 98. We have so little left of Jinnah's own extraordinary life. May she rest in peace pic.twitter.com/PjZOrTGSnE

— SenatorSherryRehman (@sherryrehman) November 2, 2017
Shehbaz Sharif Follows
Dina Wadia's passing away marked passing away of an era, end of unique bond that existed cause of her illustrated father-our founding father

— Shehbaz Sharif (@CMShehbaz) November 2, 2017
Saddened to learn of the death of our Quaid's daughter Dina Wadia. May her soul rest in peace.

— Imran Khan (@ImranKhanPTI) November 2, 2017
"Dina Wadia" #RIP #Jinnah #QuaideAzam #DinaWadia pic.twitter.com/Rt96rR8p8q

— US Embassy Islamabad (@usembislamabad) November 3, 2017
Finally got matter..
One who doubts on Father daughter relationship, must read it..
Dina wadia.. A daughters Memory..
🙏🏼🙏🏼🙏🏼 pic.twitter.com/i4FTCWPxoM

— Mmmm… (@Waqas_amjad) November 2, 2017
Rest in Peace Mrs. Dina Wadia. The last survivor of Quaid e Azam Muhammad Ali Jinnah. pic.twitter.com/QibbquBiVk

— Shah Mahmood Qureshi (@SMQureshiPTI) November 2, 2017
Quaid e Azam's daughter #DinaWadia's note about her father. Loved every bit of it. Beautiful read. #RIP Dina Wadia. #Jinnah pic.twitter.com/GkxIie79wk

— Ali Salman Alvi (@alisalmanalvi) November 2, 2017
Mohammad Ali Jinnah's daughter Dina Wadia has passed away at the age of 98 – survived by her son Indian industrialist Nusli Wadia pic.twitter.com/PEHJCrZ4CA

— omar r quraishi (@omar_quraishi) November 2, 2017
RIP Dina Wadia. Quaid e Azam MA Jinnah & Ruttie Petit Jinnah's only child. https://t.co/0TLkSZrEgw

— Farahnaz Ispahani (@fispahani) November 2, 2017
Ms Dina Wadia, 98, only daughter of Muhammad Ali Jinnah passed away. She was born Aug15, 1919, exactly 28 yrs before birth of Pakistan. RIP. pic.twitter.com/CtGWuTi6oe

— Kashif N Chaudhry (@KashifMD) November 2, 2017
May she rest in peace.