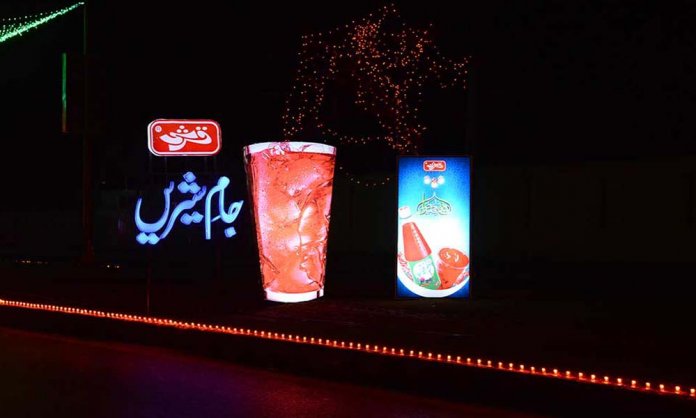 The arrival of the holy month of Ramazan got Pakistanis around the country in a festive spirit. People from all walks of life have been celebrating it passionately. Decorating mosques and city centers, preparing meals to distribute amongst the needy, everyone, individuals and brands alike, is trying to do their bid to make Ramazan more special.
A noticeable effort by a brand that caught our eye was the OOH campaign by Qarshi Jam-e-Shireen. A household name Qarshi, collaborated with Kinetic Pakistan, one of the leading names in OOH Advertising, Qarshi celebrated the arrival of Ramazan in a unique way.
An entire stretch of Ali Zaib Road, also known as Qarshi road in Lahore was decorated with various lighting solutions that gave the area a unique sense of jubilation. Accompanying the lighting solutions were small billboards carrying Qarshi branding. The OOH Advertising was aimed at making the city more beautiful and clutter free.
People driving through Main Boulevard to Jinnah Flyover in Gulberg were in for a visual treat, particularly at night. The entire road was lit up with festive lights and creative branding of Qarshi Jam-e-Shireen.
Kinetic Pakistan, in the past too has been involved with various brands to come up with innovative ways for OOH advertising. To truly make the month of Ramazan more memorable, this time their idea was to decorate the beautiful city of Lahore and make it more festive.