A lot has changed in our lives in 2020 because of the novel Coronavirus.
For the first time, we have experienced many new things, including wearing facemasks in public, regular hand washing, and even online classes.
As we try to adapt to the new changes, we are doing our level best to keep up. Many of the jobs have switched to remote locations as industries and schools have shut down to prevent the spread of the virus.
Online classes have now become a 'normal' part of our lives. Students from nursery to university are using several online tools to keep up with their education to prevent a significant loss.
Public School Hyderabad Managed By Sukkur IBA University (SIBAU) recently took it to their social media account to announced to students and parents that they have fired the physics teacher, Mr. M Shairoz.
According to the official post by the institute, the reason for letting the teacher go was because of his 'unethical act of smoking during online classes.'
The post reads:
Dear students, teachers and parents
Attention please!
Our priority is to provide a safe and secure environment and culture to our all stakeholders specifically students.

We will never compromise on our benchmarks and standards.

We have terminated the services of Mr Muhammad Shairoz (Physics teacher) because of his unethical act of smoking during online classes.

He is not part of PSH from today and onwards as a faculty member."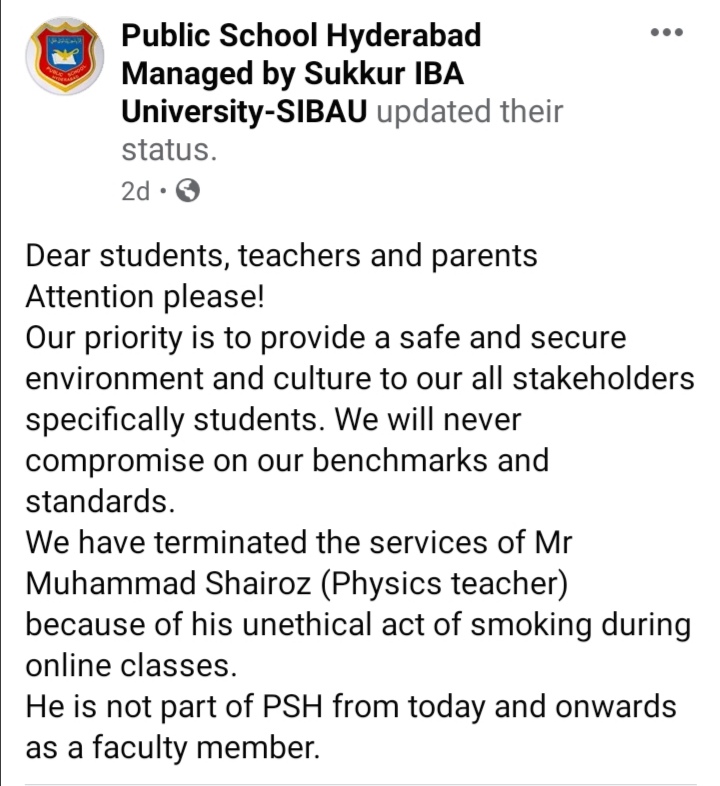 Social Media Reacts To Public School Hyderabad's Decision
Here's how social media (parents and students) reacted to this decision: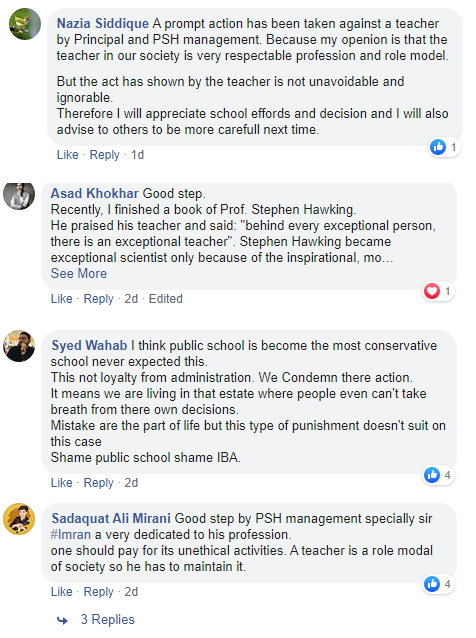 One of the comments left by user Muhammad Muneenuddin Shah Bukhari reads:
"A fair enquiry should be taken. Either he has done all this intentionally or unintentionally? Sometimes it happens that a person thinks camera is off but actually it works at that time."

To this comment, the Public School Hyderabad official replied:
"Sir, of course, a proper inquiry took place. No decision comes without following a process."

Other reactions were as follows:
"Good step taken by PSH" – Mohsin Khan
"Excellent Step by PSH Managed by Sukkur IBA University." – Abdul Haseeb
"Excellent step" – Hassan Qureshi
"That's really great. Rules are made to be abided. So well done." – Partab Rai Kesrani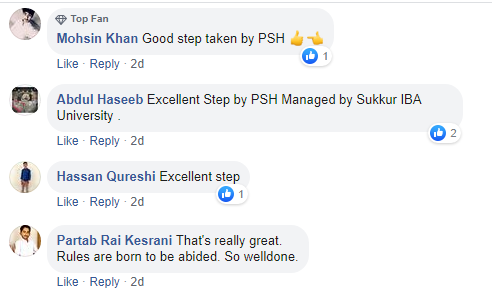 It is essential to add here that we understand that working from the comfort of your household is not the same as working from the institute or an organization. One wants to feel comfortable in their personal space, which is natural.
However, at the same time, it is also essential to understand that as a teacher, you have the responsibility bestowed upon you by parents to guide children. Teachers are entrusted with encouraging children to find their talent, skills, polish themselves, increase their knowledge, teach them kind and positive traits.
Children's minds are like clay; a teacher's job is to mold that clay into a work of art. Though this act may have been unintentional, it may not give a positive message to every child who was attending the class at the time of this incident and may reflect somewhere down the line if not now.
Teachers and members of other professions need to remember that even remote work is still working, which should be conducted under the same rules as your office or institute.
Stay tuned to Brandsynario for more news and updates.