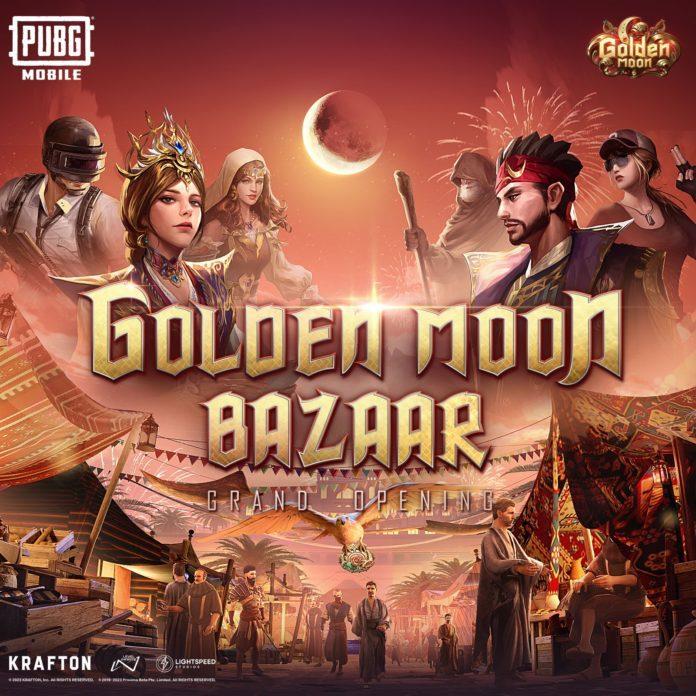 This year, PUBG MOBILE, one of the world's most popular mobile games, is commemorating Ramadan with the release of The Tides, a new adventure in the Golden Moon series of campaigns that builds on the popularity of last year's release. A fresh drama develops under the dappled radiance of the Golden Moon, with a family split, who reconcile to battle against an enemy's surprise onslaught. Golden Moon: The Tides introduces a new Golden Moon crate, the Moondrop Eterna event, and the Golden Moon Bazaar, which opens today and contains a variety of events and rewards! This year's campaign will allow players to obtain these rare Golden Moon sets: Crescent Princess, Resplendent Prince, and Moondrop Eterna.
Beginning today, players will now be able to jump into PUBG MOBILE to witness the Golden Moon Bazaar's grand opening! This lavish lobby is packed with a series of events, including the Golden Moon Treasure, the Golden Moon Showdown, the Golden Moon Blessing, Popularity Ranking, and the Eid al-Fitr Feast. A variety of exclusive rewards will be available to players and include the Tide Soldier Set which can be kept permanently.The Golden Moon Bazaar's bountiful benefits will only be accessible until April 30th, so don't miss out!
Additionally, available until April 14th is the new Golden Moon crate, filled with various goodies and rewards including the Crescent Princess set and the Resplendent Prince set, as well as the Golden Prince / Dancing Princess / Golden Trigger set. Players will also be able  to take part in the Moondrop Eterna event which will run until April 26th and include the smooth and sleek Moondrop Eterna ultimate set and new M249 upgradable gun.
As part of the Golden Moon celebrations, PUBG MOBILE is proud to collaborate with Synchron Stage Vienna to create an original symphonic work, PUBG MOBILE | GOLDEN MOON: THE TIDES, as well as an upcoming music video. The music can be obtained in-game to keep forever via the Golden Moon Bazaar.