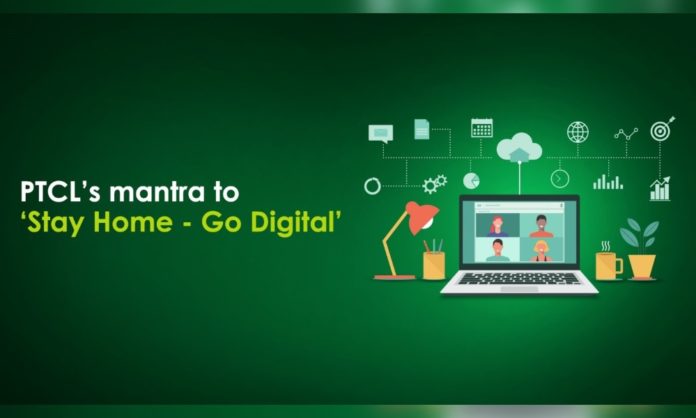 The third wave of the COVID-19 pandemic has hit Pakistan and its spreading much faster due to its mutation and the new variant involved. As the number of cases rise, the government has stepped in to tighten the lockdown for the safety of the people. Pakistanis, however, are also adapting to this pandemic at an overwhelming pace. The corporate sector in particular is enabling the citizens throughout the country to keep themselves safe with companies like PTCL making the nationwide call to 'Stay Home – Go Digital', especially for ease and convenience of customers such as  Quick Bill Payment Options.
Being a national company, PTCL's efforts in keeping the nation connected are commendable and not to be missed. As the pandemic began, no one was ready to anticipate or even imagine what was about to unfold. It was at that time; the frontline workers of the national telco proved to be heroes as they kept the country running through seamless connectivity in all corners of Pakistan. PTCL enabled businesses to continue their operations through 'Work from Home' policies, students were able to continue their education virtually and families enjoyed their time together during lockdowns by streaming movies, games, being connected with their loved ones and much more.
PTCL has developed its digital front to cater to the evolving needs of its customers, simply through their websites and mobile applications. The customers can simply visit websites and order products, change their existing packages, ask for support for any matter and even pay their bills online through PTCL website or mobile app (available on Android & Apple). It has also designed and developed a separate website for its FTTH customers with a brand PTCL Flash Fiber. It's a great service by PTCL, as they empowered the customers to use their services keeping in mind their safety and ease of doing transactions online. Imagine, not going out for groceries, bill payments, or other similar activities that could unnecessarily expose you to virus.
The corporate sector of Pakistan has always been at the forefront when it comes to the well-being of the people of its country. PTCL remains among the top organizations that have always kept the well-being of its customers as its top priority. The company alone has innovated and delivered digital solutions that are designed to keep their customers fully functional and accessible during the COVID-19 enforced lockdowns. PTCL's customers are not restricted to individuals only as they serve businesses and government bodies as well, which means that PTCL is serving the entire nation in one way or another. With customer-centricity in mind and many uncertainties revolving around the global pandemic, we should certainly go with PTCL's mantra for its customers to stay home and go digital collectively as a nation as it's the need of the hour as we need to minimize the risk of further spread of the pandemic.