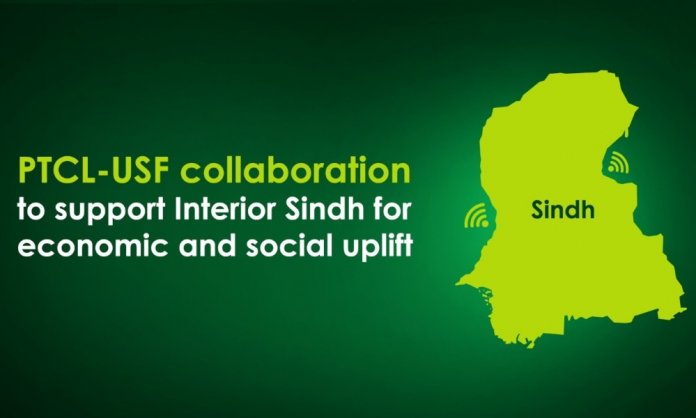 Universal Service Fund (USF) awarded two Optic Fiber Cable (OFC) project contracts to PTCL which was facilitated by the Ministry of Information Technology and Telecommunication (MoITT). Through this landmark project, the people of Ghotki, Kashmore, Sukkur, and Khairpur districts in Sindh will be enabled by PTCL's latest 'Fiber Optic Technology' ensuring that they remain connected and at par with all the metropolises of the country, and the world as a whole through digital connectivity.
People of Interior Sindh will not be wrong if their expectation is economic and social uplift as a community once the project goes live with the latest infrastructure in place.  These regions were less-privileged in the past as the internet facility was not available the way it was in the larger cities of the country. This unavailability of high-quality internet and connectivity had restricted these regions to attain continuous online education, digital banking services, new business opportunities, and many more social and economic aspects related to ICT directly and indirectly.
However, with PTCL Fiber Optic Technology Networks and other initiatives, national connectivity will become seamless. Fast internet service will provide the residents of these regions with latest technology to enable them to meet their basic needs of the 'New Normal'. It will pave the way for better business opportunities for companies, as they will be able to tap into new domestic and international markets for their local goods. E-governance can also be easily executed that will be in line with the 'Digital Pakistan' vision.
Apart from the commercial opportunities and advantages to the community, this initiative is the first step towards transforming the region into smart cities. Such advancements will improve the healthcare service along with the quality of education that will provide a better livelihood to the locals. Pakistan can only grow and prosper in its true sense, when the entire country is facilitated with uniform basic services. Experts also claim that these developments in the infrastructure will lay the basic foundation for the arrival of 5G technology, which is in the near future.
The efforts of PTCL and USF facilitated by the MoITT will reap benefits for the locals both long-term and short-term, as they will get empowered by using PTCL's telecom services in this region. Being a global village no country can afford to let its people be deprived of the basic necessities and internet service is no longer a luxury.