In a world that is evolving at a rapid pace with each passing moment, businesses and organizations are becoming more tech oriented and it can be attributed to new inventions, smart gadgets, AI and telecommunication technologies that are part of our lives now more than ever. Keeping this in mind, digital revolution in Pakistan is also happening faster than we think and the country is making a remarkable progress in the telecommunication sector on the digital front. Having said that, ease and affordability of mobile devices and internet services has exponentially given rise to internet usage amongst the customers.
For telecoms, making smart use of digital technologies calls for a complete digital transformation that will allow telecom companies to win in the digital revolution. In order to survive the cut throat competition in the telecom industry, operators are offering new promotions, packages and offers for its customer base throughout the country and 2019 has been productive and busy on this front.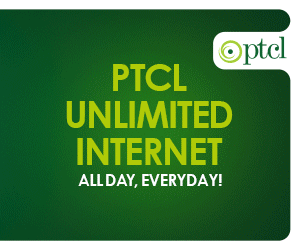 During the year, Pakistan Telecommunication Company Limited (PTCL) continued with its tradition to provide customer friendly promotions and offer. Strategic partnerships and collaborations with companies like Netflix, Daraz & Careem and service providers, along with NGOs & schools to facilitate PTCL customers & subscribers across the country with innovative solutions has further strengthened the company's position.

With a 40 percent discount on the installation of its wireline products, the company started the year on a positive note. This offer was further extended till the end of the third quarter. In the first quarter of 2019, the company launched new and exciting offers like Double the volume offer for its wireless Charji broadband subscriber base.
When compared to other telcos, the national carrier did a fantastic job in going an extra mile and provided customers with a variety of promotions. The company is truly focused on its customers and aims to provide best services and satisfaction. Their CharJi Unlimited Reconnect offer was designed for inactive Charji subscribers, enabling them to make the most of the unlimited volume and high-internet speeds with coverage across Pakistan.

In its efforts to provide convenience and better services, PTCL offered its customers a wide range of corded and cordless phone sets to add more value to customer experience. We have usually seen and experienced that houses build in Pakistan have concrete walls that interrupt the signals throughout the households and causes distress and inconvenience to subscribers. To overcome this issue, the company collaborated with TP-Link, a globally renowned provider of Wi-Fi networking and extending devices to enhance the signals of Wi-Fi routers. PTCL had earlier engaged D-Link for a similar collaboration.

Further on the entertainment front, the company offers its unique Smart TV with digital quality content, with over 120 live channels, movies, seasons, cartoons and also provides Pause, Play & Rewind options, including, parental lock, personal video recorder and many more features. To add more value for its customers, PTCL launched free STB (Set-Top-Box) offer, which allowed its customers to get Smart TV, when upgrading to 8 Mbps or higher data connection.
Not many people are aware, but Pakistan's online gaming community is massive. Quite recently, Pakistani gamer Arsalan Ash aka Arsalan Sadiq, made history after being crowned the champion of Tekken 7 at the world's biggest and most prestigious fighting game tournament, Evo 2019, in Las Vegas. What's more, he's paved the way for more Pakistani Tekken 7 players like Awais Parvez, Atif Butt to realize their potential. Pakistani Tekken 7 players are now being recognized as the best players of the game Tekken7 in the world. Let that sink in. So, when you have such an avid gaming community, it automatically creates the need for fast and reliable internet services. Keeping that in mind, PTCL launched its 'Fast Path' services that helped reduce latency to achieve smooth gameplay for online gamers.

To offer more value to its customers and end the year on a positive note, PTCL is providing an amazing limited time offer for its customers, who can now get flat 30% discount on installation charges of all new connections of PTCL.
PTCL always caters to the needs of its customers and puts them first. They have become aware of the need to upgrade and modernize infrastructure and services to meet evolving requirements. So far they have succeeded in providing seamless services but they are still open to changes to bring even better customer-centricity and focus in the customer experience. With the value for money, convenience and ease of access, PTCL endeavors to offer its customers the best of telecommunication world.