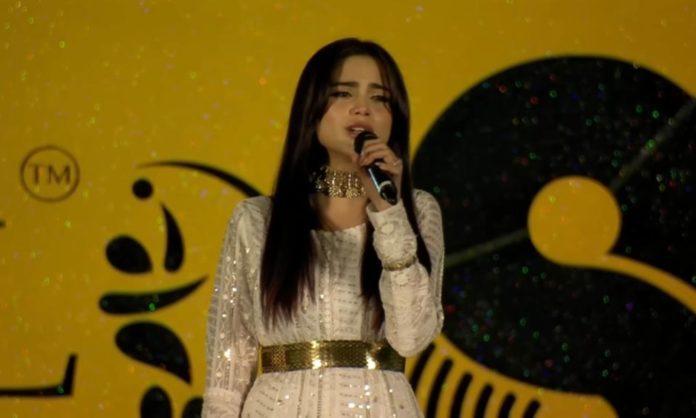 At the PSL opening ceremony, Aima Baig was able to perform her rendition of the Pakistani national anthem. But the real question is, was it simple enough to win over the crowd? The PSL opening ceremony took place yesterday and Aima Baig was now of the artists who were to be performing. She not only sang her own songs with Sahir Ali Bagga but also started off the event with her own version of the Pakistani national anthem. Here is the video.
Netizens being netizens had a lot to say about the performance. And not all of it was good.  As a result of channeling her inner "Sia" and "Ariana Grande," Aima was subject to trolling. Here are some of the opinions from Twitter.
Aima baig hi milli thi anthem ko barbaad karny k leye😡😡
Every Pakistani right now.. 👎#PSL2023 pic.twitter.com/CrgluFlNg4

— Rifat (@RifatAziz15) February 13, 2023
Me after listening Aima Baig's version of National Anthem#PSL2023 #AimaBaig #LQvsMS pic.twitter.com/HRupLDZpG8

— Usama ki Memes (@Usamakimemes1) February 13, 2023
Just heard Aima baig singing pic.twitter.com/51oclh3qs0

— -h (@_mayosandwich) February 13, 2023
Many fans also compared Aima Baig's entry performance to Ali Zafar's performances.
Phly opening ceremony aesi hoti thi,phir Aima Baig ki entry ho gae 🥲🥲
Missing #AliZafar #PSL2023 pic.twitter.com/1AxqcBaS80

— Ch Shahroz (@Ch_Shahroz1) February 13, 2023
Aima baig ruined the beauty of our national anthem. 🤦🏻

— Saith Abdullah (@SaithAbdullah99) February 13, 2023
me watching aima baig sing the national anthem and think who tf would want to sing the national anthem pic.twitter.com/MRskYoK1ik

— la tóxica (@mirzamalist) February 13, 2023
ngl i started to hate Aima Baig after what she did to national anthem today 💀

— konain ☽ || stan LQ || (@KonainRazaa) February 13, 2023
Aima baig on my TV pic.twitter.com/yeUXAw9ri2

— Saad (@notsaadi27) February 13, 2023
"*Pakistan's National Anthem"*:
Paak Sar Zameen Shaad Baad

"*Aima Baig's National Anthem:*"
Pawk Sawr Zawmeen Shawd Baawd

— DablewTee (@DablewTee) February 13, 2023
Moreover, many people also thought Aima Baig was PSL's or PCB's favorite since she has appeared in all PSL opening ceremonies to date.
What is this PSL management obsession with Aima Baig?? Why do they let her ruin the ceremony every time???

— mansur (@chaiiichahiyee) February 13, 2023
Aima Baig every psl: pic.twitter.com/v7IAB2FROZ

— Aleezay (@_allbymyselff) February 13, 2023
psl trying to fix aima baig in every season: pic.twitter.com/TMgoeMpGmT

— عثمان (@usmipct56) February 13, 2023
The entire performance was awkward and embarrassing, to say the least. The Pakistani national anthem is an iconic anthem, we are sure we will remember Aima every time we hear this anthem from now on. Netizens' reaction to Aima Baig's song has been nothing short of hilarious. While some wondered about her obsession with English songs, others wondered how she managed to stay confident throughout the performance.
What do you think about this? Let us know in the comments below.
Stay tuned to Brandsynario for more news and updates.