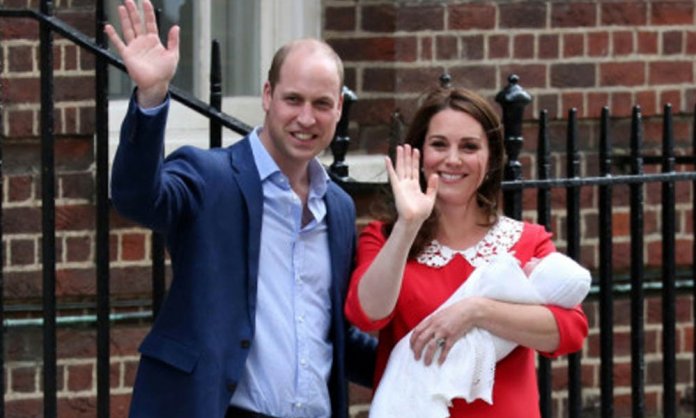 Britain's Prince William and his wife Kate have named their baby son Louis Arthur Charles, Kensington Palace announced on Friday.
"The Duke and Duchess of Cambridge are delighted to announce that they have named their son Louis Arthur Charles," said a palace statement.
"The baby will be known as His Royal Highness Prince Louis of Cambridge."
The name pays tribute to William's great-great uncle Louis Mountbatten, who was killed by the IRA in 1979, while Charles is the name of William's father.
Arthur had been the bookmakers' favourite for the couple's third child.
Louis is currently the 71st most popular name for a baby boy in England and Wales.
He weighed eight pounds and seven ounces (3.8 kilogrammes) when he was born at 11:01 am (1001 GMT) on Monday with William, the Duke of Cambridge, present for the birth.
The couple stepped out of St. Mary's Hospital in central London to cheers from a crowd of supporters and global media outlets gathered outside.
Their two other children — Prince George, aged four, and two-year-old Princess Charlotte — had met the latest addition to the family earlier in the afternoon, before returning home to Kensington Palace.
– Sixth great-grandchild –
Louis is a sixth great-grandchild for Queen Elizabeth, who turned 92 on Saturday, and her husband Prince Philip.
He will hold the title of prince after the Queen changed the rules in 2012 to ensure that all of William's children would be entitled to the style, not just his eldest son.
Prince Louis is also the first male royal who will not overtake his sister in the line of succession after a reform that ends male primogeniture.
Louis Mountbatten was the beloved great-uncle of Prince Charles, and the uncle of the Duke of Edinburgh.
Known to Charles as "Uncle Dickie", Mountbatten was the last British Viceroy of India before independence in 1947.
He was assassinated by Irish republicans when his boat was blown up on a fishing trip off the coast of County Sligo in the Republic of Ireland.
Louis is also a middle name of Prince George.
William, who is destined to become king after Charles, met Kate at St Andrews University in Scotland.
They tied the knot at Westminster Abbey in London on April 29, 2011, in a ceremony watched by up to two billion people worldwide, helping to breathe new life into Britain's monarchy after years of crisis.
The birth kicks off a busy summer of royal celebrations, with Prince Harry set to marry his US actress wife Meghan Markle on May 19.
William joked on Thursday that "revenge will be sweet" after being named as best man for the occasion, a role reversal of the 2011 wedding.
The Sun newspaper has reported that Kate's sister Pippa Middleton, 34, is pregnant with her first child, while William's cousin Zara is set to give birth towards the end of the summer.
 https://www.brandsynario.com/saturday-night-live-pair-colin-jost-michael-che-to-host-emmys/