Yesterday may have seemed like any other day for the residents of Beirut, Lebanon. People were out and about doing their business until something unusual happened.
A thick cloud of smoke took over the sky. Suddenly everyone started to record what they had observed. All of a sudden, flames began to go off and BAM!
Beirut was hit with an explosion that completely changed lives and the beautiful city in less than 30 seconds.
Residents living nearby were rushed to the hospitals with several injuries while the damage done to their properties seems to be irreversible, while dozens have lost their families and friends.
Soon, social media began to flood with videos of the incident as many started to pour their videos and share other's videos using the hashtag #PrayForLebanon.
Marking a black day in the country's history, some of these videos are truly hard to watch.
What Happened?
As of now, on accounts of eyewitnesses and residents, some had claimed that just before this 'attack,' they heard not one but two planes fly above their homes.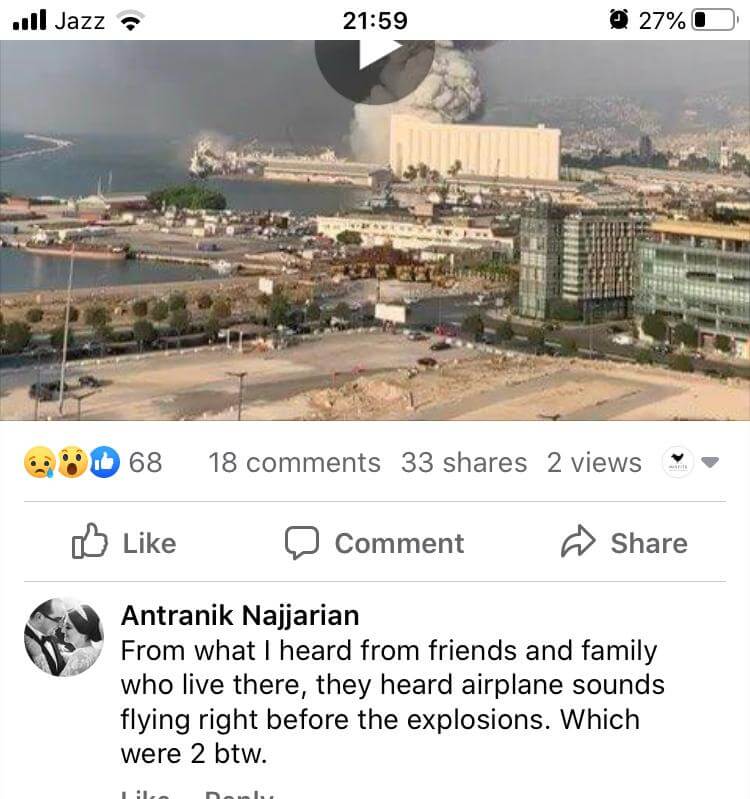 Qatar, Iraq, and Kuwait are trying to help by sending aid to the bleeding country. On the other hand, the government is in talks with the United States to raise their concerns.
Whereas US President Donald Trump has remarked that the Beirut explosion was an 'attack' contradicting Lebanese officials.
I've met with some of our great generals and they just seemed to feel that it was,

This was not some kind of a manufacturing explosion type of event … They would know better than I would, but they seem to think it was an attack — it was a bomb of some kind, yes. -Donald Trump
However, according to the Lebanese officials, the blast involved a large amount of ammonium nitrate that had been seized by the government years ago and was being held at the site of the explosion.
I will not relax until we find the responsible party for what happened, hold it accountable and apply the most serious punishments against it because it isn't acceptable that a shipment of ammonium nitrate — estimated to be 2,750 tons — was in a depot for the past six years without precautionary measures being taken, -SAID Prime Minister Diab, according to a statement by the Lebanese Higher Defense Council. 
Shocking Social Media Videos
Here are some of the heart-wrenching videos and photos shared on social media of the horrific scenes from Beirut.
A bride was taking her wedding photos moments before the explosions, heartbreaking 💔 #PrayForLebanonpic.twitter.com/BEPu1ttyJF

— 𝕴𝖏𝖆𝖉 (@IzzadZahari) August 5, 2020
Sending love and prayers to everyone in Beirut, Lebanon

Please stay safe 🙏#Beirut
#PrayForLebanon pic.twitter.com/ueZb5k7lUt

— Mass Mahesh FC ™ (@MassMaheshFC) August 5, 2020
This is 2020!? Please God spare your people. 😭🙏🏻 #PrayForLebanonpic.twitter.com/PLw1PrEvdb

— kadi (@kadisael) August 5, 2020
CLOSEST ACTUAL EXPLOSION FOOTAGE IN BEIRUT, LEBANON.

To the person who took this video,

I hope ure still okay! #PrayForLebanon pic.twitter.com/JBk1ng337g

— ぱふぱふ@freedom in 日本 🇯🇵 (@pafupafu2020) August 5, 2020
This 2020 has brought us only terrible things and is continuing. 🙏💔
I hope everything will be okay. sending my prayers for all of you❤️ #PrayForLebanon pic.twitter.com/cl6KYvEPjK

— Ajay Yadav (@Im_ajstyle) August 5, 2020
ATTENTION EVERYONE⚠️
Please pray for those who lives in Beirut,Lebanon.They need lots of love and alot of prayer.🙏❤
Credits to the photos 📷#PrayForLebanon pic.twitter.com/2kYeTZXiWz

— ☕︎︎ (@PishySmelly) August 5, 2020
Can't believe that in the middle of this pandemic ,people in Lebanon is now facing another disaster. Sending prayers and deepest condolences to our dear Lebanese brothers and sisters. May God always guide you. Godbless you all😫😫#PrayForLebanon pic.twitter.com/Osq6bmr166

— VANTE SY⁷🇵🇭 #PrayForLebanon (@sceneryyyy_tae) August 5, 2020
Situation of this time 😭😭😭#PrayForLebanon
pic.twitter.com/vFg3C2sLvm

— Ran𓍼²⁴ʰ𓍯 (@hllbngboo) August 5, 2020
You can support Lebanon by donate via application Lebanese Red Cross #PrayForLebanon pic.twitter.com/8JFNx1reEJ

— 𝙎𝙖𝙧𝙖𝙬𝙖𝙩𝙏𝙞𝙣𝙚 (@Jackhangu) August 5, 2020
Moved to tears! A CCTV camera captured a touching scene in #Beirut, Lebanon where a father picked up his son immediately after the explosion and tried to hide him in a safe place. #PrayforLebanon pic.twitter.com/ZZmtKQ8DdG

— Global Times (@globaltimesnews) August 5, 2020
sending our prayers of love and healing to all the people in Beirut, Lebanon. please pray for their fast recovery and safety. they need our help🙏🏼 big or small, it will always be appreciated #PrayForLebanon
pic.twitter.com/OSy0yMIa0g

— JEET BAD BOY💎 (@mudgaljeet03) August 5, 2020
WARNING GRAPHIC: People were filmed receiving treatment at St. Joseph Hospital in #Beirut as the death toll climbs to 78 with 4,000 injured following a huge explosion on Tue. Lebanese PM declared a "national day of mourning" for the victims #PrayforLebanon pic.twitter.com/SOstsx8Wnu

— Global Times (@globaltimesnews) August 5, 2020
hi guys! please take time to read through the carrd link below for ways to help lebanese people following the recent incident in beirut, lebanon. you can send help in any way you can, even just by spreading this link. please stay safe! 🙏 #PrayForLebanonhttps://t.co/j8lVLJQBq5

— taekoo (@taekookmoments) August 5, 2020
Our hearts go out to the people of Beirut and Lebanon. May you find comfort, and may your children be safe.
To help, you can reach out to Red Cross Lebanon and other foundations that are providing aid to the people.
Stay tuned to Brandsynario.