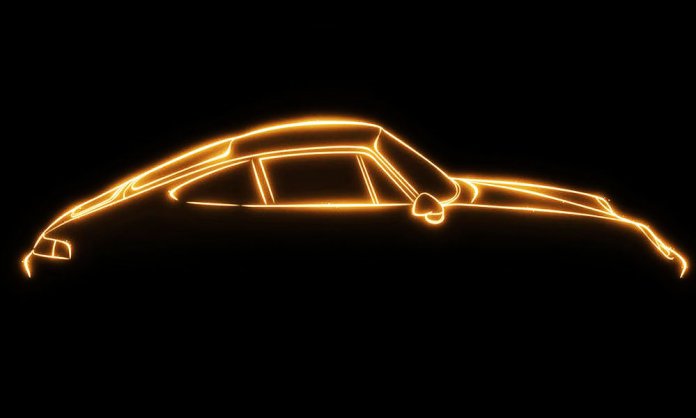 Project Gold, named for the car's black-and-gold colour scheme, is being revealed little by little as part of Porsche's 70th birthday celebrations.
Restomod projects used to be the preserve of special customisers and tuners, who would take old cars and keep their classic looks while updating the underpinnings so they drive and handle like a modern car. Nowadays, manufacturers themselves are getting in on the act. Porsche is one of the latest to come to the party with the Project Gold car it will unveil to the public at Pebble Beach later this month.
The Project Gold restomod is being built by the Porsche Classic Division, based on a 993-generation 911 Turbo. The previews show the gradual process of creating the car.
Porsche has so far released a teaser image of the upper outlines of the car marked out in gold on a black background, along with a 42-second video showing the earliest stages of the car's development. We initially see the unpainted body, partly covered by a dust sheet, and then the wheels. The unmistakable 993 Turbo hollow-spoke Twist wheels are visible as they are painted and intricate details are etched into the paintwork.
The seats continue the black and gold theme and the familiar turbo script is clearly there, which gives an additional clue to the identity of this exciting car that is undergoing a thorough transformation at the hands of Porsche experts.
How far Porsche will venture away from the original blueprint of this classic car remains to be seen, but we do know it will be a one-off, not a preview of a limited production run. There's no word about what will be powering the car, but even if Porsche sticks with the original air-cooled 3.6-liter flat-six of the 993 it's likely it will develop a lot more than the original 396bhp.
The legendary German sports car manufacturer wouldn't comment on whether it has plans to produce more cars in a similar vein to Project Gold, but it did say, of this one, that "a vehicle like this has never existed before."