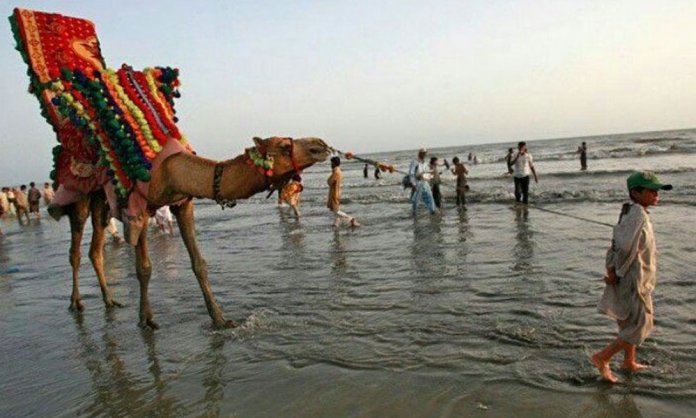 Update: October 11th, 2019:
After Salt n Pepper Village and all the street-side vendors being removed from Sea View Karachi, it is being said that the Cantonment Board Clifton is now trying to remove the horse and camel waalas from there, too.
Cantonment Board Clifton now trying to evict horse/ camel walas from Sea View. This is another level of cruel and cray

— mohammedhanif (@mohammedhanif) October 10, 2019
It is yet to be seen if this news is actually true or not, but the removal of horse and camel waalas will surely take a lot away from the whole beach experience.
October 9th, 2019:
Earlier this year an 'anti-encroachment' drive was carried out in Saddar Karachi, which resulted more than 200,000 vendors and employees losing their businesses or jobs.
The vendors belonged to the middle-middle, lower-middle and working classes of the city, and not only this move affect their livelihoods, but it also presented a huge threat to the cultural fabric of the city.
Pakistanis Are Loving This Challenge Given to Mahira Khan by Her Mother!
Something similar has happened, but with a different area: this time, it is Sea View.
Karachi Sea View has been cleared of ALL vendors, regular working people catering to other working people. Now all that's left is Mcdonald's at one end and DHA 8 Extension at the other. This country is a happy marriage between seths and generals . Real kachra of Karachi

— mohammedhanif (@mohammedhanif) October 8, 2019
According to a tweet recently posted by Mohammed Hanif (writer of A Case of Exploding Mangoes, Our Lady of Alice Bhatti, Bhutto, the opera), McDonalds (Sea View Branch) is the only place left for visitors to enjoy food from when they visit the famous Karachi beach.
Many social media users are busy typing away in disagreement of this act. Take a look at why people are upset about it:
Sunday Bazar went the same way. Residents had complained about the traffic and the awam. Some Colonel decided it was done. I imagine thousands were impacted. @norbalm

— Shakir Husain (@shakirhusain) October 8, 2019
It's not only Sea View, Frere Hall, Neher e Khayyam and so many other public spaces are going the same way. Others have fallen victim before like Bin Qasim Park which I don't understand since the rich don't go. People have to take a stand.

— Tofiq Pasha Mooraj (@TofiqPasha) October 8, 2019
We criminalize publically visible vulnerability. Ghareeb exist hi kue karta hay

— Sibtay H. Haider (@Sibtayhhaider) October 8, 2019
That strip between McDonald's & Village might be one of the few spaces left in city where people from all classes come & interact with the city, but like other public spaces, this might become poor-free as well. First came the artsy trashbin, then vendors disappeared. What next? https://t.co/QT71CoM0rh

— tarbooza kharbooz (@nakaamrade) October 8, 2019
On the other hand, it is being said about Village that the court has shut it down due to the garbage it was producing.
Village was abt to go out of business anyway. No posh eating place has ever worked on Seaview. Playa's Bar, Bruno's, millions spent…not one day of dhanda. It's an out and out awami place. and they don't like it right next to their E8 https://t.co/dskgAJnhq7

— mohammedhanif (@mohammedhanif) October 8, 2019
We are yet to get an official statement from the government to better understand exactly what has happened and why.
Until then, you might want to take your own snacks to the Karachi beach.
What do you think? Let us know in the comments.
Stay tuned to Brandsynario for more news and updates.