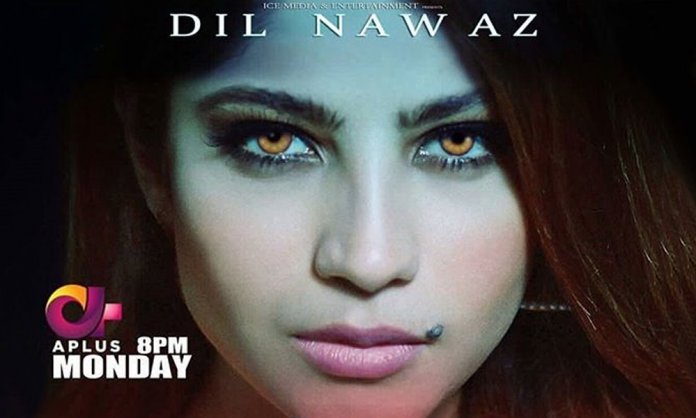 A Plus held the official launch of its supernatural-based 25-episode TV drama serial Dil Nawaz at the Crystal Ballroom, Marriott Hotel. The successful launch was well-attended by the top management of A-PLUS  along with the pivotal cast who answered questions during an informative and fun  Q/A session with the Media.
The highlight of the event was a live performance by talented singer Alycia Diaz who sings the eerily poignant soundtrack of Dil Nawaz.
The pivotal cast includes exotic beauty Neelam Muneer in the title role as an otherworldly entity; talented newcomer Wahaj Ali as Dr. Fawaad, her human love interest and obsession; and upcoming star Minaal Khan as Dr. Fawaad's s real-life sweetheart and future wife Kiran.
The Cast at the launch of Dil Nawaz

The serial is also rounded off by seasoned actors Zainab Qayoom, Aijaz Aslam, Nida Mumtaz, Waseem Abbas, Shazia Shah and Najaf Bilgrami. The story concept by Zanjabeel Asim and written by Syed Nabeel and produced by actor/producer Aijaz Aslam who has acted in over 60 plays during his almost 25 year career and been an independent producer of 'Pachtawa' Dil Ishq ;Tum Meray Ho ;Dekha Chaand Aya  and Ehsaas  under the aegis of ICE Media & Entertainment,
Dil Nawaz is directed by Najaf Bilgrami who was the co-director of photography with Armughan Hassan for the 2014 feature film, Dukhtar produced by Crew Films.
Plot
The main themes of the supernatural 25 episode TV drama serial include a romantic love triangle between two humans and a spiritual entity,  the purity of souls and the poignancy yet rarity of selfless unconditional love; all shrouded in mystery and suspense amidst family conflicts.
On the TV Serial's release on A-Plus producer, Aijaz Aslam said:
"The treatment of DIL NAWAZ is surely different. We invested in quite expensive special effects technology to render scenes such as a person levitating and a spirit disintegrating into fiery ashes all of which involved a lot of detailed work but was definitely worth it and something audiences can look forward to"
The director of Dil Nawaz Najaf Bilgrami added:
"Although the TV serial delves into the elemental and supernatural there is a very human aspect to the story about how humans are always mired in having to compromise in relationships which are never unconditional. The elemental spirit displays a selfless love and is attracted to a human's pure soul which is poignant and which will undoubtedly resonate with audiences."
Schedule and Timings
Dil Nawaz will air on A-Plus from September 18th, 2017, at 8 pm.