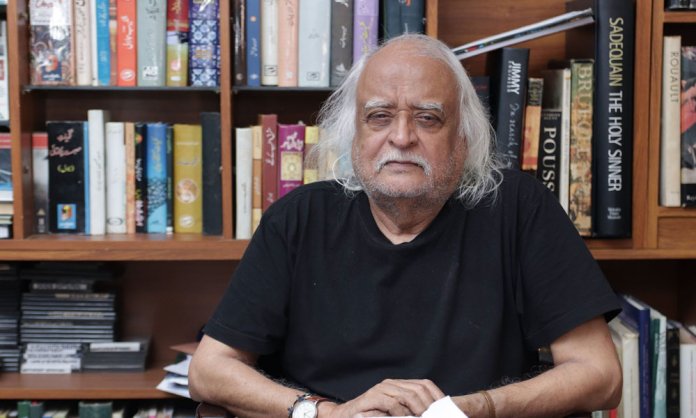 Veteran playwright Anwar Maqsood is all set to make a comeback to a theatre with Kyon Nikala that will open with a media night on 13th August 2018 at Karachi's Arts Council.
The play is Anwar Maqsood's first in three years, his last being Siachen with Kopykats Productions way back in 2015. The two had been part of successful plays like Aangan Terrha, Haaf Playt, Pawnay 14 August, Sawa 14 August, Dharna among others; Kopykats Productions did try their hand with other writers but those plays didn't do well.
That's one of the major reasons why Anwar Maqsood returned to theatre and decided to use the General Elections as an 'excuse' for his next satirical play which revolves around the relationship between a Bengali servant and his Punjabi master who is also a PMLN supporter with the same attributes as his masters.
https://www.youtube.com/watch?v=xs2USmhHS40
Veteran actor Sajid Hasan will play the Chaudhry sahab who is as corrupt – both morally and legally – as one could be; Mohsin Ejaz plays the Bangali servant who has been in his employment for over multiple decades but gets the axe, prompting him to ask the million dollar question – Kyon Nikala. It is interesting to note that this will be Sajid Hasan's first collaboration with Anwar Maqsood in 26 years; the last time they worked together was in Sitara Aur Mehrunisa in 1992, the play that launched the acting career of Atiqa Odho and also had Anwar Maqsood acting in it as her father.
The play will also feature veteran theatre actor Nazar Hussain who is likely to act multiple roles just like he did in Aangan Terrha; many newcomers will also start their careers with this Anwar Maqsood play which will be held first in Karachi for at least a month before shifting to major cities like Lahore and Islamabad. The director of the play Dawar Mehmood is confident that it will bring back the good days of theatre and will motivate the youngsters to do meaningful theatre instead of the slapstick comedy that has taken over.