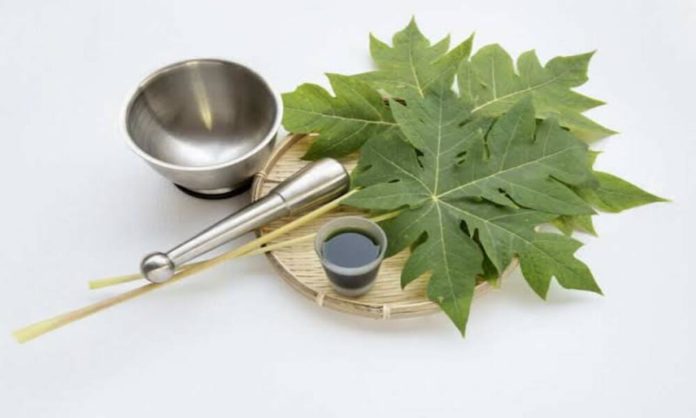 Papaya juice is the need of the hour. With rising dengue cases throughout the country as well as in Karachi, people need papaya juice. Papaya leaf juice is considered a well-known remedy to fight dengue. It is known to increase the platelet count and is also enriched with anti-malarial properties, making it the best home remedy to fight against dengue fever and other illnesses.
Papaya leaves also contain phenolic compounds, papain, and alkaloids and these nutrients act as strong antioxidants which, in turn, enhance the body's immunity. Also, the combination of papain and another compound helps in effectively digesting the essential proteins which can cure digestive disorders.
The leaf extract increases platelet counts in patients suffering from dengue. According to a study done on 400 patients who received standard treatment for dengue and half of them, who were in the control group, received a specific dosage of the papaya leaf extract in the form of tablets. The study further adds to the data that it is a potent elixir for curing dengue.
Read More: 5 Tips To Recover From Dengue Effectively
If you are looking for places to find papaya juice. Here are a couple of places you need to look for.
1. Greeno 
The juice bar is a very famous juice bar which various branches across Karachi and Lahore. Greeno is helping dengue patients by providing free papaya leaf extract at all of its outlets in Karachi.
View this post on Instagram
2. VOCE Pk
Voce is also offering free papaya juice for dengue patients. You can visit any of their outlet in phase 5 DHA, Karachi or pre-book your order online or in-store to get your hands on papaya leaf extract. 
View this post on Instagram
Read More: How Climate Change Is Making Infectious Diseases Worse
Stay tuned to Brandsynario for the latest news and updates.