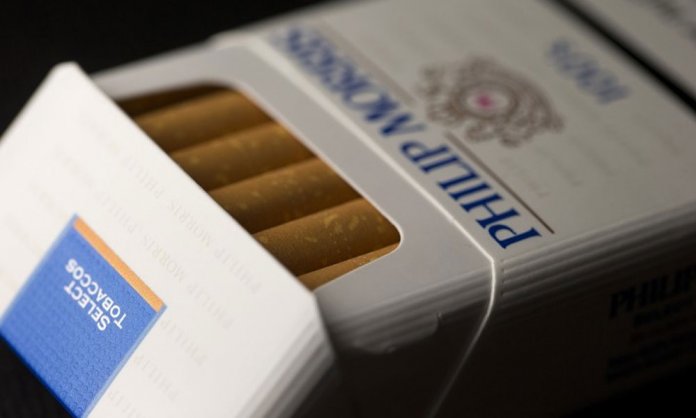 As 2017 came to an end, we all made our new year resolutions, as they say ' a new year, a new us'. While some vowed to start exercising, others promise to eat healthily!
Philip Morris International, an American cigarette and tobacco manufacturing company, also made a New Year resolution. Thousands of people each year decide to give up on smoking, hence the cigarette manufacturing giant decided to give up on manufacturing cigarettes.
Tobacco giant Philip Morris says it has a New Year resolution: to try to 'give up' cigarettes. More: https://t.co/KoO6Y2kAz8 pic.twitter.com/Rrbg6vrHnL

— Reuters Top News (@Reuters) January 3, 2018
The tobacco company recently placed full-page adverts in several UK newspapers claiming that the firm's "New Year's resolution" for 2018 is to "stop selling cigarettes."
Philip Morris stated:
"Our ambition is to stop selling cigarettes. It won't be easy. But we are determined to turn our vision into reality. There are 7.6 million adults in the UK who smoke. The best action they can take is to quit smoking".
"Philip Morris is known for cigarettes. Every year, many smokers give them up. Now it's our turn," reads the ad.
The company now aims to help people give up on smoking by not only quitting manufacturing cigarettes but also by stopping the production of any tobacco product. However, they have decided to come up with other smoking-free alternatives like e-cigarettes and heated tobacco products.
The company claimed;
"It can achieve a significant public-health benefit only when a large number of these smokers switch from cigarettes to better products."
World's second-largest cigarette manufacturer to stop selling cigarettes https://t.co/73TZerjJfy pic.twitter.com/QGKnoCp8v7

— Newshub (@NewshubNZ) January 4, 2018
Peter Nixon, managing director of Philip Morris, reported:
"We believe we have an important role to play in helping the UK become smoke-free. The commitments announced today are practical steps that could accelerate that goal."
"We recognize that never starting to smoke — or quitting altogether — are always the best option. But for those who continue to smoke, there are more alternatives than ever available in the UK."
The company, since its start, had invested billions of dollars for the production, and manufacturing of the cigarettes. But now, suddenly, they have decided to close its core business and switch into the production of its alternative in which they have already invested d £2.5 billion into the research and development of smoke-free products to date.
What are your views on this decision? Let us know in the comments below.
Stay tuned to Brandsynario for more news and updates.
---
Contributed By: Umaima Nadeem