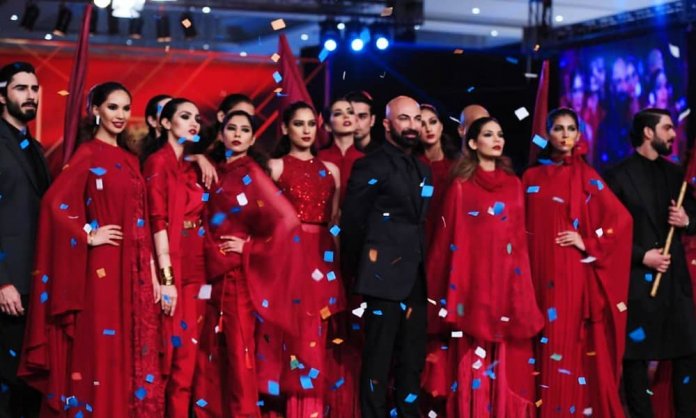 The Pakistan Fashion Design Council (PFDC) in collaboration with its title sponsor, Sunsilk hosted the third and final day of PFDC Sunsilk Fashion Week on Saturday, 13th April in Lahore.
The 20th consecutive fashion show in line with international standards ended glamorously after three fashion-packed days where 22 designers put forth their exquisite collections. This year PFDC also collaborated with the Trade Development Authority Pakistan (TDAP) to further the channel of communication with international buyers while promoting the business of fashion.
The guests walked down the blue carpet, sponsored by world-class water brand, Aquafina. With TEXPO happening across the venue, the show brought in international buyers allowing them to experience the whole process of hand to loom, to a high fashion set in the evening, making PSFW19 more exciting. Every season, PFDC creates shows that highlight the best of Pakistani fashion and this year was no less. With a wide array of talented and creative designers, the third-day collection showcases ramped up the style quotient. The day opened with afternoon shows where Khas, Sanoor, and Almirah displayed their creations. The evening shows included So Kamal, Zaha by Khadija Shah, Nomi Ansari x Tahura, Republic by Omar Farooq and a grand closing by HSY.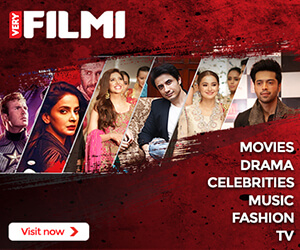 The Pakistan Fashion Design Council is extremely proud to host the 20th consecutive fashion week. Each year, they streamline the process of making the PSFW experience beneficial for stakeholders, benefactors, and fashion enthusiasts – both locally and internationally. Their purpose is to bring the best of fashion trends for each season, all under one roof, showcased by well-established, emerging and debut designers. PFDC works with industry professionals, designers, sponsors and partners that assist in curating a show that enhances their fashion week platforms while helping them maintain the standard of the shows.
Speaking on this occasion, Unilever Pakistan Limited's Marketing Director for Beauty and Personal Care, Asima Haq explained, "Over the years, Sunsilk has established itself as a beauty brand that helps young Pakistani girls be confident. Since 2010, Sunsilk has been collaborating with PFDC and local designers to bring fashion trends to Pakistani millennials. This year the brand is moving one step forward and opening up more possibilities for young girls who aspire to be part of Pakistan's fashion industry through our digital platform. We are always delighted to partner with PFDC and hope that our relationship continues to become even stronger over the years.
The Council organizes back-to-back Spring and Fall fashion trade events as per the international fashion calendar. It leads the industry through creative influence and is strategically working towards improving the business of fashion while repositioning Pakistani fashion in the global fashion economy.
 About the designers and their collection details:
Show Opener: Khaas
Khas Stores with Khas Philosophy of quality, innovation, designs and khas trend presented its Khas designer lawn collection. The pieces reflected apparel for comfort, luxury and Khas look. Keeping quality as a priority and innovation as their main goal; Khas proudly presented their wide range of refined products featuring a blend of comfort, luxury and visual appeal that left all awestruck.
Sanoor
Sanoor Introduced a unique eclectic blend of design philosophies, artistic tastes and styles from rich cultures of various civilizations around the world. Taking inspiration from all over the world, the collection unified them with the customary tastes and heritage of Pakistan. The spring summer collection was a combination of pastel colors, exotic flowers, paisleys and oriental ornamentation and much more with a touch of fine embroideries that gave a fresh summer feel.
Almirah
Almirah represented class and sophistication and signified traditional ideals with modern execution. The creative designs were attuned to rich history and ran deeper than just latest trends. Simple and classically modern. The pieces were impeccably represented the brand's core values of class, originality, and heritage. Truly, a trendy stitch in time. The collection had a blend of the palette of subtle colors and finest fabric. With a wide range and countless designs, the sherwanis, waistcoats, and formal suits sewn in threads of sophistication and embroidered with the glory of incomparable workmanship. Through the ensembles, audience relived a grandiose era of royalty. Wasim Akram was the showstopper for Almirah.
So Kamal
So Kamal presented a range from morning to evening where a girl can select anything from So Kamal wardrobe. In this millennial era, today's generation is aware of what's happening around, how to dress up accordingly to stand out strong. The collection presented a range which was youthful, fun-loving and free-spirited.
Having a palate of brighter tones – florescent accents and Deeper Hues, So Kamal created a wardrobe to cater a woman of every walk of life. They also introduced the Athleisure Line focusing on volume harem pants – cuff jackets and so kamal logo tees. The Evening line consisted of big emphasis on details of Sequence, cut pipes, gottas and beaded embellishments and floral colored embroideries. Ruffles and bows accentuated the mid-day look of the garments. Along with Ethnic-geo motives with luxe skirts, overs sized tunics – adorned capes draped gowns and textured crushed fabrication which enlightened the collection.
Zaha by Khadija Shah – Wild Things
An eclectic collection rooted in the glamour and decadence of the eighties. A decade of bold style and even bolder women. The collection comprised of flamboyant yet easy to wear silhouettes featuring clashing animal prints in punchy primary colors. The 'Wild Things' glamorous display was a pleasure to watch and remarkably loved by all. Mawra Hocane was the showstopper.
Nomi Ansari X Tūhura
Fashion powerhouse Nomi Ansari joined forces with Pakistan's leading online sportswear brand, Tuhura Athletics, to debut a luxury active-wear collection. The limited-edition capsule, inspired by the designer's active on-the-go lifestyle and retro style, featured a variety of silhouettes and colors. The collection ranged from head-to-toe animal prints, full monochromatic studio-to-street styles, fierce neon sets and must-have metallic windbreakers.  The display stood out as models strutted down the runway in athleisure wear while busting moves making the walk twice as exciting and fun. The 20 set collection, will be available exclusively from mid-April at www.tuhuraathletics.com. Hania Amir was the showstopper for Nomi Ansari.
Republic by Omar Farooq – Metaphor 
A luxury street-wear capsule collection by Republic by Omar Farooq explored the evolution of symbolism from a form of basic communication to that of self-representation and anarchic expression. Much like the clothes that played on the balance between past construction and present deconstruction on a palette of subtle creams just positioned with fluorescent neon shades, challenged the contrasting idea of how the same symbol can be both favorable for one culture and baneful for another. Neon shirts, vests and stripes on single toned suits added a pop of color to sophisticated menswear sprucing up the runway looks. Sheheryar Munawar was the showstopper.
HSY – Rani
The iconic fashion force, Hassan Sheheryar Yasin celebrated 2019 as his 25th year in fashion and one in which he comes full circle with the HSY brand. HSY's journey has been one with his mother; his guiding light as a strong icon of an empowered and empowering woman. In an ode to their bond, the collection was titled 'Rani', his mother's nickname and 'queen'. The pieces were a clear depiction of powerful, independent, free-spirited and elegant women. The collection pieces were mostly all red and had patterns which were hand-made and the fabrics used were georgettes woven out of silk yarn, predominately based in a monochromatic color palette 'red' because the color has a special significance in HSY's life as the first color he saw when he got his sight back, 25 years back.
Amongst the tastefully lit lighting and décor were famous faces with the likes of Nasreen Sheikh, Sehyr and Naseem Saigol, Amna Taseer, Wasim Akram, Frieha Altaf, Meera Jee, Mawra Hocane, Sheheryar Munawar, Alyzeh Gabol, Hania Amir and many more. The show was an exceptional preview of what's in store for Pakistan's fashion-lovers this Spring/Summer season.
PFDC is proud to continue their partnership with the global giant Unilever's hair care brand, Sunsilk as their title sponsor and Aquafina as the Blue Carpet and beverage partner. The Media Partner is HUM TV, the Footwear Partner is Borjan, the Fragrance Partner is J. Fragrances, Transportation Partner is Careem, and the Radio Partner is FM 89. The Associate Sponsors are Lipton, Engine, and Almirah.
The teams that brought PSFW'19 together are Sadia Siddiqui of Mustang Productions as the show director, Talking Point as the PR management agency, Nabila as the hair and makeup stylist, Kamiar Rokni as the spokesperson for PFDC, Production 021 for backstage management, technical direction and event consultants, Red Communications for digital support, Rehan Babar as the red carpet host, Restart Branding Solutions for branding and logistics, Empact Activation Services for event architecture and safety, AI Solutions