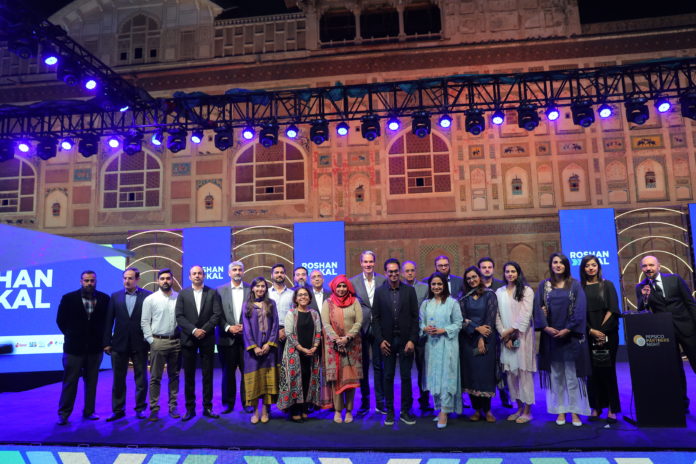 On this International Youth Day, PepsiCo Pakistan is celebrating with "Roshan Kal", a youth empowerment initiative that has united 18 cross-sectoral businesses and companies for the impactful national apprenticeship program. This initiative exemplifies PepsiCo Pakistan's unwavering commitment to creating an environment that fosters growth and equal opportunity for Pakistan's youth, envisioning a future in which their contributions propel local and national progress.
The driving force being Roshan Kal is a groundbreaking alliance of prominent private-sector organizations, including KFC, Hum Network, LCI, and Daraz. This comprehensive approach extends the reach of this initiative significantly and includes talented graduates joining in from smaller towns through a hybrid model that is inclusive and 50% gender equitable.
This internship program is meticulously designed to provide a comprehensive professional education and cultivate a growth-oriented mindset. "Roshan Kal" celebrates the remarkable diversity, uniqueness, and potential of each young person, recognizing their distinct skills, talents, and perspectives that, when refined, become a potent force for socioeconomic advancement.
For the inaugural cohort of the "Roshan Kal" internship program, young graduates were invited to submit their applications via Rozee.pk, Pakistan's preeminent job board. Experts from collaborating organizations identified prospective interns out of thousands of applications through a collaborative evaluation based on stringent selection criteria. The selected interns will embark on a voyage across multiple participating companies, engaging with mentors from a variety of disciplines, and constructing a robust professional network.
Furqan Ahmed Syed, CEO of PepsiCo Pakistan, stated, "PepsiCo is devoted to empowering the youth of Pakistan as they are the architects of our future. Roshan Kal leverages collaboration with 18 partner organizations to provide young adults the opportunity to acquire insights into diverse and complex industries, enabling them to develop unique and multi-faceted skills while cultivating leadership capabilities, critical thinking, and innovation required for the future-fit youth of Pakistan. This is part of our larger commitment to youth development, in line with our long-standing partnership for the Amal Career-Prep Fellowship program with Amal Academy, which has been supported by the PepsiCo Foundation since 2018 and recently celebrated the graduation of 10,000 Amal Fellows. The positive impact created is evinced through the 88% alumni who are now engaged in wide-ranging jobs and entrepreneurial ventures, with a significant women representation raising the bar on equity and diversity."
Sarah Hassan, Senior HR Director at PepsiCo Pakistan, stated, "'Roshan Kal' is a manifestation of PepsiCo's global sustainability agenda, PepsiCo Positive (pep+), reflecting our unwavering commitment to impactful community initiatives such as Millions of Meals, Farm Day Care, and PepsiCo – IRM Smart Schools. This program reflects our commitment to initiatives that uplift individuals and communities, thereby contributing to a more inclusive and sustainable future. The introduction of 'Roshan Kal' is an important milestone, not only for PepsiCo Pakistan but for the entire nation. We address crucial societal concerns, such as adolescent empowerment, through strategic partnerships, capabilities, and influence. On this International Youth Day, we reaffirm our commitment to create opportunities for youth that will leave an indelible impression."
Through shared collaborations, Roshan kal aims to foster youth potential. It also seeks to create a thriving talent ecosystem that prepares each graduate for future dynamic professional opportunities in the ever-evolving market landscape.