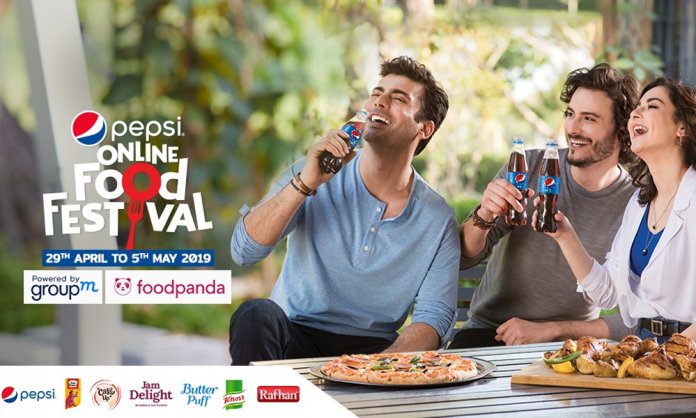 Pepsi and GroupM are gearing up for the biggest online food festival in partnership with Foodpanda. Starting from 29th of April and continuing till the 5th of May, the Pepsi Online Food Festival is a revolutionary event which is expected to be a game changer for the service sector and e-commerce businesses in Pakistan.!
We all know that where there's food, it has to be accompanied with a perfect drink that satisfies our cravings – and what better choice than Pepsi! For the last 50 years, the beverage brand has been associated with the country, its people, and their favourite dishes.
Karachiites are sure to enjoy the week-long event which has more than 2,000 vendors participating as well as 10 novelty vendors to take our tastebuds on a rollercoaster.
Pepsi is an iconic brand with a heritage of over 50 years in Pakistan. it is only natural that as an iconic brand, Pepsi gives the people of Pakistan this first of its kind, disruptive and memorable experience -Saad Khan, Marketing Director, Beverages PepsiCo, Inc. | Pakistan & Afghanistan BU
There are a number of eateries and cuisines just a simple click away, be it Chinese, Pan Asain, Desi or even fast food, everything will be an arm's length for all die-hard foodies!
To top it all, there are also going to be amazing deals, vouchers and flash deals available for Karachiites with up to 70% off. That's not all, English Biscuit Manufacturer (EBM) is giving food-fanatics a chance to save up to 65% on well-known eateries including Akram Fish Point, Ala Rasi, Praguery, Lush Crush, Cloud Naan, 14th Street Pizza, Oh My Grill, White Biryani, Burger Lab and more.
If you are having difficulty in choosing from all the options, Pepsi has your back! The brand will share their recommendations and picks from the available menus from top restaurants. Knorr is also all-in with its Fast Food Corner letting foodies take home fabulous discounts on burger joints, pizza spots, and well known fast food restaurants.
Craving for a sweet-tooth? Rafhan Desert Corner has you covered with the best savings possible on vendors such as Bond Street Waffles, Karamel, Pop Bar and Scream, just to name a few.
At GroupM, we are always a step ahead in understanding and shaping the digital landscape of Pakistan. We will continue to showcase our leadership in terms of Expertise, Partnerships and thought Process -Amna Khatib Paracha, GM Digital, GroupM
So what are you waiting for? Make the most from the Pepsi Online Food Festival!