18 views
[Update]: Some time ago, we had heard that PCB (Pakistan Cricket Board) would be announcing maternity leaves and we had hoped that they would also consider paternity leaves as well. As it turns out, they did. PCB took it to Twitter yesterday saying that they are ready to announce their parental leave policy.
PCB has announced its parental leave policy to support professional cricketers' through pregnancy, their return to play and parental responsibilities.
 
Read details here ➡️ https://t.co/6Z7wXFHOmS pic.twitter.com/HB6SwtvgXQ

— Pakistan Cricket (@TheRealPCB) May 4, 2021
According to these policies, female cricketers can transfer to a non-playing role until the commencement of their maternity leave. They will be entitled to 12 months of paid leave and get a contract extension for the following year. Not only that, but they will also get medical and physical support for post-childbirth rehabilitation. Men will also get 30 days of paternity leave. Of course, if it was at least three months long where they could help their spouse in post-childbirth that would have made more difference. But even this much effort is great.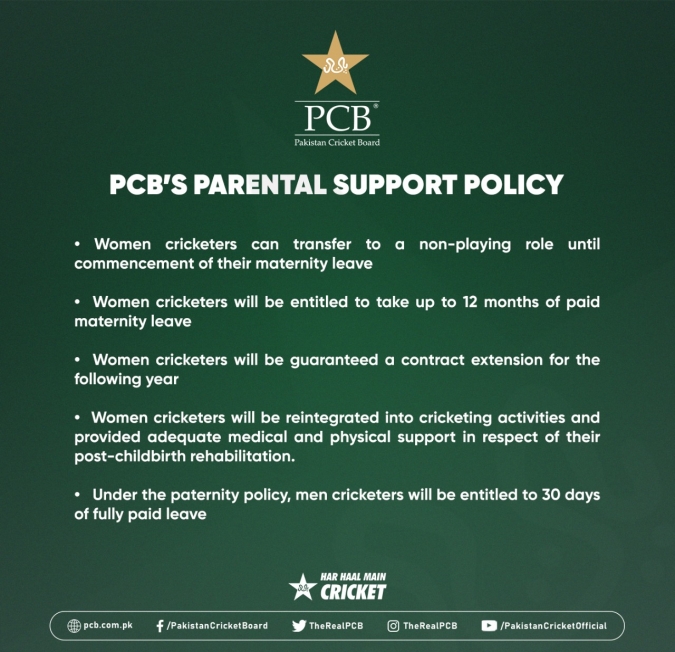 ---
---
[Apr 19th, 2021]:
PCB To Offer Maternity Leaves For Female Cricketers
Children are a reality and while this reality is endorsed in our society, it is not made so that the parents can welcome their child in the best way possible. Let alone paternity leave, in many workplaces, even maternity leaves are not allowed. And so women have to resign from their jobs. But PCB (Pakistan Cricket Board) it seems is turning over a new leaf.
PCB & Maternity Leaves
It is being rumored that the maternity leave clause will soon be added to the contracts of female cricketers in Pakistan. Up until now, PCB did not have anything remotely related to the phenomenon of maternity leave, nor would they provide any facilities during this time to the female cricketers. So the cricketers would be forced to bid farewell to their profession.
But now, PCB has become open to the idea of maternity leave. Not only are they thinking of adding indefinite maternity leave, but also medical benefits as well as full pay.
Bismah Maroof: The Pakistani cricket team captain
This development comes right after the Pakistani captain of the female crickets announced on social media that she is expecting. Bismah Maroof also said that she is taking an indefinite break from cricket.
I am delighted to announce that I am entering a new chapter in my life as motherhood beckons. I would like to wish the Pakistan women's team the very best as I take an indefinite break from cricket. Request for prayers and support. Thank you 🤗

— Bismah Maroof (@maroof_bismah) April 16, 2021
It is high time that this clause was added because women were, for the longest time, forced to leave their passion because they had to choose between family or profession. And when they would be expecting, the medical condition wouldn't allow them to play hence, they had to leave the team forever.
Changing society
It is a breath of fresh air to see that they are willing to make their mark in making society more willing to welcome new lives on a positive note, and making the professional world welcoming for mothers.
Congratulations Bismah! We wish you and your family the very best as you enter this new phase of your life. https://t.co/aJJFXwKE3X

— Pakistan Cricket (@TheRealPCB) April 16, 2021
Since PCB is willing to make the world better, we would also like for them to consider paternity leaves after they finalize plans for maternity leaves. Paternity leaves are also important because the men are as much responsible for the new life as women. Moreover, it is not fair for them to be forced to choose cricket over their newborn.
Stay tuned to Brandsynario for the latest news and updates!