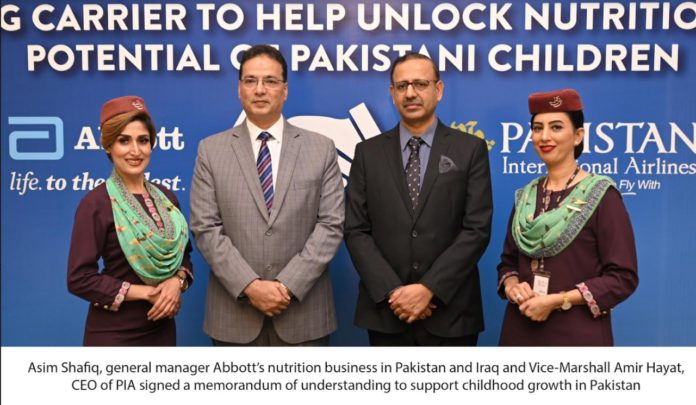 Abbott and Pakistan International Airlines (PIA) teamed up to educate on how good nutrition can support childhood growth and bring awareness to the issues of malnutrition and stunting. Passengers on PIA domestic flights will receive materials on how to recognize and address picky eating behavior and ideas to engage kids in the kitchen, In addition, board games, coloring books and puzzles will be provided to keep children entertained on board.
Kids need nutritious foods for healthy growth and development, especially during early, formative years of their lives. When kids are picky eaters for long periods of time, they may not be able to get complete and balanced nutrition through regular diet, and this can lead to serious health issues like malnutrition, immune deficiencies, diminished bone health, stunting and decreased muscle mass, which can have lifelong consequences from poor health outcomes.
Growth issues in the first five years may challenge a child's development and limit future potential, as approximately 60% of adult height is achieved by the age of five.  Making sure children get the right nutrition for proper growth and development should be a high priority for parents and caregivers so that all children can grow and live to their fullest potential.
"We are very happy to partner with our national carrier, PIA, on this initiative and bring awareness to the importance of proper nutrition for childhood growth," said Asim Shafiq, general manager of Abbott's nutrition business in Pakistan and Iraq. "Through PediaSure, Abbott has been playing a pivotal role in providing children in Pakistan with a science-based milk supplement that will help address nutrition gaps and foster healthy growth."
"Being the national air carrier, PIA believes it has an important role to play in protecting and nurturing the future of our country," said Vice-Marshall Amir Hayat, Chief Executive Officer of PIA. "We have therefore decided to partner with global healthcare leader Abbott."