Quetta just got its first-ever female PSP officer, Pari Gul. To say that Pakistan is proud of her would be an understatement!

About Pari Gul
Pari Gul hails from the Pishin area in Balochistan. She's brilliant and hard-working (obviously). But did you know that she scored 4th position in the CSS exams in 2017? CSS exams are not everyone's cup of tea, but they are also incredibly hard. Pari Gul aced them and continued to work with determination until she landed this position.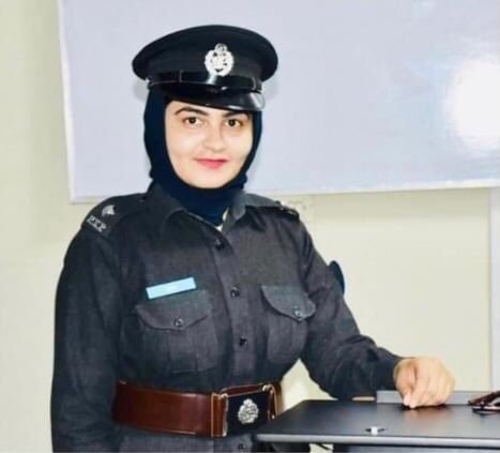 Her Hopes and Dreams
In Balochistan, she is the first female officer to join the PSP group. She believes it could not have been the case for other females because they are neither allowed nor have the exposure to do so. She mentioned in her interview that the Police uniform always attracted her, so she went for it!
Check Out Her Inspiring Interview Here:
The Backbone of Her Success
Pari Gul mentions that the first person she called after seeing her name was her husband. Her husband has been wonderfully supportive of her throughout. She even says if I am here, "that's just because of my husband."
Being the first female police officer in Balochistan is a landmark achievement. To know that we had a woman come forth because her husband supported her is heart-warming. In a country like Pakistan, where husbands are the cause of oppression for many, Pari Gul's husband shows what it's like to be a backbone.
Twitter Reacts
People on Twitter are expressing their pride in overseeing the first female officer in Balochistan. Read people's tweets here:
First ever female PSP Officer of Balochistan Pari Gul Tareen has been appointed as ASP/SDPO Quetta Cantonment owing to her persistent efforts & dedication.
A heartiest congratulations to daughter of Balochistan on this achievement.#Pakistan #Balochistan pic.twitter.com/eCZRwNe1DT

— Voice of Balochistan (@VofBalochistan) November 23, 2020
Pari Gul Becomes First Female ASP of Balochistan,
More Power to Women like her🇵🇰❤️❤️ pic.twitter.com/FJkUMAZdJb

— Syeda Trimzi (@TrimiziiiSyeda) November 25, 2020
Meet Pari Gul Tareen – the first ever woman from Balochistan in the Police Force of Pakistan.
Pakistan is Proud of You Ma'am pic.twitter.com/pNlQoZqtD5

— The Pathans (@PathansBeauty) November 25, 2020
A Domino Reaction of Success
Pari Gul's example again shows what women can achieve if they are supported. She not only had the determination to get the police ranks, but she also worked hard to ace her exams.
She also mentioned how seeing her in the uniform; many girls become inspired. They tell her that they also want to join the Police, and now they will try their best to achieve this goal.
This chain of one woman inspiring another is another reason women must be supported. One woman's hard work and determination can pave the path for tens of more. If our future generation of women have their aspirations and goals, which they hope to achieve, we can rest assured Pakistan will be in good hands. 
Did you know, research has shown that women-led countries fared better during a pandemic?
Stay tuned to Brandsynario for the latest news and updates.