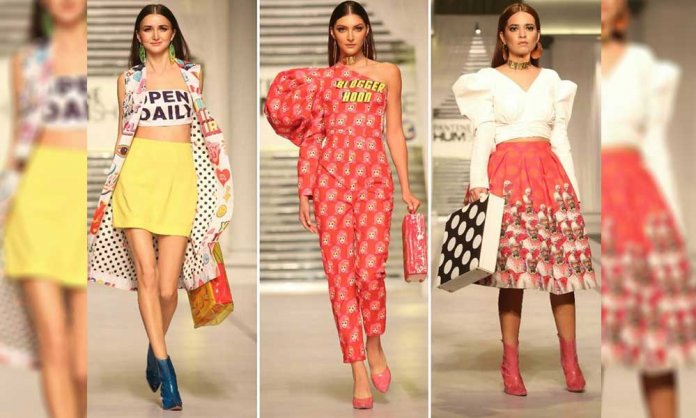 The 3rd edition of Pantene Hum Showcase, powered by TUC, was off to a great start as 7 of Pakistan's illustrious fashion brands showcased their collections.
Displaying unique collections, day one commenced with Zaheer Abbas, followed by 9Lines, Emraan Rajput, Zonia Anwaar, Image, and Deepak & Fahad, with Sublime by Sara as the finale; all setting the pace for a phenomenal fashion week to come.
Commencing the night with 'Conceptuellè', Zaheer Abbas aimed to broaden his canvas of signature whites as he dipped his toes in choice colors rendered with his fanciful imagination. Abbas's collection put a strong, simple, dramatic emphasis on color, cut, construction and contrast in cotton, all without a speck of embellishment or print!
Following this was a strong debut by the quirky 9Lines with Nausheen Shah as their showstopper. Inspired by pop art with a playful touch of contemporary and sass, stitched in modern silhouettes and amped up with out-of-the-world accessories, their collection Pop Kitschry brought pieces that played on the brand's funky sense of humor.
Next, we had Emraan Rajput's 'The Marquis', which was a palatial version of those elements that 'never get old' in men's formal wear; the highlighting pastel and dark colors. This marvelous collection reflected upon the excellence of quality and dictated luxuriousness, with the talented Imran Ashraf as the showstopper.
'Reverdie' by Zonia Anwaar was a contrast between the unassailable power of textile and defiant finesse in silhouettes, celebrating the beginning of spring in full bloom. Breezy, fresh and deliciously feminine, soft structures with digital botanical brilliance brought a cheerful riot of color in bursts of the meander to mint blues and rich greens joined by subtler hues of opulent pinks. Summer jackets, print tunics, and contrary separates were the highlights of this collection, along with some spot-on fashion trends by Zonia Anwaar.

The age-old brand Image brought a desire to revive traditional gota work with 'The Return'. The collection featured a play of modern silhouettes using traditional gota work and showcased a preview of the brand's upcoming luxury pret line for the high street.
This season, Deepak & Fahad strived to highlight the epidemic of endangered species, the magnificent winged and horned creatures that make our world beautiful but are slowly dying out.
With this collection, they used intricate embroidery and prints to give a voice to the voiceless and emphasize the need to protect, conserve and respect. Actors Ali Rehman and Hareem Farooq from the movie Heer Maan Ja walked as showstoppers for the brand.
The sun that sets every single day in all its glory with the most gorgeous and breathtaking hues is what inspired Sara Shahid's SS 2019 collection, 'The Sublime Sunset'. The silhouettes were fluid with a strong emphasis on drape and texture and ended the night on a strong note.
Pantene presented "The Strong is Beautiful" Award to the very talented Palwasha Bashir, who has been remarkable & represented Pakistan on several prestigious global platforms like the Commonwealth Games & Asian Games. Palwasha the National Champion in 2009, a living testament that beauty truly lies in the strength to stand out & shine bright!
Known for its innovation & creativity, the fashion label 9Lines took home the Pantene Rising Star Award.
Speaking on the occasion, Sultana Siddiqui president HUM Network said, "HUM Network has given the local fashion and entertainment industry an array of platforms to not only present talented designers and artists to the global audience, but also to raise the bar of creativity with the quality content presented.
We started bridal couture week and the world now knows the intricate and beautiful work of our designers and their craftsmanship. In the same way, local pret, couture and luxury wear industries need to be introduced to the people around the globe, and HUM Showcase within a very short span of time, has taken over the fraternity with its top of the line production values resulting in high-end fashion on the ramp and via broadcast globally.
Our team has worked successfully to project homegrown talent locally and internationally and will endeavor to do so by continuing to work and give talented people the chance to showcase their work on such platforms. I am also happy that my sons Duraid CEO HUM Network, and Shunaid Board Director HUM Network, support the network in projecting Pakistani culture abroad."
The 3rd Edition of Pantene HUM Showcase featured Rizwan Beyg as show director, Raheel Rao as Senior Fashion Consultant and Advisor, Team Nabila, N-PRO and NGENTS as the official hair & makeup partners, with backstage management by Production 021. Official photography by Arsalan Bukhari, and DJ Yousuf Kamal handling music, while Mind Map Communications is a partner on both digital & press management.