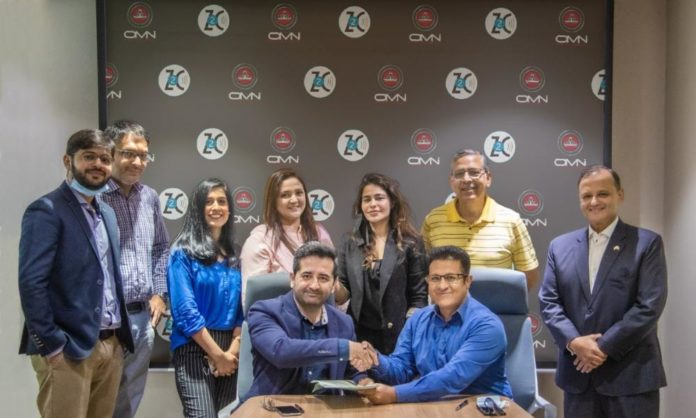 In a landmark deal, Omni Motorsport Pvt. Ltd. and Z2C Limited have signed a groundbreaking motorsports marketing and media agreement to put Pakistan on the international motorsport map.
As part of the exclusive 3-year deal, Z2C Limited will cover the complete sponsorship, branding, marketing & media rights of the Omni Karting Circuit and its forthcoming kart racing championships, the media rights to which have also been exclusively acquired by Z2C.
"We intend to develop motorsports in Pakistan in the highest professional manner to be an inclusive, safe and fun activity," said Syed Ovais Naqvi, CEO & managing partner at Omni Motorsport Pvt. Ltd. "We want to grow motorsport in Pakistan both from a recreational and sporting point of view, from a non-existent sport to one that is widely available and accessible for the public irrespective of age, gender or status."
The Omni Karting Circuit, being developed with $4 million dollars in private equity funding, represents the single largest investment in motorsports in Pakistan.
A multipurpose & multidisciplinary motorsport facility and a high-end leisure destination offering a variety of on-track as well as off-track entertainment activities, it is the first & only international standard karting circuit in the country built to CIK-FIA standards and intended to be the hub of all motorsport activities in Pakistan.
Setting a new standard for karting circuits worldwide the facility blends a state of the art, multi-layout 1.6 KM karting track, high-performance karts, electronic timing systems & high-tech safety equipment, impeccable service, and luxury amenities within a spectacular, safe, and secure setting located in the heart of Karachi adjacent to the Airmen Golf Club & Recreation Park in the Korangi Creek area of Karachi it is easily accessible within 20 minutes from all areas of the city.
"We traditionally tend to take a daring and visionary approach to new opportunities and see a bright future for sports marketing as a new medium to engage with for brands and the corporate sector and look forward to working with advertisers and agencies across the country to grow brand awareness and reach through the Omni Karting Circuit and its endeavors," said Farhan Khan, CEO of Brainchild Communications Pakistan.
The big picture for Omni Motorsports and Z2C Limited will be to find, train, groom, nurture and groom the racing drivers that will eventually master kart racing and make the well-documented transition to compete in Formula 1 motor racing championships, similar to the career of British racing car driver Sir Lewis Carl Davidson Hamilton.