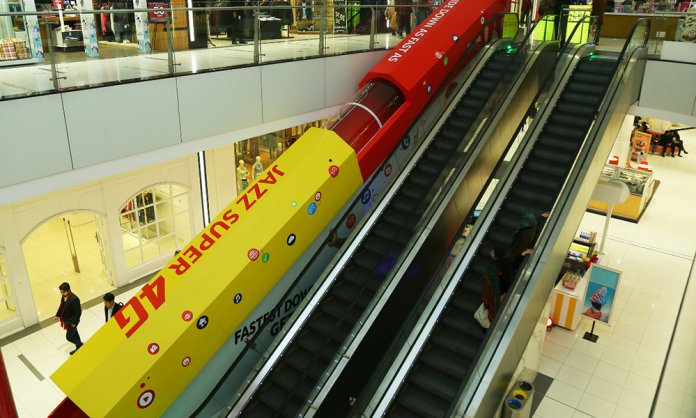 Jazz Super 4G installed Pakistan's first of its kind indoor slide at Packages Mall, Lahore last weekend. The slide gives an experiential flavor of Jazz Super4G service. The event was inaugurated by Jazz top management.
The idea was to give the audience an experience of Jazz Super 4G as compared to its competitor.
Seizing the opportunity, Kinetic planned to install a 60 feet long Super Slide parallel to the escalator to give the audience a faster alternative to get to their desired destination.
On this occasion, Ahsan Sheikh, CEO – Kinetic Pakistan says "Kinetic has always been ahead of the curve by creating synergies and opportunities for brands which are engaging, experiential and always on!"
https://youtu.be/Rnl1ScTPuog
Packages Mall, one of the biggest Malls in Pakistan set an example by giving their space for this creative ideation, which is one of its kind.
Jazz Super 4G has always been coming up with clutter-breaking campaigns that are contextual, innovative and part of a consumer's journey.