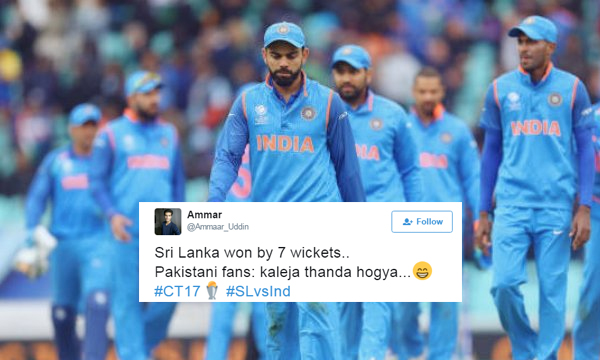 Pakistani Twitter had a field day yesterday after Sri Lanka thrashed India in the ICC Champions' Trophy 2017. Of course, nothing makes the cricket lovers of the nation more ecstatic than seeing their neighboring nation losing a good game of cricket.
Hilarious memes and tweets catapulted on the internet to troll India on the brutal loss. The shocking part is they were not even able to beat the hapless Sri Lankan team at its weakest! Tch Tch too bad!
See the best reactions of Pakistan on blue shirt's savage loss to the Sri Lanka's cricket team!
Current Mood!
#INDvSL
India lost 😁😀😀😀
My mood right Now 👇 pic.twitter.com/4sbrkWP6cr

— Humaira ⭕ (@HumairaMahar) June 8, 2017
Mauka Maukaaa!
#SLvsIND Mauka Mauka, Mauka Mauka, Oh @BCCI teri to baj gai 😛
Thanks @OfficialSLC Who give us reason to celebratte :p

— Faheem Ahmed (@faheemo0) June 9, 2017
Kohli & Yuvraj Be Likee…
India Right Now 😂#SLvsInd #ICCChampionsTrophy pic.twitter.com/U2sxS2pWBP

— گوغلام گو (@mudazir) June 8, 2017
And Pakistan Go Like…
#INDvSL after watching Match
Every Pakistani be like pic.twitter.com/t8sQTMfQrv

— ڈی leemع (@AleemDeSaith) June 8, 2017 I
Can't nothing, bring us down!
Pakistanis Right now Yaho0o0o0 #INDvSL pic.twitter.com/14nGIsedNa

— ٹیپو سُلطان (@Waqas_amjad) June 8, 2017
Poor poor India!
indians right now 😂#INDvSL pic.twitter.com/b5QjiswV77

— Arman 🚬 (@aliarmankhan) June 8, 2017
This is so on point!
What srilankan batsmen have done to India#INDvSL pic.twitter.com/jK4HIWrCa0

— Waleed Nasir (@waleednasir00) June 8, 2017
Dil K Armaan Ansoon Mein Beh Gayeee!
Indians …………#INDvSL pic.twitter.com/FuKQSV0FNJ

— NAYA PAK 🇵🇰🇵🇰 (@Pak2019) June 8, 2017
Sssshhhhhhh….
Two minutes of silence for India.
#INDvSL pic.twitter.com/4O7MwCyYNF

— Yusra Azim (@YusraAzim) June 8, 2017
Lesson for Blue shirts!
Han @virendersehwag *Machis ke dibi mein Aag lagi phir".?? 😂
Two lessons :
1. Don't underestimate anyone.
2. Don't be overconfident #INDvSL pic.twitter.com/x7YHbikm7X

— Faisal Hussain (@iam_siddiqui) June 8, 2017
Cause Pakistan Rules!
Sorry indian Friends😂😂
Today's match was between#INDvSL But
#Pakistan won the match 😂😂

— MFaISaLM (@MFaisalMJ) June 8, 2017