Pakistani have the art to turn everything into banter. A few days ago, a video from Cafe Soul Islamabad was posted on social media. In the video, two women were later identified as restaurant owners who are seen ridiculing their manager for not being fluent in English.
When Is the "Mushaira" Taking Place?
As per a Facebook event page titled "Cannoli ke Bahir Urdu Mushaira," a mushaira is expected to be held outside the controversial cafe, which already has a guest list of 800 people who claimed that they would be attending the event, whereas approximately 4700 people expressed their interest in the event.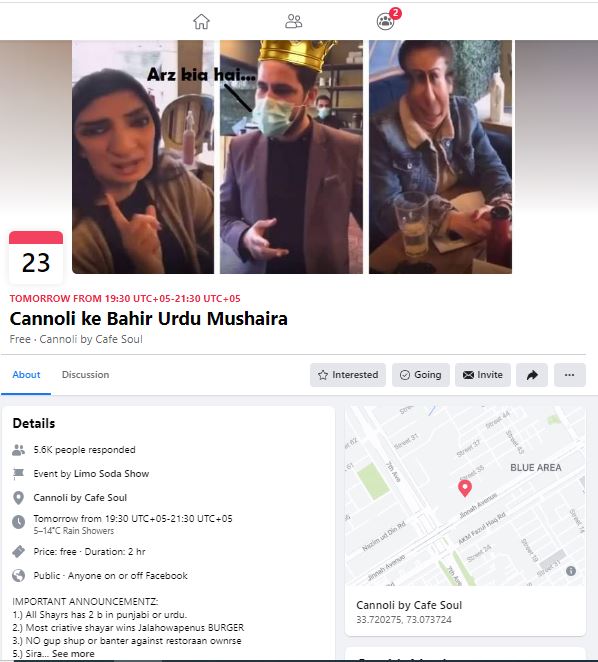 As per the details posted on the Facebook event page, the event would be held on 23rd January and would be for two hours and will only have Urdu or Punjabi Shayari. Even though it sounds more like a satire, we'd have to find out how things unfold tomorrow outside Cafe Soul.
The Background Of The Events That Have Unfolded So Far:
The video gained a lot of outcry and criticism from the public, who not only ridiculed the restaurant owners for their vile behavior but also took this moment to conversate about our underlying bias and colonialist mindset where we consider our own language and culture inferior to that of an English speaking Western country.
Many people even took the time to identify those people, and some even linked their personal profiles, which caused one of the owners to deactivate her Facebook profile, as per claims made online.
After being bashed online, the restaurant owners finally took a moment and to talk about the incident and clarify their stance but not to apologize. They termed the conversation as a "gup-shup session" and friendly banter and were saddened by the reaction they got but unfortunately not for their behavior. They also said they don't need to prove to anyone that they are kind employers.
Soon after this incident viral, Shahbaz Taseer offered the manager Awais a job and announced on Twitter his intention to offer him work at his company.
Just spoke to Awais. He's in high spirits and was very professional. We have made him an offer let's see ❤️

— Shahbaz Taseer (@ShahbazTaseer) January 21, 2021
He also revealed later that his company spoke to him, put forth an offer, and awaited his response.
Let's see how things go in the next few days for Awais. Whether he accepts a new opportunity or his employer's experience has been as good as they describe it on their Instagram. We'll keep you updated on the latest development as we find out.
Follow Brandsynario for more news & updates.