Ten Pakistanis participated in Tokyo Olympics 2020. Unfortunately, nine of them were eliminated in the initial rounds only. Arshad Nadeem, Pakistani Javelin thrower was the only citizen to have made it to the final round of Olympics. Most of Pakistan was looking forward to his performance.
Rooting for our athlete, we also tuned in to watch the famous throw at exactly 4pm Pakistani time on 8th July 2021. The finals consisted of 12 contestants from different countries who needed to play 6 rounds.
In the first round, 4 of them were to be left behind and 8 were to continue to finals.
Nadeem Arshad Making Tremendous Effort
All through the event, we could see that the player were making a huge effort. Fun fact to note, athletes from Pakistan and India were competing against each other. It is certainly interesting to see Pakistan and India clash on the sports field yet again. People were as excited to watch it as they are when a cricket match between the two takes place.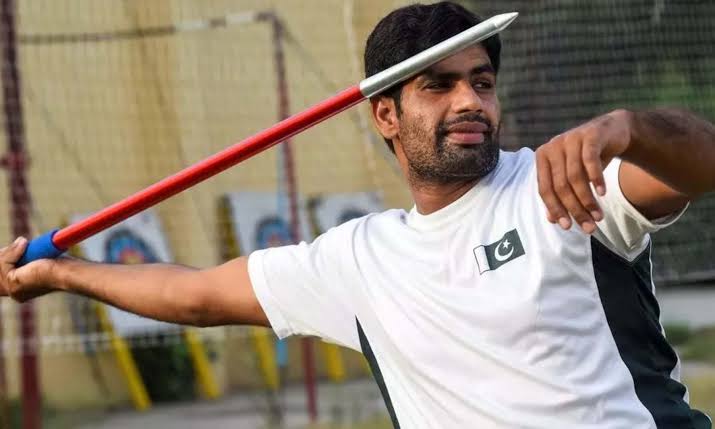 After a while into the first round, two contestants were eliminated. At this point, Nadeem Arshad was at number 6 and Neeraj Chopra, from India, at number 1. The contest was fierce and no one was willing to give in.
What Became?
After much collision and throws, it seems that Nadeem Arshad overstepped in one of his throws. While the throw itself was impressive, sadly, it did not count. Thus, this put him out of the race for a medal. However, this does not mean that all of his efforts must be disregarded. He secured 5th position even if he was not able to secure a medal. The fact that he reached the finals shows how much potential he is. It takes quite a lot of power to make it that far in an international event.
You have various countries competing with you and you still make it out that high: this not only highlights his determination but his strength as well. There is no shame in this and Pakistan stands with Nadeem Arshad. He is truly an Olympian worthy of praise. Pakistan feels proud to see how far our golden athlete has come.
#ArshadNadeem, thank you for giving us hope and taking us this far. Pakistan is proud of you. #Olympics

— Ch Fawad Hussain (@fawadchaudhry) August 7, 2021
Thank you #ArshadNadeem for fighting till end and making all of us feel proud of you. You may have not won medal but You won our hearts. Your presence and fight at such a big event means a lot for all of us. Congratulations for 5th position.
*Congratulations to Indian Chopra.

— Rauf Klasra (@KlasraRauf) August 7, 2021
💔💔
but take a bow #ArshadNadeem

You effort teach us that ww have talent in other Sports too

Apko Puri Qaum Ka Salam pic.twitter.com/RgXzTAeKfm

— Abdul Ghaffar (Replay, Dawn News) (@GhaffarDawnNews) August 7, 2021
Every single Pakistani should be proud of #ArshadNadeem. He has given us hope of a medal, given us joy, put us on the world map for athletics. He has done so without support, without facilities his competitors had. Arshad Nadeem is a true Pakistani hero,

— Rehan Ulhaq (@Rehan_ulhaq) August 7, 2021
We feel nothing but pride for the distance he has travelled and the journey he has made.
Appreciating Work
While Nadeem Arshad may not have won a medal, he has certainly won the hearts of millions with what he has done. Pakistan is not short of any talent when it comes to anything. In respect of his journey, let us listen to a relatable soundtrack from the film 'Rush'; 'Lost But Won'.
#ArshadNadeem has won the hearts of our whole nation. What an incredible effort from him at #Tokyo2020 pic.twitter.com/CGrrOHunsm

— PTI (@PTIofficial) August 7, 2021
You tried your best @ArshadJavelin !! Welldone. A true champion is a true champion. They go fight and win or lose, give it their all. You have already made the entire nation proud of you. Better luck next time! #ArshadNadeem#PakistanZindabad

— Faisal Javed Khan (@FaisalJavedKhan) August 7, 2021
Proud of you #ArshadNadeem. If you had the right kind of support and financial backing, you would have definitely come home with a medal. You are a Pakistani hero and I once again pledge to support our Olympics athletes. #SKOlympicsFund #PakistanZindabad pic.twitter.com/PA3hRghygW

— Shadab Khan (@76Shadabkhan) August 7, 2021
You have made all of us proud. Well done, champ. #ArshadNadeem pic.twitter.com/Oa1YWK2pwU

— K H A Y A M (@KhayamSays) August 7, 2021
Pakistan 🇵🇰 is out of the medal race but it's amazing and proud of #ArshadNadeem who brought the #Pakistani nation in front of TV screen to watch the #JavelinThrow at #Olympics.

Head up Champ. The Nation is proud of you.. pic.twitter.com/HBlV7ci6u5

— Developing Pakistan (@developingpak) August 7, 2021
Stay tuned for more from Brandsynario!