The Coronavirus pandemic has got the world in a state of chaos and despair. To flatten the curve, meaning curb the spread of the virus, various countries, including Pakistan, have ordered a lockdown. A massive loss of economy follows the lockdown, but to save the people from getting infected by COVID-19, this measure has been implemented.
In a country like Pakistan, a considerable chunk of the population is working on a daily wage basis; however, due to the lockdown, these people are not able to earn and are therefore at a complete loss.
Prime Minister Imran Khan also mentioned in a recent address, "25% of the population cannot afford to eat two meals a day."
This is where the Pakistani population, that can afford to sit at home during a lockdown rise. From celebrities, NGOs to countless individuals, everybody is working towards ensuring that all those who are unable to fend for themselves during this crisis receive a regular supply of food, water, and other essentials to survive through the pandemic. This sense of unity is a welcomed sight for the sore eyes.

Pakistanis have shown the world that even though we may not have the resources to match a first world country during this crisis, we have ample of hope, empathy, and positivity that will sail us through this turbulent time.
The generosity Pakistani people have shown in this critical time is true, worth applauding.
The I-Care Foundation, headed by two individuals, has been working towards helping people with whatever necessities they need. They collect donations and then pass it on to the needy. To get in touch with them, please visit www.i-care-foundation.org.
The Kiran Foundation has collaborated with ECC to empower the minorities affected during the pandemic through the 'Dosti Ration Campaign.' The areas they are working in are Lyari and beyond. Kudos to them for especially thinking about those who are often neglected.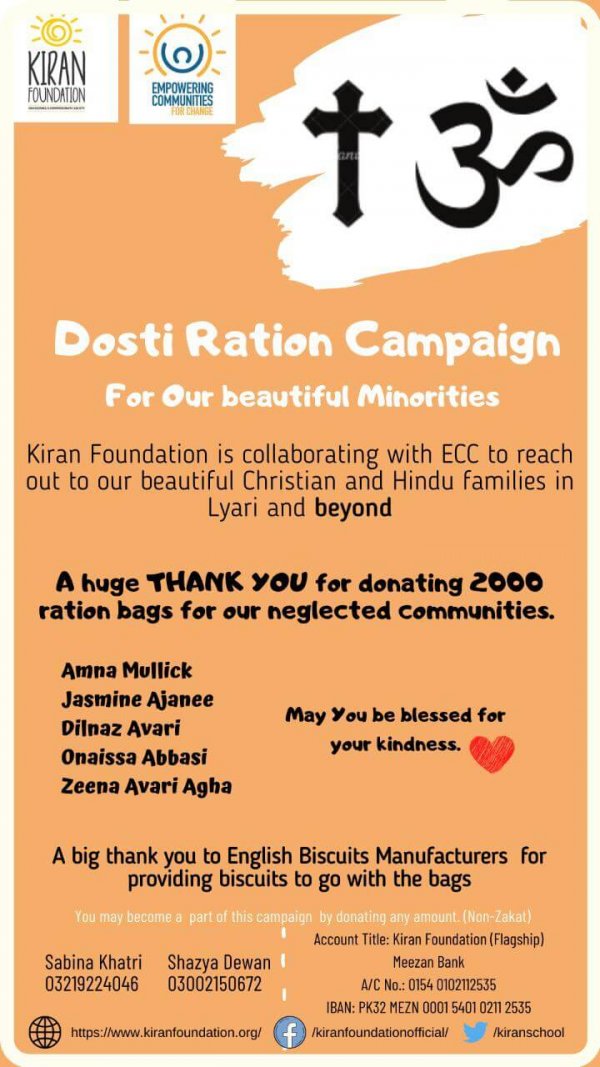 Saylani Welfare Trust is offering the underprivileged suffering due to the virus the service of Roti Bank, where they can acquire cooked food free of cost. It's an excellent initiative from Saylani Welfare.
Robin Hood Army has partnered with Orange Tree that seems to be set up with a Dubai bank for donations with IBAN codes. This collaboration can bring funds internationally, as well.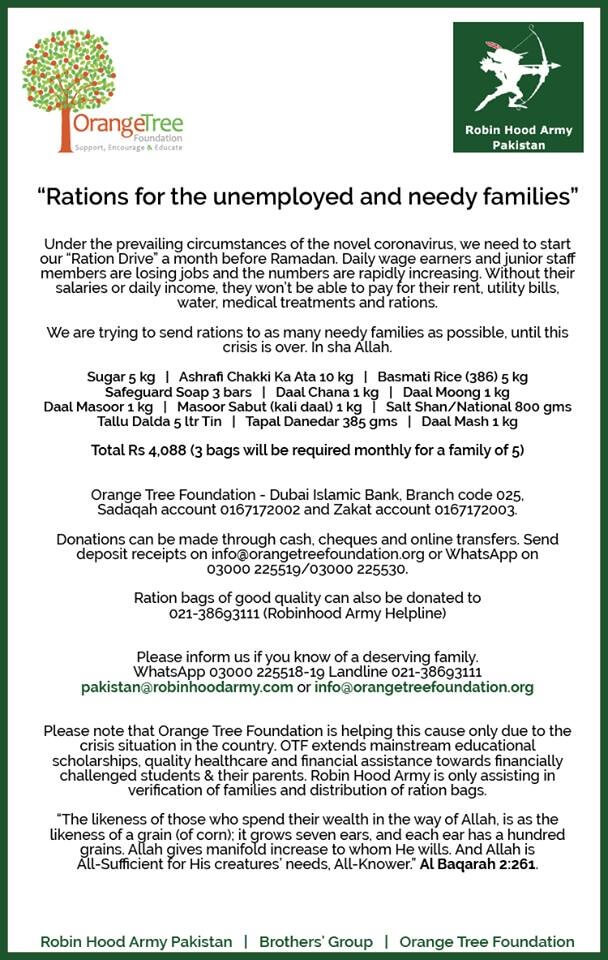 Small home owned businesses are playing a considerable part in battling coronavirus in Pakistan. This home-based confectioner, "A whisk come true," has decided to donate all proceeds from sales for ration.
Aamir Liaquat making food and distributing to the frontline workers helping keep us safe! Our people are full of beautiful surprises!
اس مشکل گھڑی میں اگر واقعی کوئی داد اور تعریف کا مستحق ہے تو وہ ڈاکٹرز اور قانون نافذ کرنے والے ادارے ہیں۔@AamirLiaquat کے اس عمل کی تعریف کرنی چاہئے جس جذبہ سے انہوں نے پولیس اہلکاروں کو اپنے ہاتھ سے بنائی بریانی تقسیم کی۔#CoronaInKarachi #CoronavirusLockdown pic.twitter.com/oIjBqjHYqj

— Arsalan Taj (@ArsalanGhumman) March 31, 2020
Maya Ali, a famous Pakistani actress, began giving out 'ration' bags to the needy and urged her followers to do the same. She says, "Humanity comes first."
It is eminent to say that everyone is working together as a community to make sure no-one is left out without the necessities. Apart from ration bags, renowned designer Asim Jofa and Sweettooth owner, Umer Hussain, are both making protective gear and masks for our courageous frontline workers.
These doctors, nurses, and paramedics have been treating patients for COVID-19 with the bare essentials in some regions causing infections to spread in the medical community itself.
Are you aware of anyone working for the underprivileged during the Coronavirus outbreak in Pakistan? Share their details in the comments below.
Follow Brandsynario for the latest news and updates.