262 views
Pakistanis got deep on an Insta thread and we almost can not handle it. What is being rich for you? 
Bob Marley Weighs In
Bob Marley, the musical legend has once posed this question. "Are you rich?" His response is quoted even today where he denied the fact that money makes you rich. He said love, people, memories and relationships make you rich. 
The Insta Thread
Someone on Twitter was going through their "sad boi hours" and though to ask their followers this question:
Whats the minimum you need to have in order to be considered "rich" ?

— Oshaz (@ThisisOshaz_) February 14, 2021
The Results
The results you ask? They were varied, entertaining, reflective and most importantly, enlightening. Are you ready for a social roller coaster?
The Jokers
There were many who took this question the light-hearted way and gave responses that were amusing. They had a range of funny, pun-intended answers to provide to keep the audience entertained. Here's that same entertainment for you!
Ads free youtube

— Syed Jamal Arbi (@SyedArbi) February 15, 2021
At least a plot in DHA

— Hamza (@oneofhamza) February 15, 2021
2 3 kilo chalgozay honay chayien aap kay pass guest kay liye

— warda (@wardahathar1) February 14, 2021
"Achi" reach

— Saad | sad aired stan acc (@selfregaled) February 14, 2021
The Philosophers
There were many who made Plato and Aristotle happy. They gave answers that neither gave a yes nor a no. Delving into the psyche of the human mind, they explained whether humans can ever even be rich.
"Rich" is a relative term, you won't find an objective answer to this.

— Waro panday wich (@Bitchasslife_) February 14, 2021
Whatever satisfies you, and nothing satisfies anyone because people are always wanting more. So no one is ever "rich", they just have more money in comparison to someone else. If that even made sense .-.

— kashaf (@tiredcavalier) February 14, 2021
The Honest Ones
Then there were the honest ones who truly spoke from the heart. For them being rich meant to fulfil their wishes to do this and that. They wanted to sustain their households whilst also being able to afford "rationally arguable luxuries". Is it just us or are people too deep?
A car, a budget around 40k for leisure spending, branded clothes, your own room (or a house for that matter), one extra appartment for misc. things, and the expenditure of 3 middle class families.

— Ahmed Salar (@ahmed_salar) February 15, 2021
Getting shorts from Adidas without checking the price tag I guess 😅

— Hamdan💸||HALALSHARAB STAN♥️ (@IDIOticSperm101) February 15, 2021
a heavy bike a big house and a resturant.

— wafaa stan account (@Muhamma34094212) February 15, 2021
if I can run my home expenses and still manage to save some handsome amount of money.

— YOUR CRUSH (@sarimhayat15) February 15, 2021
If ur parents are alive U r rich. If u r healthy u r rich. If there is no debt on u, u r rich.
If u have more than 2 million dollars u will be consider rich in any part of the world.

— Faraz Rehman (@faraz1984) February 14, 2021
Enough to travel the world!

— Anoushah (@AnoushahWasif_) February 14, 2021
2 crores at least.

— xyz (@faheemovic_9) February 14, 2021
Dunya Ne Bohat Ghum Diye
Then came the Devdas who had their sadness to share or perhaps were also going through the sad boi hours. Check out what they have to say who were riding their sadness through the night.
More can never be achieved.

— عامی 👤 (@NamaloomI) February 14, 2021
Like minimum income

— Ch.Omar (@Omarabdulrehma1) February 14, 2021
Oshaz emotions are so hightend rn plzz am gonna cry while having 0 penny

— اقراء کائنات🦄 (@unicornbabez_) February 14, 2021
Just an iphone

— ΛHMΞD (@mrahmadusama) February 15, 2021
Social Reflections
Amidst all these, there were many who acted as social reflections. They showed what the society has ingrained in their heads as definition of rich. People want to acquire wealth to "show it to people" or to have a big car. 
3 cars , 5 bank accounts, A government associated Job, worth of 10 million.

— 77Aryan (@77Aryan_) February 15, 2021
Just enough to show ppl.

— Lalay 🌸 (@Huzaila5) February 14, 2021
In the world we live in, especially having survived a pandemic, we can all agree all these markers of success don't mean anything.
So, What is Being Rich?
There can never be an answer to this question. The question is as old as time though the answers change with each person. It's because there is no single recipe for acquiring wealth monetarily, socially or culturally.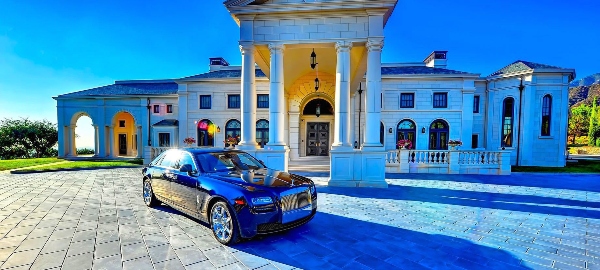 We have even seen that "money does not buy happiness." Celebrities drowning in wealth have been unhappy and those with no roof over their heads have been the happiest. Penny for your thoughts?
Stay tuned to Brandsynario for the latest news and updates.