Online Qurbani was a method many opted for this Eid to fulfill their religious obligations. Several companies came out with online procedures that demanded fees in return for which you would get sacrificed meat.  However, this method had its fair share of frauds. Read what the people have to say about their experiences:
@dcislamabad sir, I had booked qurbani online with following, but they seem to be fraud. Kindly look into it. Can DM further intact pic.twitter.com/883BKpCMNs

— Tariq Izhar Khan (@TariqIzhar) August 1, 2020
We also booked qurbani online with following https://t.co/jO3poQGWQ9
They also appear to be fraud. They promised to deliver on first day, but they have now shut down their phones. No delivery in sight till now.

— Saqib Subhan (@SaqibSubhan12) August 1, 2020
I have booked online Qurbani for Second day with Aimaan Meat I was suppose to get my Share delivered at my Home around https://t.co/ZoIpl8DY1B to 1.00pm but no sign of meat delivery plus trying on their number like hell No one is replying on their number

Feels like Dhokified

— n.malhi (@mnMalhi) August 2, 2020
Have same problem from @bakra eat.
Its 2nd day without meat

— Certified single (@suppersoul) August 2, 2020
Online #Qurbani frauds widely reported on social media. This maybe just the tip of the iceberg since not every victim has voiced complaint publicly. #EidulAdha #Pakistan pic.twitter.com/fr1XaCwKMF

— Sib Kaifee (@sibkaifee) August 3, 2020
The Qurbani That Never Reached
The process for getting "online Qurbani," although was made to seem effortless, spoiled the Eid of many. You select the animal you'd like to pitch in for, you pay for it through online means and are promised to have the meat delivered to your doorstep at the time of your choosing.
Many followed the first two steps, but when it came to the delivery of sacrificed meat, disappointments arose. People either got stale meat, meat that was stinking, or better yet, some did not get anything at all. The same companies then proceeded to switch off the contact numbers they had provided. Which meant they could not be traced and confronted. 
An Ad For Online Qurbani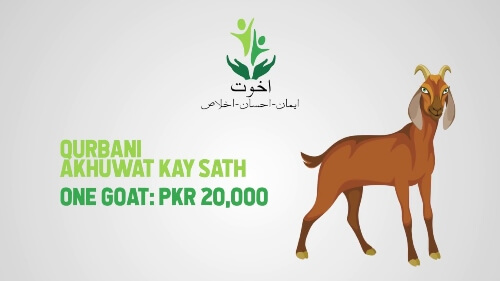 Fraud In The Name Of Religion
This has happened with a countless number of people, not just a handful. This, as a result, proves how standard fraudulent practices are in Pakistan. Additionally, it's worse than any other fraud you can experience or commit. Pitching in for the sacrifice of an animal is not cheap, people use their hard-earned money for it. Moreover, when people commit frauds like this, they rob people of their ability to fulfill their religious obligations.
How apathetic does one have to be to create a scam and profit off of religious obligations?
This, however, still is not as terrible as the other news that was plastered across all news reporting agencies. An old, poor man was given fake money notes amounting to Rs.86000 in exchange for two goats. He spent all his hard-earned money rearing those goats, and when he was finally going to earn money for his sustenance, he was defrauded this way.
May such people be held accountable for their actions, and the next Eid not be spoiled for people through such means.
Stay tuned to Brandsynario for the latest news and updates.