Dhoop Kinare is one of the most classic dramas Pakistan has ever produced. Its fans still keep it as the ultimate benchmark of incredible cinematography, storyline, and ideas.
What Was Dhoop Kinare About?
Dhoop Kinare traced the relationship between a young doctor and a senior one. It used comedy, pathos as well as suspense to keep its audience gripped. Produced in 1987 by PTV, the show also centers around another hospital team in a hospital in Karachi. Their routine lives, public and private, are both explored.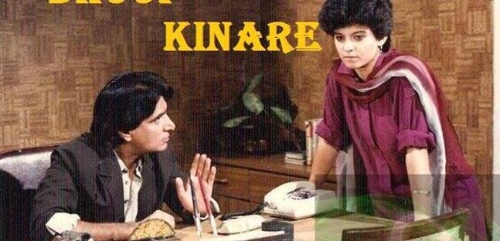 Many love the drama till today because of how at that time. The show centers on doctors in a hospital in Karachi and revolves around their routines in public and private spheres. Anji was Zoya's friend in the drama who had her fair share of fans. Now, all these years later, Anji has been rediscovered by many on Twitter, and they're elated!
Anji aka Kehkashan Awan
Kehkashan Awan is a management consultant and also a political activist on her Twitter. Someone thought she bore a remarkable resemblance to Anji from Dhoop Kinare, and so they asked. Anji was rediscovered in 2020. All these years later, the woman has not lost an ounce of grace!
Yes, I did act in Dhoop Kinaray 😊 https://t.co/Lsee51vYon

— kehkashan awan (@kehkashan_awan) November 6, 2020
Twitter Reacts
People on Twitter lost it after they found out Kehkashan Awan was after all Anji. This discovery brought back memories of Dhoop Kinare for everyone. The drama has been central in almost every Pakistani's life, and the rest can say they were forced to watch it. Nonetheless, everyone has watched it.
Many recounted their mothers or wives dragging them to watch the drama; others remember sitting with their grandparents and watching it. Check out what they all said!
Amazing! My wife forced me to watch it and now i cant stop bing watching it. Uv acted so well. Soft spoken and natural acting.

— Shahbaz Khan (@shabzkhaan) November 6, 2020
Mashallah you really do a great act my most fav one drama if you see the real simplicity of love I wish our new generation must watch this drama I wish again to see this type of script in PTV or other private channels drama

— Nayyar Julian (@NayyarJulian) November 6, 2020
Only one word "Legend".

— AJH (@AliJamilHaider) November 6, 2020
Oh God, Few months back I was watching this drama on YouTube and I searched about you then, that where is this actor these days … So happy to see you here on Twitter 🙂

— AbuRaihan (@AbuRaihanPak) November 7, 2020
A Benchmark For Dramas
While Dhoop Kinare was about love, the image that it depicted was one that many cherish even till today. It showed love to be immensely simplistic, no ostentatious shows, no forceful consents. Moreover, the subtle manner in which it explored daily life's issues was also profound.
None of that depth or simplicity is witnessed in today's dramas, which many crave even today. Dhoop Kinare was a progressive drama way ahead of its time. They showed women who wanted to pursue their dream careers; they showed friendship, love without pretense, and life back in the days.
It's still not too late to binge-watch it; start it today!
Stay tuned to Brandsynario for the latest news and updates.