Remember Junoon? Even if you don't, remember Pakistan going crazy about Junoon reunion a while back? Well, that beloved band of Pakistan is associated with several popular Pakistani songs. And among them is a song, Sayonee, which more than Junoon's is called Ali Azmat's Sayonee.
Bollywood's Sayonee
Now that song has been remade by Bollywood's Lucky Nadiadwala Morani Productions. They are the proud makers of movies like 'Raja Hindustani', 'Damini', and 'Yarana'. The production house is remaking the song for a film with the same name. And it stars Tanmay Ssingh, Musskan Sethi, Yograj Singh, and Rahul Roy.
T-Series has given credits on the remake of Sayonee's official poster. And they called the original melody a timeless soundtrack that after decades has the same fan following. But they probably did not expect that fan following to react negatively to it. Because the fan following is not liking the version. They believe that this one is beneath the original version.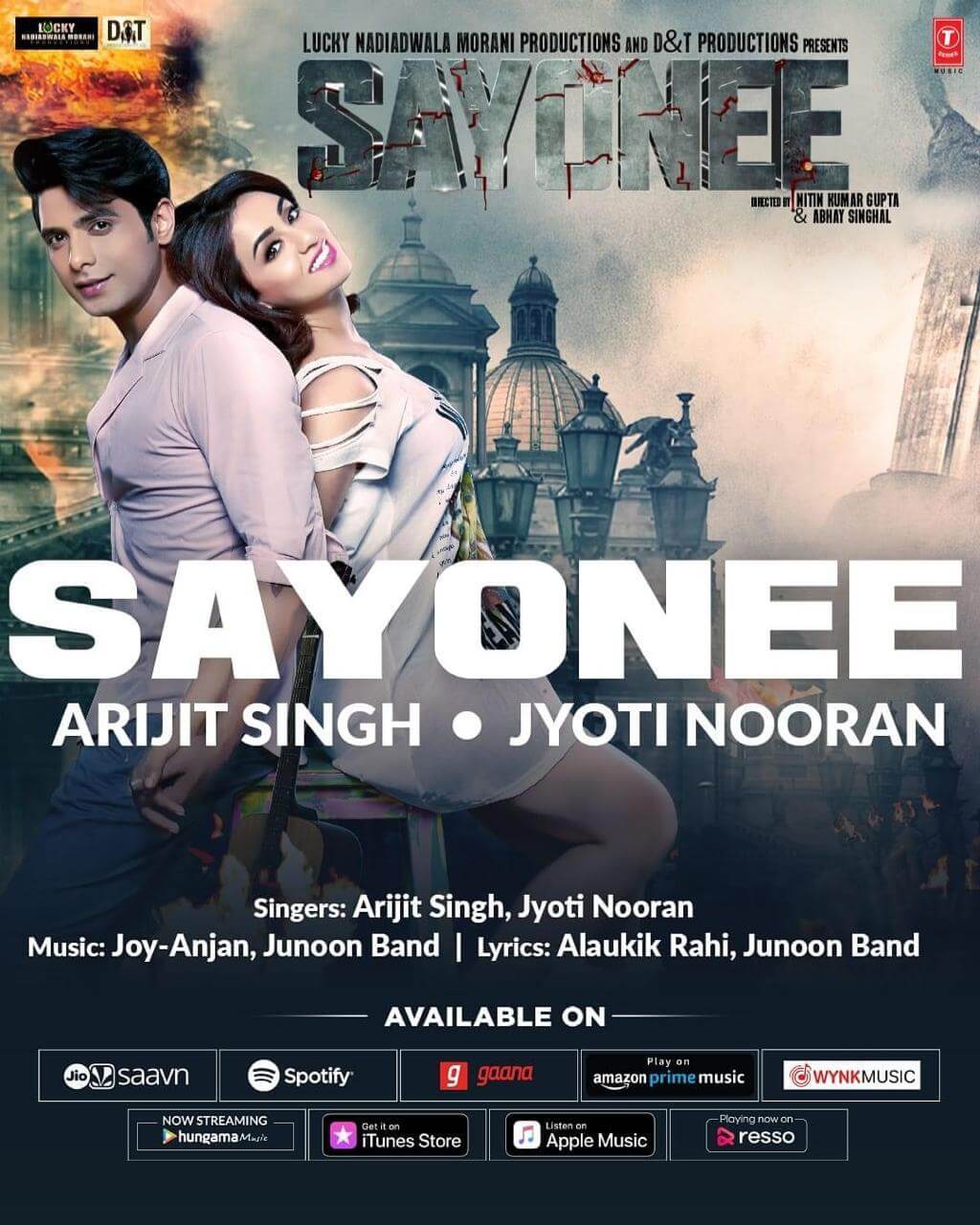 Following is the song. Have a look. 
Tanmay Ssingh making his debut with 'Sayonee' shares:
"From the Mandi House gully to big Bollywood debut, under the banner of Lucky Nadiadwala Morani Production and music from T-Series with the recreation of the legendary song 'Sayonee' sung by Arijit Singh, what more can I ask for?"
Pakistanis were absolutely furious at this rendition.
Let's see what they had to say about it.
1. Arjit Singh to blame?
Copywood? Oh. Good one, Ahmed! So this Twitter user calls out the whole industry for copying Pakistani songs. At first, he is confused as to why Junoon let it happen. But then he lays the crown on Arjit for ruining the masterpiece.
The CopyWood copied another masterpiece from us, Sayonee.
Junoon, what's this behaviour ? Who did this ? Secondly, gaanaa hi tha tu achaa gaa lete Arijit bhai

— 𝘢𝘩𝘮𝘦𝘥. (@ahmxyd) November 4, 2020
2. Ali Azmat > Arjit Singh
No comments, November!
As usual, Bollywood copied another Pakistani band Junoon's Iconic song "Sayonee" in voice of Arijit Singh & they just ruined this masterpiece. Bro you can't reach the level of Ali Azmat.#COPYWOOD pic.twitter.com/XXXjXYuRpv

— Insta @Faizanriaz_ (@departed__soul) November 4, 2020
3. When Indians Agree with Pakistan 
Has hell frozen over?
This Indian asks Pakistanis if they will ever forgive Bollywood over this.
Bro
Music and Lyrics are supported by the OGs Junoon the Band
Can't believe they allowed to ruin this anthem

— 𝘼𝙨𝙝𝗐𝗂𝗇 𝖥𝖾𝗋𝗇&𝙚𝙨 😷 (@ashshanuferns) November 4, 2020
Was it really Junoon's?
This Pakistani raised the question if the song was really Junoon's. According to him, it really was Ali Azmat's back when he was in Jupiters. Regardless of who owns it, won't the issue remain the same? A legendary Pakistani song ruined by Arjit Singh?
Think so. That song also wasn't a Junoon song. Was from Ali Azmat earlier band Jupiters and Junoon just put that on their own album, so might not have been original right owners. Tho not sure how much that mattered back in the day

— Ahmer Naqvi (@karachikhatmal) November 4, 2020
Long story short, when talking to any Pakistani, you will know that Bollywood is never able to remake any Pakistani song and retain its original charisma. And the same has happened with Sayonee. And these Pakistanis are more angry at them ruining the legendary band's music than at copying it.
Stay tuned to Brandsynario for the latest news and updates!