Falak Shabbir and Sara Khan's pictures spread like wildfire and appealed to many. However, among that, many were also the youngest of fans. Fans as old as 13-years like Humza Hammad, who went on to also recreate the couple's pictures.
A young boy on the precipice of adulthood, acting and posing like a grown man didn't sit well with people. The comments under the inexperienced Instagram user's post were concerning. Keep reading to find out how!
Re-creating Celebrity Pictures
Previously another account went viral in Pakistan, which had content made by children on it. A couple of brother and sister was recreating all celebrity looks at various functions. Initially, people started gushing at them, "look how cute!" but then the reality set in. It isn't alright.
Such was the fate that met Humza Hammad. He's only 13 years of age yet on Instagram. His bio reads that he's managed by a woman, which we're assuming is his mother. Regardless, nothing justifies a 13-year-old being on a toxic and public social media platform.
In the picture he has re-created, he's holding a girl and laughing just like Falak and Sara are. His caption also reads that he and his whole family are obsessed with the couple. See for yourself!
View this post on Instagram
View this post on Instagram
The Hate Train Is Blind
Humza may have been acting beyond his age, and it may be unethical for him to create such pictures. However, how can someone call out a child for not being ethical? A 13-year-old can not be expected to be aware of such concepts if, in our society, even adults aren't. 
Am I the only one who thinks this is disturbing and not cute at all? Kids this young ought to be busy playing outdoor games not recreating such scenes. What is wrong with parents these days?? pic.twitter.com/TDXtLS47OM

— SK (@_skhann) July 18, 2020
Secondly, the hypocrisy in the comments was staggering. People were asking the child to be ethical, all the while hating on him. It was not okay to trash his comments like that because he's not a grown adult. He's a 13-year-old who CAN be affected by the hate quite a lot.
There's A Minimum Age For A Reason
Most social media platforms like Facebook or Instagram have a minimum age policy. In other words, users must be a minimum age before they can join the platform. However, that has seldomly been followed. You can just put a fake period in and go about your day.
Humza being on Instagram is wrong. A 13-year old being exposed to the Instagram culture is questionable. Moreover, it's not him but the mother who should be held accountable. Nowadays, it has also, unfortunately, become a trend to put children on the front line. 
Ahmad Shah – The Kid Who Needs A Break
Take, for example, Ahmad Shah! The chubby kid everyone loves on TV Shows. First, he came in the spotlight then this year on Waseem Badami's show his brothers were brought too.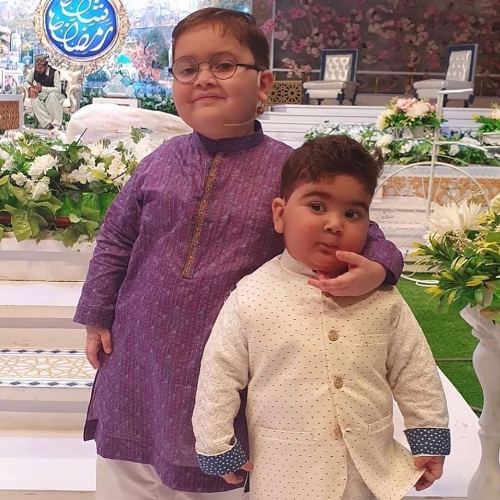 Youtube has awarded Ahmed Shah a high honor at a young age, and that's great. However, the fame he's being exposed too at that insanely young age is not. 
To a great extent, he's also being misused by shows. Repeatedly asking a child to kiss anyone of the other gender is not okay. This is what our children need to know. 
Stay tuned to Brandsynario for the latest news and updates.