Falak Shabir's name has been in the news for several reasons lately. First, it was his magical proposal to Sara Khan that left everyone in awe, but now it's something else. People are angry at others who are over 25 years and still don't know who he is! Keep reading to find out the humorous debate taking place over Twitter.
Falak Shabir As An Icon
Falak Shabir is considered an icon by many. He's a Pakistani singer, songwriter whose debut single came in 2008. His song "Rog" is a favorite of many and is considered a rite of passage to listen to. Shabir has also often been titled as the "King of Soulful Music." He has also appeared in several Bollywood videos.
Why People Are Upset
A tweet came out that went somewhat viral. A woman was outraged at how some people didn't know him. Like any other tweet, it had its fair share of supporters and defendants. Some questioned why it even mattered while others supported her and agreed! See for yourself the debate that took place:
This girl was appalled!
People who are older than 25 and don't know who Falak Shabir is… Wtf

— Aadil A. Pitafi (@AadilPitafi) July 15, 2020
IKR???? How can you not know Rog

— Khan (@KakarWithOneK) July 15, 2020
Tenu changa lagay pyar ksi hor da
Tenu fikr na faka mere hon da

— Arima Kousei (@Mariya_m_ahmed_) July 16, 2020
Man had some bangers

— soha (@SohaTazz) July 15, 2020
Was my cousins crush for years she must be devasted today 😂😂

— Arima Kousei (@Mariya_m_ahmed_) July 16, 2020
Back in the day, he was a household name with his soulful Punjabi songs that appealed to many. The debate was triggered when his proposal went viral, and people didn't know who he was. Some even said if you didn't know his songs, then your teenage music choice was questionable, making others laugh out loud!
Much Of Falak's Fame Is Coming Late
Half the people are finding out about the star after his proposal. His now-wife, Sara Khan is a Pakistani actress who has starred in several Urdu TV series. She also carries with her a vast fandom who swoon over her. With the two coming together, many people are finding out about these stars only now.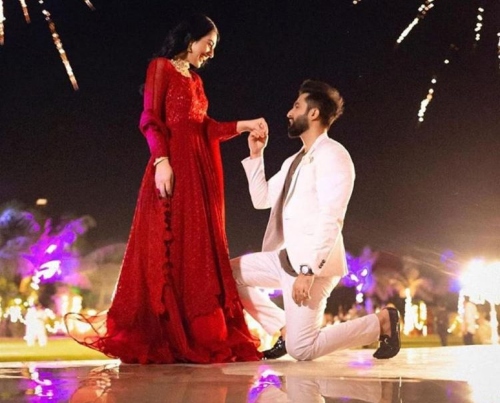 Falak's Fandom 
Falak has quite the personality on twitter. The star regularly shares motivational quotes and song lyrics, which he loves. His fans always create a dialogue with him about his music and personal life.
Sometimes people don't want to hear the truth because they don't want their illusions destroyed.

— Falak Shabir (@FalakShabir1) February 2, 2015
Celebrities like Falak have a lot of clout and influence. While he has never been involved in controversy before, how do you think people will take after his proposal?
There's no denying the possibility that many of his fans might even consider proposing the same way. All in all, that will be a trend people will be looking out for.
Stay tuned to Brandsynario for the latest news and updates.