Branded clothes have become a sort of status symbol for women. The wardrobe the women possess speaks volumes about where woman shops from. To attract more consumers, brands initiate discounted sales. And so brands often use national days, holidays, etc. to have a deal and invite potential consumers.
(Too) Excited Women? 
But what happened at Beechtree? The brand had one of its usual sales. Now Pakistani women are known to get excited about looming sales. But given the current COVID situation, the women could have been more careful. But at the face of lower-cost branded clothes, the SOPs were forgotten or more like ethics were forgotten.
Some time what happens is when a collection comes out or a sale starts, women buy them in bulk and sell them at a higher cost later on. While these women do their businesses, some women do not want to buy them at higher prices and prefer buying directly from the brand. So among these women, a brawl starts, and such has been seen on numerous occasions.
Brand Sale…Sunday Bazaars?
It is sad to witness such sides of the Pakistani population every time it comes across our screen. And we have seen it happen in the stores of trendy brands; brands that attract supposedly educated gentry. Looking at these videos, one is instantly reminded of the Sunday bazaars that were once Pakistan's norms and maybe still are. While they would attract every kind of SEC, they were more cultured and more disciplined.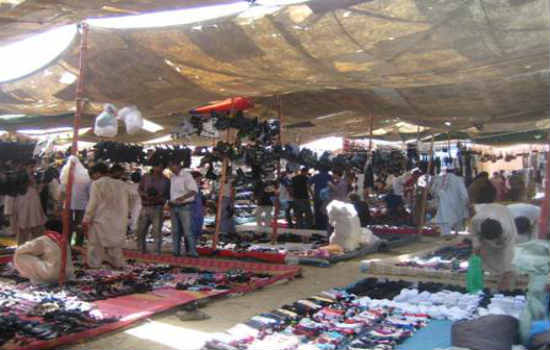 COVID?
However, we have become used to Pakistani women behaving this way at sales, so why did it seem weirder this time? Why did it seem more disgusting? It is because of the COVID situation. In the video, we can see women falling on each other, attacking the products, gathering them with all their might as if it is the zombie apocalypse, and won't get these branded clothes ever again.
Social Distancing
So maybe amid this zombie apocalypse, people forgot about the coronavirus. They forgot that to keep themselves safe from COVID, they needed to wear masks and exercise social distancing. Social distancing means saving at least 4 to 6 ft distance between each other. And knowing that in Pakistan, COVID's second wave has already hit us alongside the fact that most of our COVID affected are asymptomatic, we should have been careful.
But I guess when we forget ethics, all the medical aspects take a backseat. So here we are, hoping that this sale would not have contributed to a rise in COVID cases. And that someone teaches these women how to behave appropriately.
Stay tuned to Brandsynario for more news and updates!