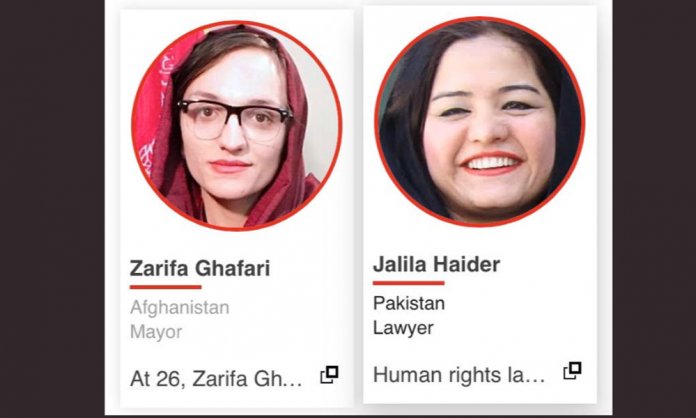 BBC has finally revealed its 2019 list of 100 inspiring and influential women from around the globe!
This year, #100women asks: What would the future look like if it were driven by women? We're sure there are many great answers to the question, but for now we're focusing on the fact that a Pakistani woman has made it to the list!
Jalila Haider, a woman from Hazara, Pakistan is a human rights attorney, political activist and rights defender.
Haider is known to be the first woman lawyer from the Hazara community of Balochistan. She is also the founder of a non-profit organisation, 'We the Humans – Pakistan', which aims to empower local communities in Balochistan by strengthening opportunities for vulnerable women and children.
2 great women I strongly admire are on this year's @BBC100women list.
Parveena Ahanger of @_APDP & Jalila Haider @Advjalila.
In the 21st century we had to send a footman to Praveena Ahangar's home in Srinagar to get details. And share the information.https://t.co/lJsIaqu8IG pic.twitter.com/MHdDcNytTx

— Tahir Imran Mian ✈ (@TahirImran) October 16, 2019
With a master's degree in International Relations from the University of Balochistan, Haider has been a supporter of the rights of vulnerable communities and has spoken out against human rights violations and abuses faced by them.
She has campaigned against the enforced disappearances and killings of Baloch political workers and has led protests and sit-ins against the ethnic cleansing of the Hazaras. She participates and speaks against the atrocities faced by the Pashtuns and believes that their pain is similar as they are all demanding for their right to life guaranteed in the Constitution of Pakistan.
View the full list of all the 100 women here:
BBC reveals its list of 100 inspiring and influential women from around the world for 2019

This year #100women asks: What would the future look like if it were driven by women?https://t.co/ddxbYFoaYg pic.twitter.com/8WQHZyoVZl

— BBC News (World) (@BBCWorld) October 16, 2019