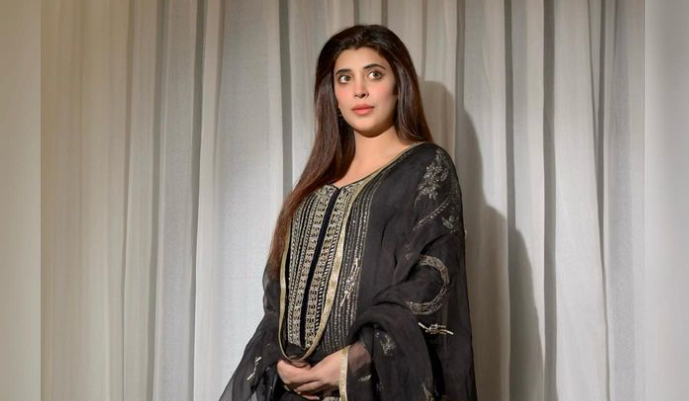 The year 2023 is shaping up to be an exciting one for several Pakistani celebrities who are all set to welcome their bundles of joy. From maternity photoshoots to adorable baby announcements, here's a glimpse into the lives of these soon-to-be parents:
Urwa Hocane
Urwa Hocane saved the news of her first child with husband, Farhan Saeed, for the Lux Style Awards after which everyone's social media feeds were graced with a picture of her with a baby bump and the husband, captioned, "it's the three of us tonight."
Coincident or not, Urwa wasn't the only one who announced the news in a black and gold eastern outfit at the annual awards ceremony.
The news hits different as whispers of their separation had circulated for a considerable period, after which their affectionate Eid-ul-Fitr photos earlier this year finally put an end to the speculations. Singer-turned-actor Farhan Saeed and Urwa have shared a deep romantic bond long before their 2016 nuptials.
Sarwat Gillani
Sarwat Gillani announced her pregnancy like no one else, already a super mom to Rohan Mirza and Araiz Muhammad Mirza born in 2015 and 2017,
Gillani shared a two-picture gallery with her 'Joyland' team from a recently-held awards night, captioned, "Couldn't think of a better picture to announce our new arrival!"
In the photo, actors Alina Khan, Sana Jafri, Sarmad Khoosat, Ali Junejo and filmmaker Saim Sadiq carefully put their hands on mommy-to-be's growing bump.
Sarwat Gillani tied the knot with plastic surgeon and actor, Fahad Mirza, back in 2014.
Minal Khan
Keeping their pregnancy under wraps, Minal Khan and Ahsan Mohsin surprised their fans when they officially revealed Minal's baby bump in a stunning maternity photoshoot on August 9th. The actress recently shared glimpses from her baby shower this week, marking her journey into motherhood as a first-time mommy.
Waliya Najeeb
In another discreet pregnancy journey, influencer Waliya Najeeb and her husband Faizan Sameer kept the exciting news a secret until Waliya's maternity photoshoot at the four-month mark in June.
Dr. Syeda Urooj Fatima:
Dr. Syeda Urooj Fatima has been openly sharing her pregnancy experiences with her followers. From doctor visits to shopping sprees and unboxing baby care items, she and her husband, Dr. Muhammad Ali, are preparing eagerly for their little one's arrival.
Azlan Shah and Warisha Khan:
Influencer couple Azlan Shah and Warisha Khan have been gaining even more prominence on social media, particularly after their lavish wedding. A recent highlight was Azlan's unique gift to Warisha – a baby donkey! The couple announce their pregnancy during a memorable trip to Turkey.
Neha Taseer:
Neha Taseer recently welcomed her second child with husband Shahbaz Taseer, joyfully naming their newborn Salmaan Rafael Taseer. Neha announced the birth in style with a steamy photoshoot featuring two different looks. The couple donned classy all-black ensembles for one set of photos, with Neha's sleek bun and minimal makeup adding a touch of sophistication. The model later switched to a light brown satin outfit that beautifully accentuated her baby bump.
As these Pakistani celebrities and influencers prepare to embrace parenthood, their journeys are not only personal but also a source of inspiration for their fans— leading to a deeper connection. This reminds us that life's most beautiful moments are meant to be shared.
Which of these couples do you admire the most? Let us know in the comments.
Stay tuned to Brandsynario for the latest news and updates.