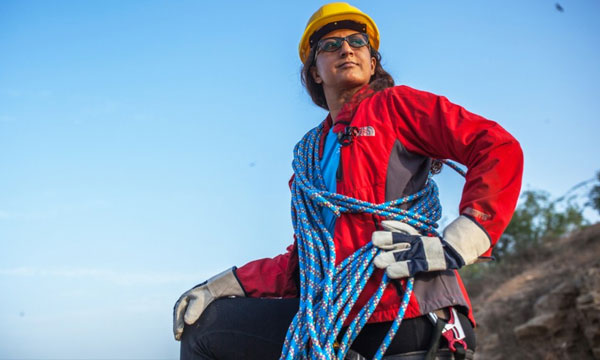 The 7th annual Washington DC South Asain Film Festival concluded on 9th September where short movies and thought-provoking documentaries, engrossing feature films, from individuals from the origin of Pakistan, India, Sri Lanka, Bangladesh, and other countries were screened.
The festival was held in collaboration with Women in Film and Television Society and Montgomery College in the American capital.
The red carpet glistened with big names in the film industry including Boney Kapoor, Swara Bhaskar, Janhvi Kapoor, Suraj Sharma, Catherine Hand, Kimberly Skyrme, Petrina D'Rozario, Piymush Punjani the director of Opening Night Film 5 Rupiya to name a few.
A total of 6 attractions were submitted by Pakistanis, including a feature film titled 'Some Lover to Some Beloved' a short film titled 'Grand Pa and I), and a documentary titled 'The Unknown Mountaineers' and more.
Director and Producer of The Unknown Mountaineers, Sherbano Saiyid, was awarded 'Best Documentary' Award at the event.
Eight young women from Shimshal, Hunza, led by Karachi-based, independent filmmaker Shehrbano Saiyid broke several records when they conquered three peaks with temperatures dipping -10 or less, at the Karakoram Range, in Gilgit-Baltistan region.
According to mountaineering official from Shimshal, Qudrat Ali:
"these girls summited three 6000m peaks (close to 20,000ft) back to back within six days. This is a record not only for women but for all non-professional Pakistani climbers and trekkers."
This team of eight women aged between 18 to 25, manoeuvred two unclimbed routes, which are now named after them — including a mountain that had never been climbed before.
Two of these mountains have been named after these Hunza women. Five Nannies Peak 1 and Five Nannies Peak 2. The decision was made by the group," said Shehrbano.
Dubbed Pakistan Women's Expedition (PWE), the eight-member team is organized and led by Shehrbano, who initiated this project as part of her documentary series on Pakistan's northern areas, and life in the Karakoram — one of the biggest glaciers and mountain attractions in the world.
I wanted to share the stories of people who live here, in my documentaries and through their stories, show the true picture of diversity, the richness of tradition and the tremendous beauty of the mountainous region of Pakistan

These people are tourism-thirsty," Bano added.
Congratulations to the talented lady!
Stay tuned to Brandsynario for more news and updates.