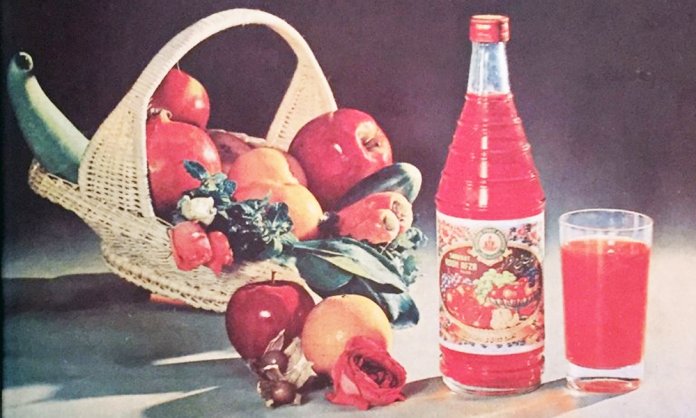 Advertising in present digital age is more pervasive than ever.It mirrors a country's culture and also helps in its creation. With preferences and needs of consumer changing every single day, print ads evolve to accommodate those changes.
Pakistani media has seen a major change in its prints ads over the years.
Below is an exploration of the ever-evolving style of print ad design since the inception of Pakistan that are sure to make you nostalgic!
August 1947
An image published in a Pakistani newspaper of a Rs. 5 currency note issued right after Pakistan's independence in August 1947. The note was issued by the Reserve Bank of India. It had King George's image on it because at the time Pakistan was 'an independent dominion of the British Commonwealth'. King George was the Dominion's first head of state.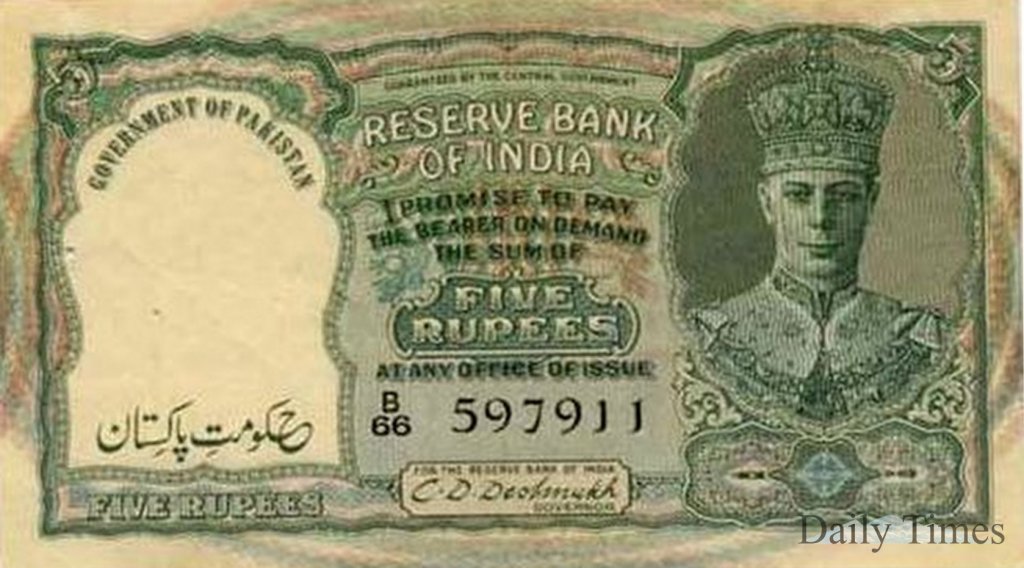 2. The Pakistan Times – August 1948
A government ad published in the Pakistan Times on August 15, 1948 – the country's first Independence Day anniversary. It was also the first anniversary of the Pakistan Times. Interestingly, at the time Pakistan's Independence Day fell on 15th August.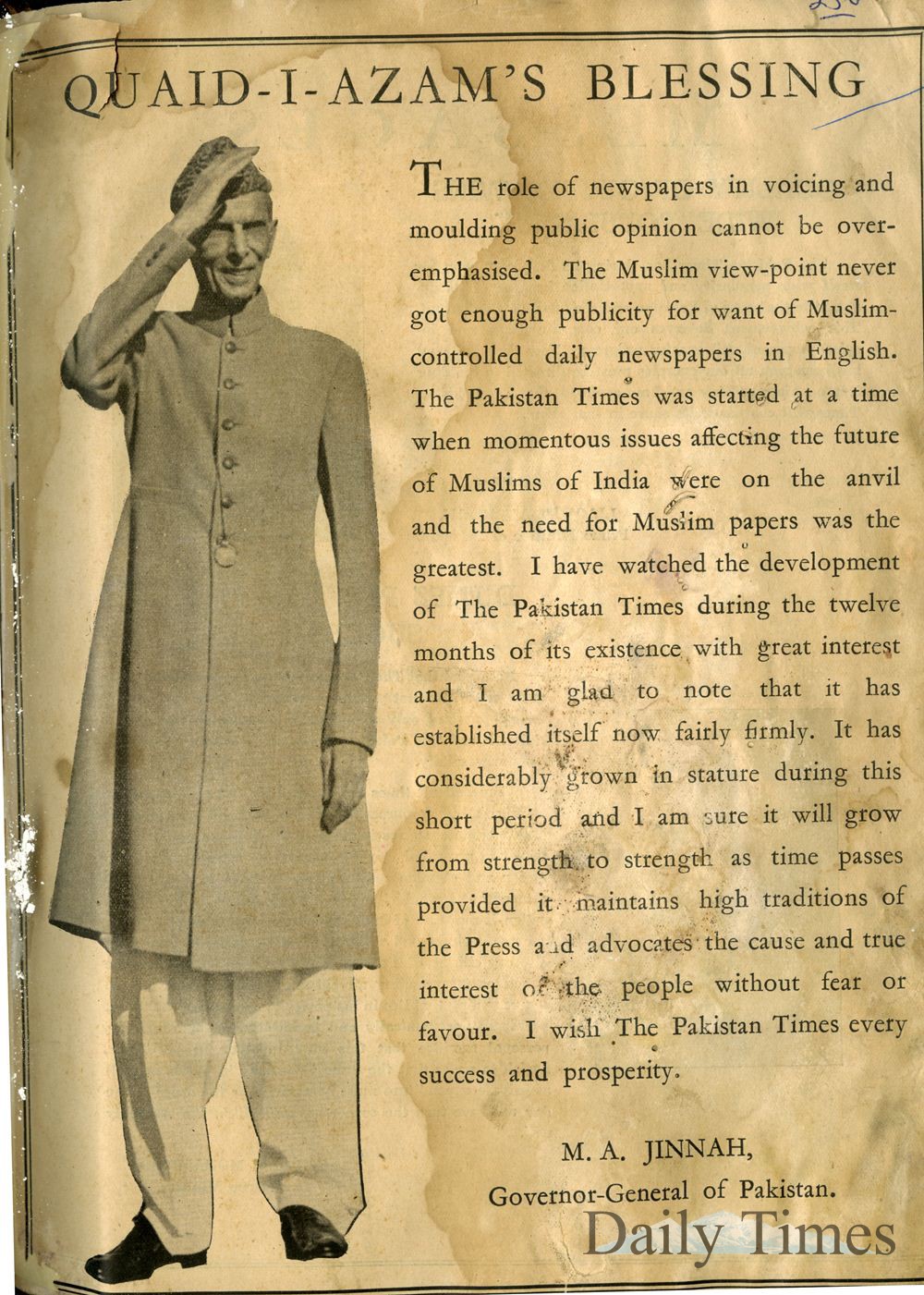 3. Orient Airways
A 1950 newspaper ad of Pakistan's first airline, Orient Airways. It was a privately-owned enterprise, operated by the Adamjee and Isphahani business groups.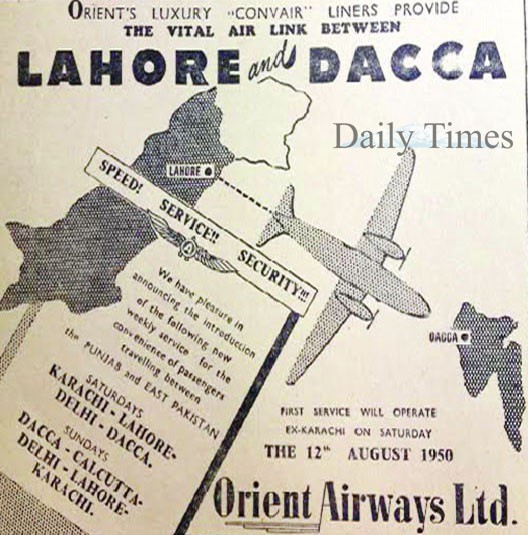 4. Hotel Metropole
A 1950 newspaper ad of the opening of Pakistan's first 5-star hotel, Hotel Metropole (Karachi). The wife of Shah of Iran was the chief guest of the inauguration ceremony, thus the Persian copy.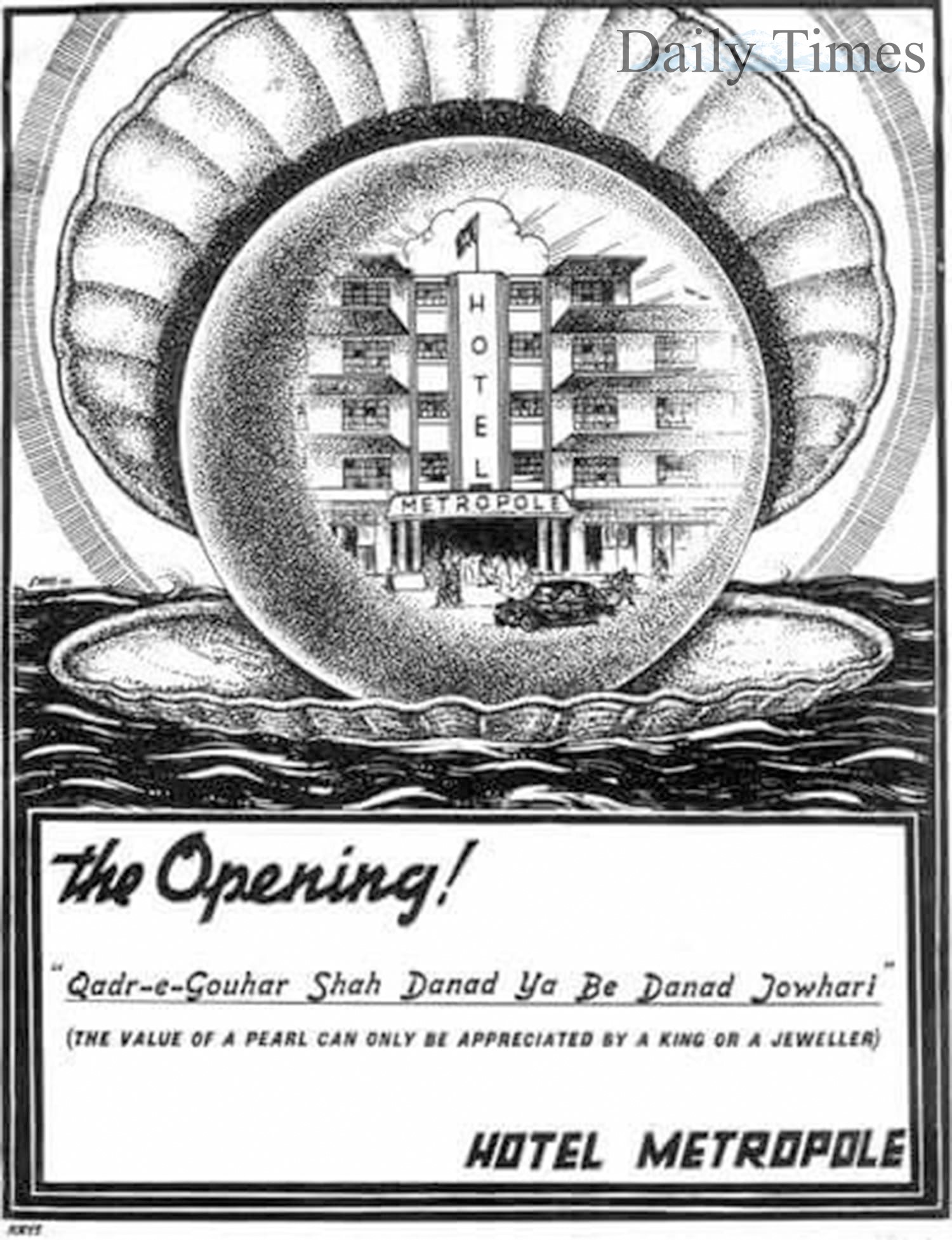 5. General Electric Company of Pakistan
Print ad announcing the arrival of traffic signals in Pakistan. They were first installed in Karachi in 1951.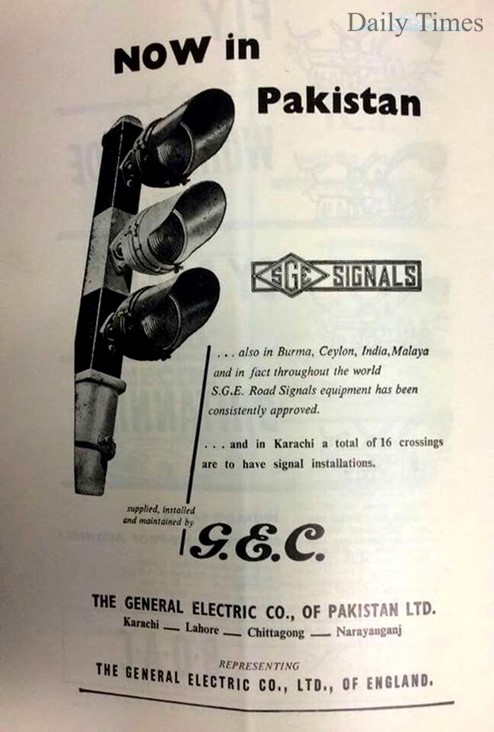 6. Sohrab Bicycles
A 1953 advertisement of the country's first bicycle brand, Sohrab. Sohrab was launched in 1952 for both men and women, after the government stopped importing bicycles due to the shortage of foreign exchange.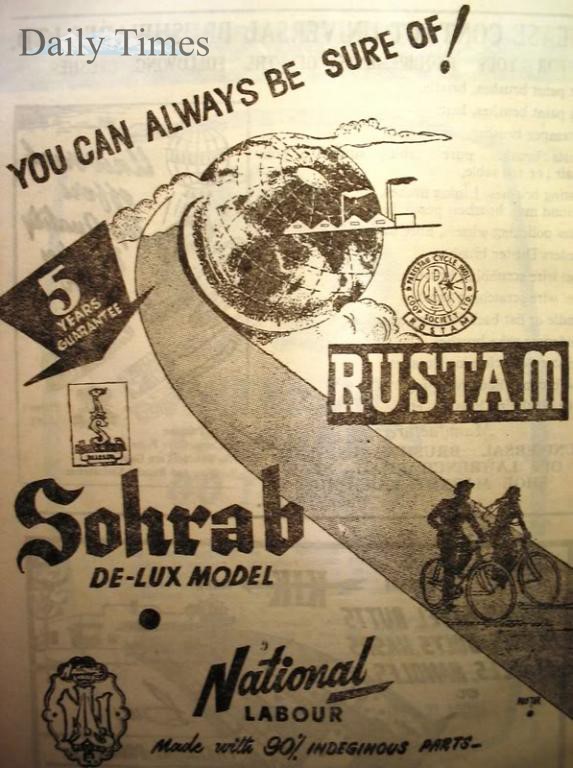 7. Radio & General Appliances Ltd – The Democrat
In 1956 the National Assembly passed the country's first constitution. Pakistan became a republic. To celebrate the occasion, a company launched a transistor brand called The Democrat.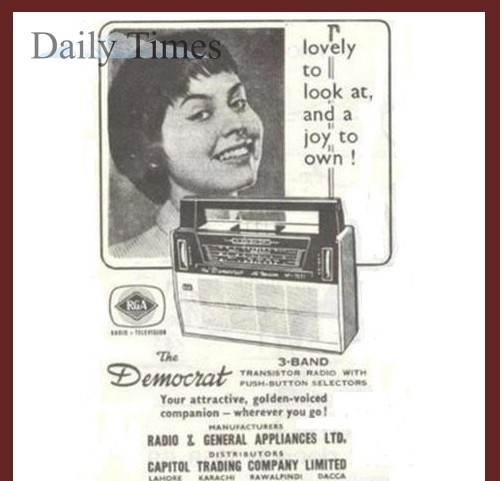 8. Pakistan International Airlines
A 1956 PIA ad. In 1955 the government acquired the privately-owned Orient Airways. It expanded it to launch the state-owned Pakistan International Airlines (PIA).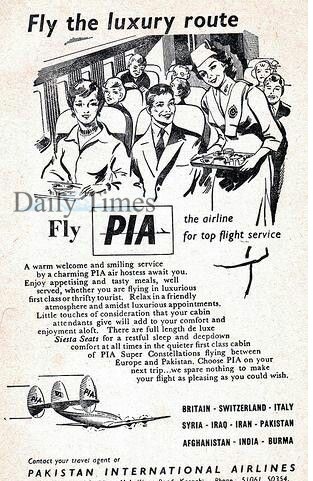 9. The Palace Hotel Karachi
1958 print ad of Karachi's Palace Hotel after its famous cocktail bar was renovated.
10. West End Watch Co.
In the 1950s, a majority of white-collared Pakistanis traveled to work on local trains. When Ayub Khan came to power in 1958, he emphasized that the trains should run on time. Karachi's West End Watch Co. turned Ayub's call into a 1958 ad for its watches.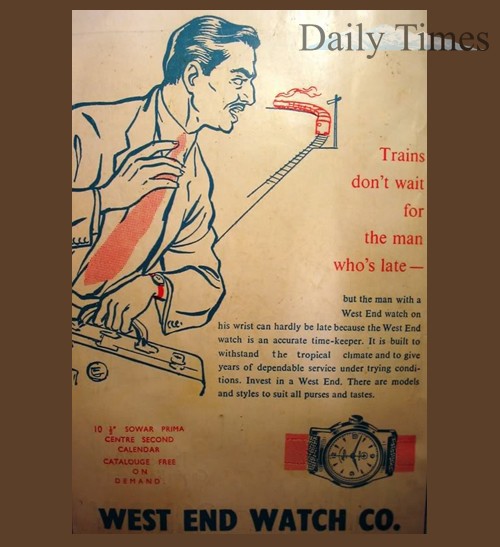 11. Hotel Metropole
A 1960 print ad announcing the opening of a new season of cabaret shows at the Hotel Metropole. This takes you back to an unbelievable era!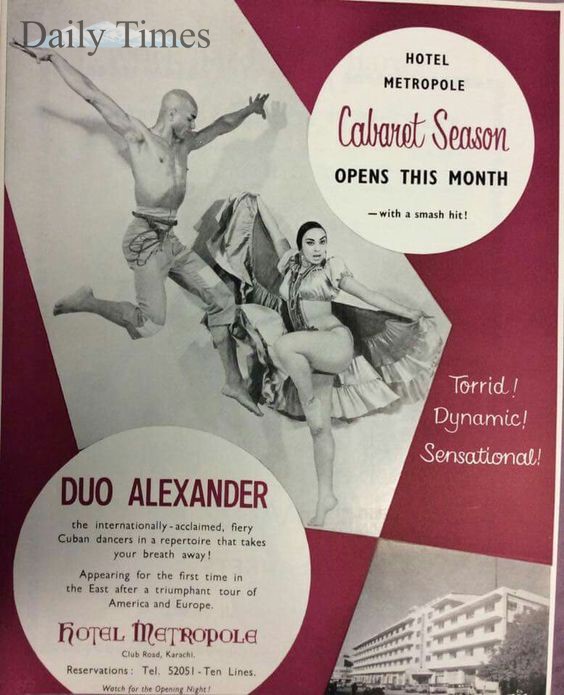 12. Zelin's Coffee
1960 ad of Pakistan's first coffee brand, Zelin's. Coffee in Pakistan never became as popular as tea did, though.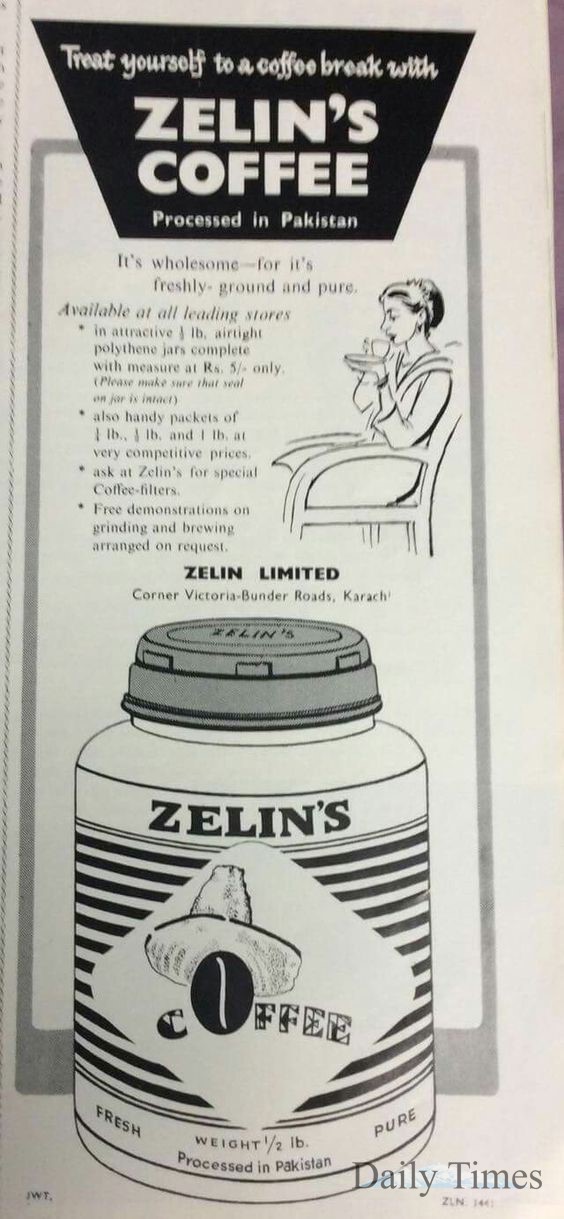 13. Ahmed's Sweetmeats
Ahmad's were the country's leading makers of sweetmeat items.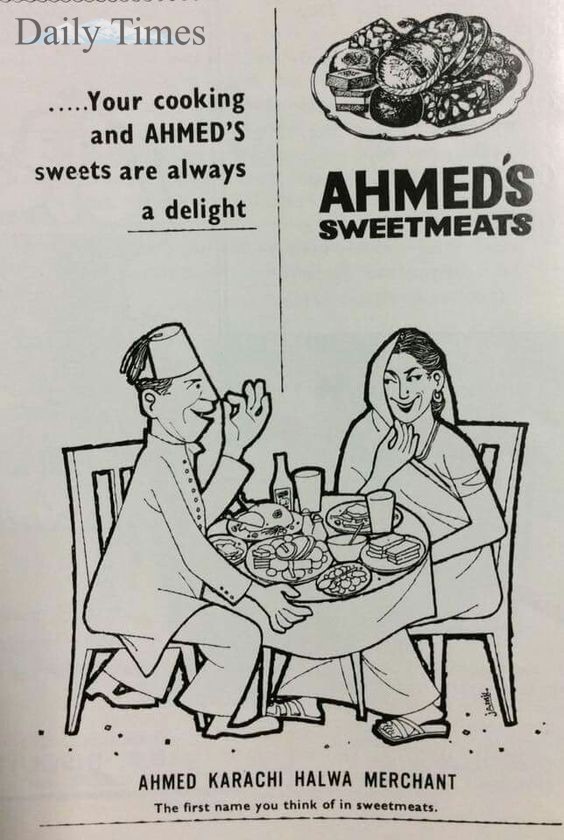 14. Murree Beer
A 1962 newspaper ad for Pakistani beer brand, Murree. The copy simply states, Made in Republic of Pakistan, 1962. Best served chilled.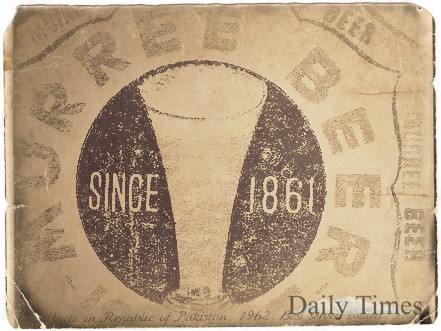 15. Bata
A 1963 ad for Bata fashion slippers. The economy boomed during the Ayub government, triggering an increase in the consumption power of the urban middle-classes.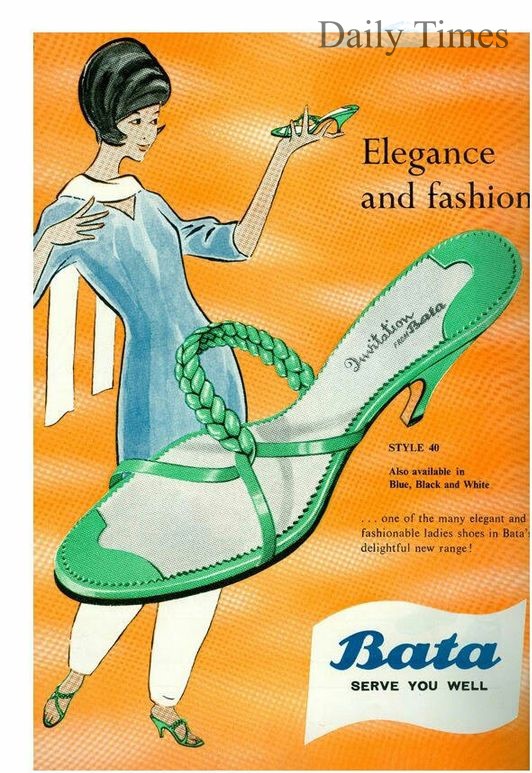 16. Sanyo 
TV was introduced in Pakistan in 1964. This is a 1965 ad for Sanyo TV sets. Their cost at the time: Rs.818.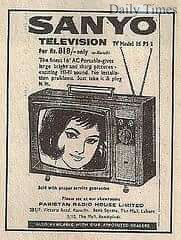 17. Standard Bank Limited
A 1965 Standard Bank ad asking people to donate to the National Defence Fund during the 1965 Pakistan-India War. The war ended in a stalemate.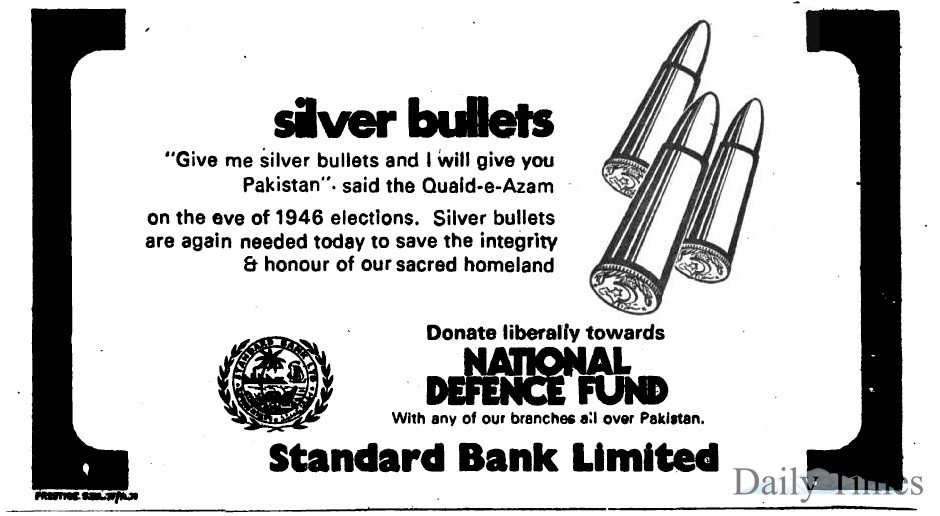 18. Tibet Cosmetics
A 1967 ad for the beauty products of Pakistani brand, Tibet. In this ad Tibet used a visiting Sri Lankan cabaret dancer as model.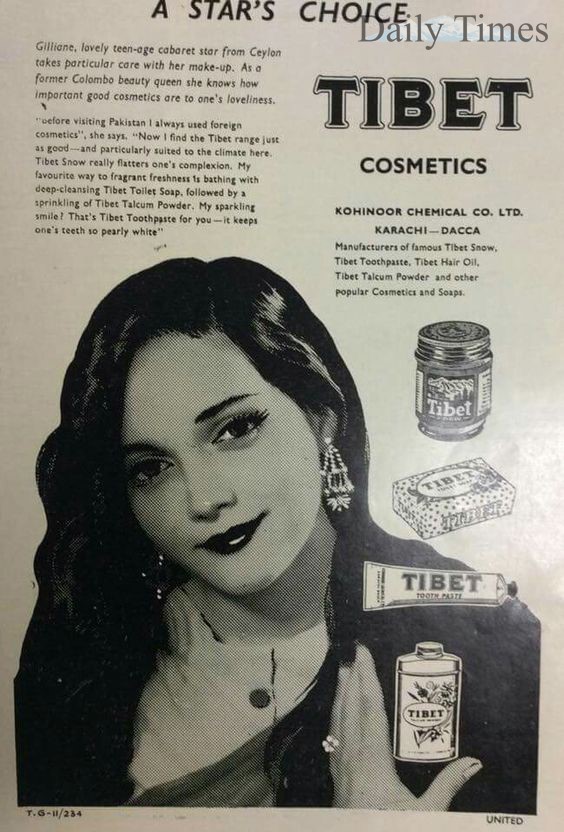 19. Capri, Rio, Drive-In and Capitol Cinemas.
Ads of Karachi cinemas in a 1968 newspaper. Rio was famous for only running films that were 'for adults only.'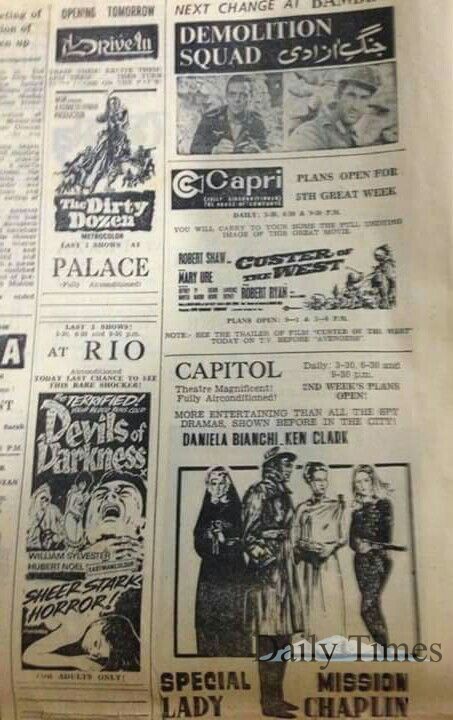 20. Standard Bank Limited
Ad published during the 1971 Pakistan-India War. The war resulted in the breaking away of East Pakistan which became Bangladesh.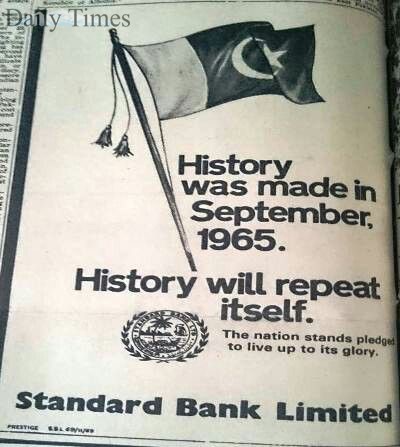 21. Beach Luxury
A 1972 print ad of Karachi's Beach Luxury Hotel. The tourist industry had witnessed a boom between 1963 and 1968. It fell away between 1969 and 1971, but picked up again from 1972 onward. The ZA Bhutto regime that had come to power in December 1971 instated Zoroastrian-Pakistani businessman, Ardeshir Cowasjee to head the tourism board. The waterway seen in the ad is now entirely polluted.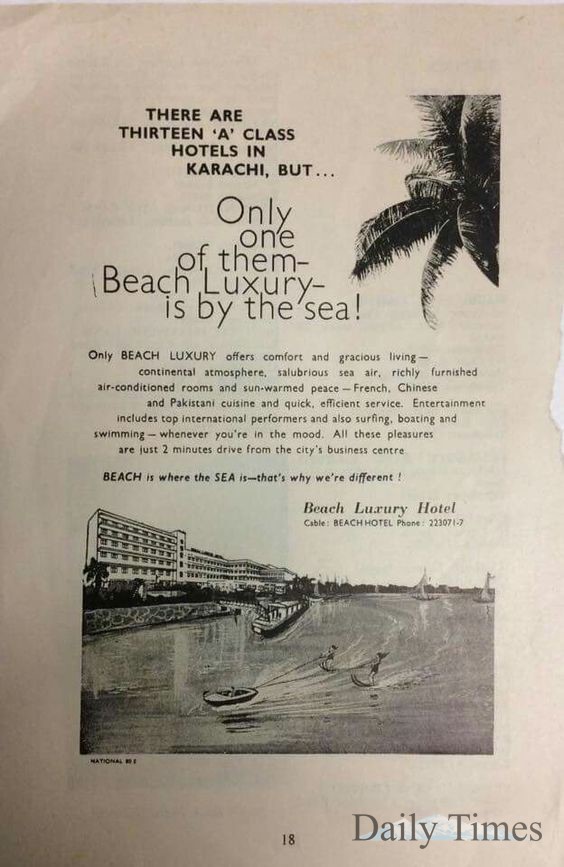 22. Penthouse – Hotel Excelsior
A 1973 ad for Karachi's famous nightclub, Penthouse. The club was situated within Hotel Excelsior on Victoria Road in Karachi's Saddar area.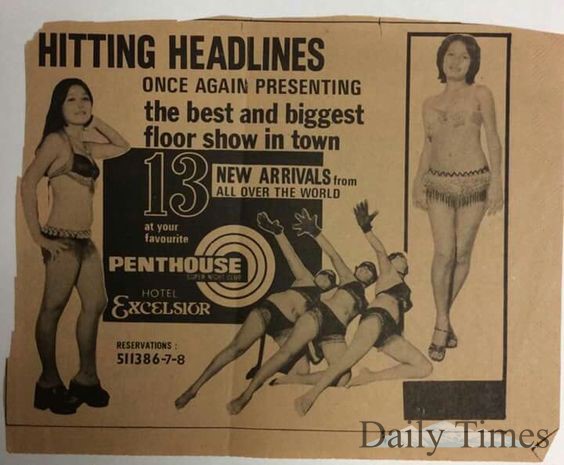 23. Eagle 
A 1974 press ad for the Pakistani fountain pen brand Eagle. Eagle positioned itself as 'the pen of intellectuals.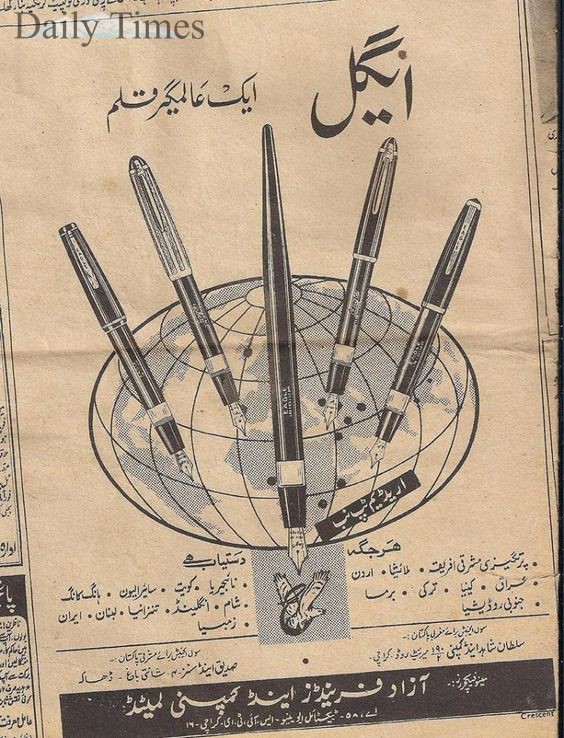 24. Tourism Pakistan
A 1974 government-sponsored ad asking people to explore the various folk cultures and historical sites of Pakistan.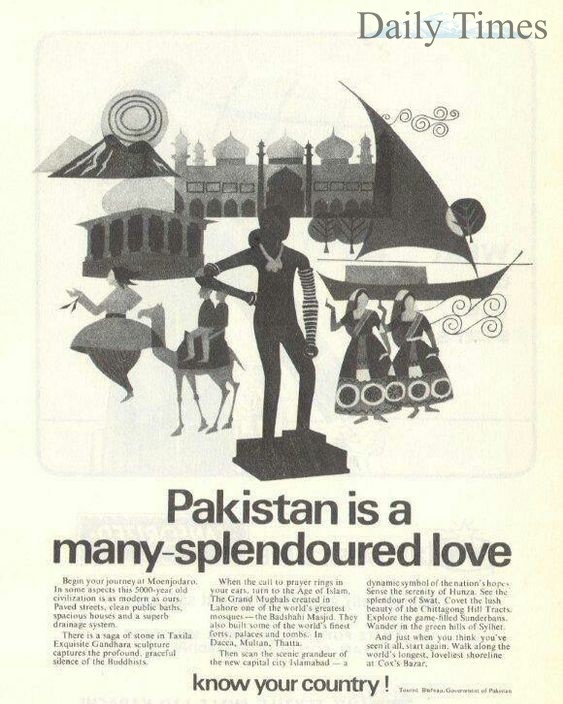 25. PIA
A 1974 print ad of PIA. PIA had continued to grow as one of the leading airlines in the world.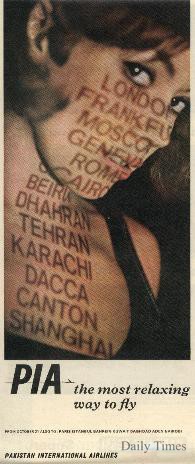 26. Punjab Population Planning Board
A 1975 ad from the Punjab Population Planning Board promoting birth-control pills.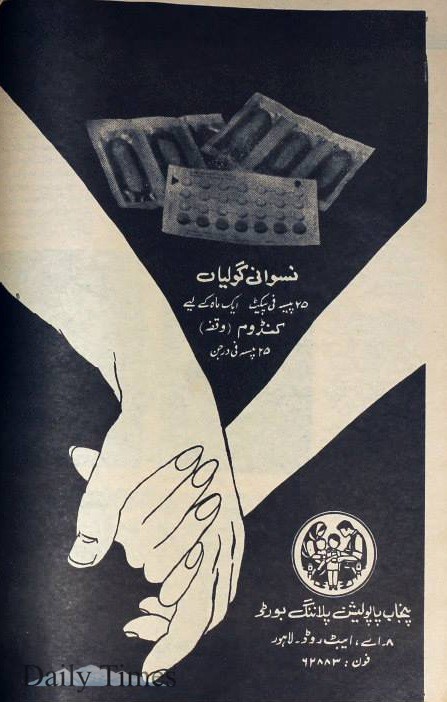 27. Apple Sidra
1975 print ad for the popular cider drink, Apple Sidra featuring a woman dressed in western attire, shows how modernistic the country was at the time.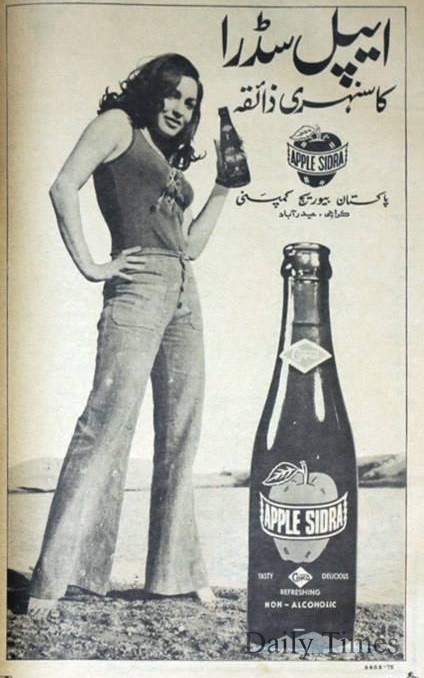 28. Titoline
.A 1975 magazine ad of a locally manufactured cream aiding 'natural breast enlargement.'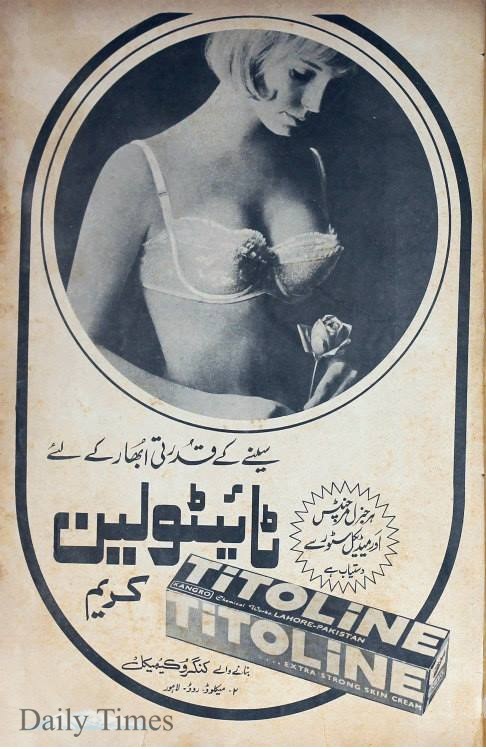 29. Ready-made 'Roti'
A 1975 ad for the inexpensive ready-made roti made in government factories. This was part of the Bhutto regime's 'socialist policies' of 'Roti, Kapra aur Makan'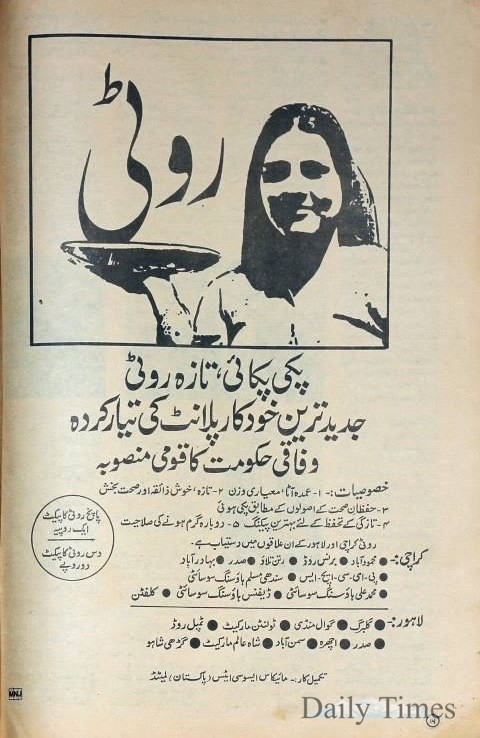 30. Moghul Hotel
1976 print ad for a hotel and club in Lahore.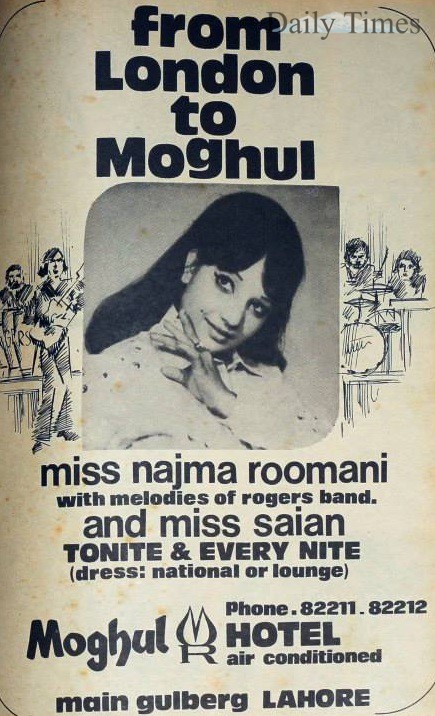 31. Aina
A 1977 magazine ad for Urdu film Aina. The film ran for 402 weeks! By the late 1970s Pakistan's film industry had hit a peak, releasing an average of 30 films a year. However, the industry began to decline from the 1980s onward.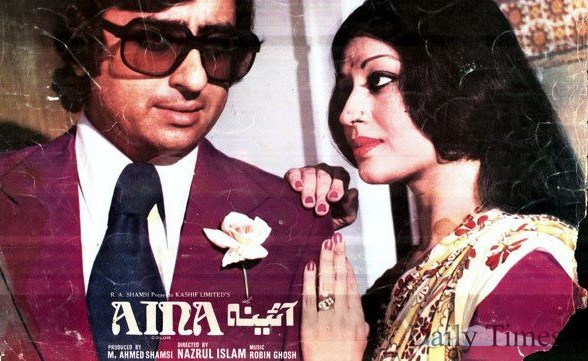 32. PIA info-ad
Part of a 1979 info-ad in an in-flight PIA magazine about the availability of alcoholic beverages in Pakistani airports and hotels. The ad has a list of locally-made spirits and beer, and a disclaimer: 'For Non-Muslims Only'.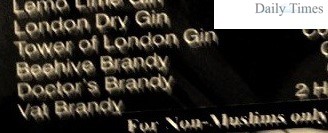 33. Bata
A 1980 print ad for a match in Karachi between international tennis star, Ilie Nastase and the then Pakistan No: 1, Saeed Meer.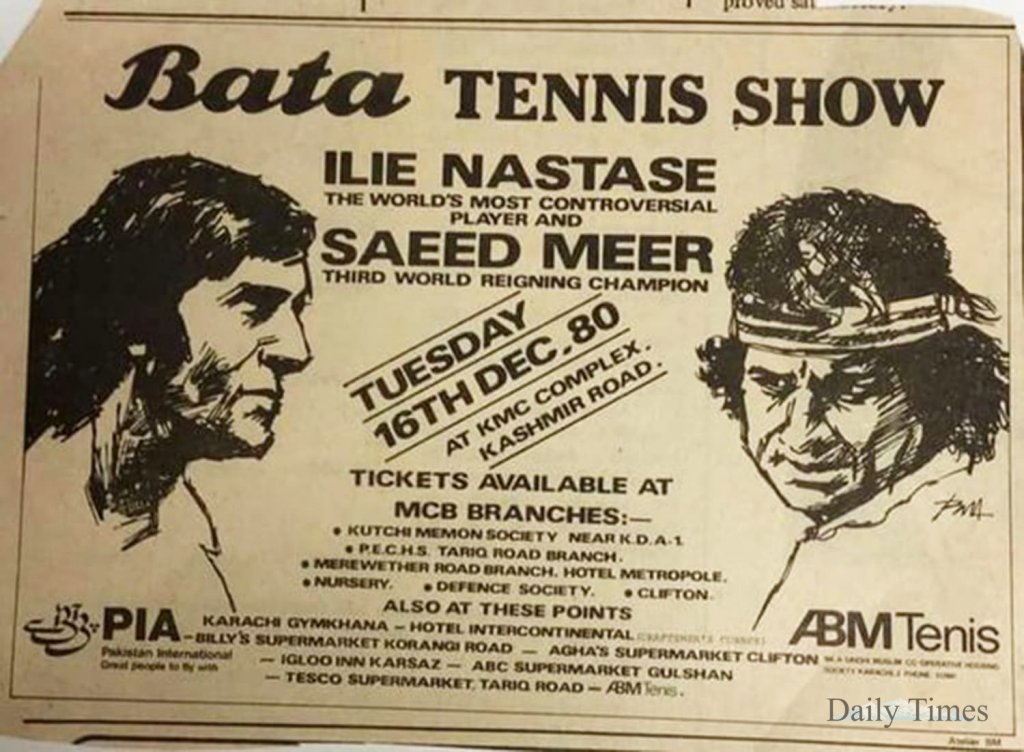 34. Saudi Arabian Airlines
A 1981 Saudia Airlines ad for its flights to Karachi.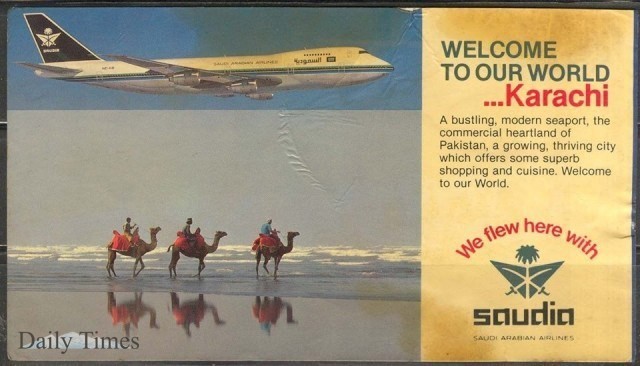 35. Roohafza
A 1983 magazine ad of Pakistan's famous fruit syrup, Rooh Afza.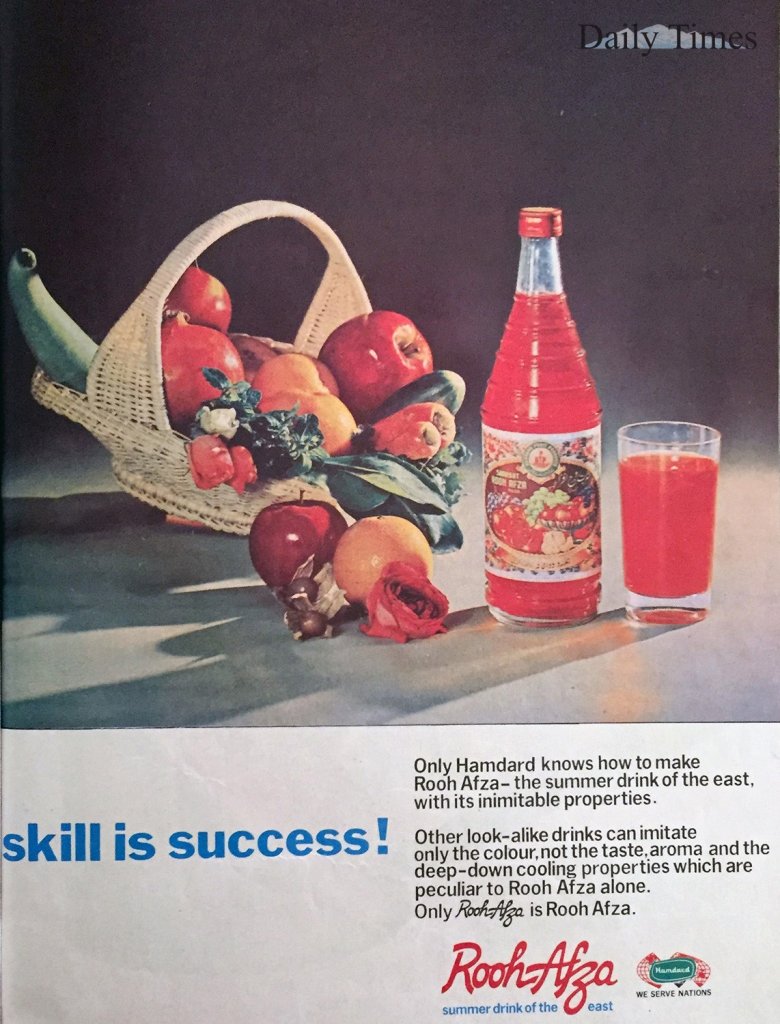 36. Jihad (Propaganda Ad)
A 1981 propaganda ad in an Urdu magazine. By the mid-1980s, Pakistan was fully facilitating US and Saudi backed Afghan insurgents against the Soviet forces in Afghanistan.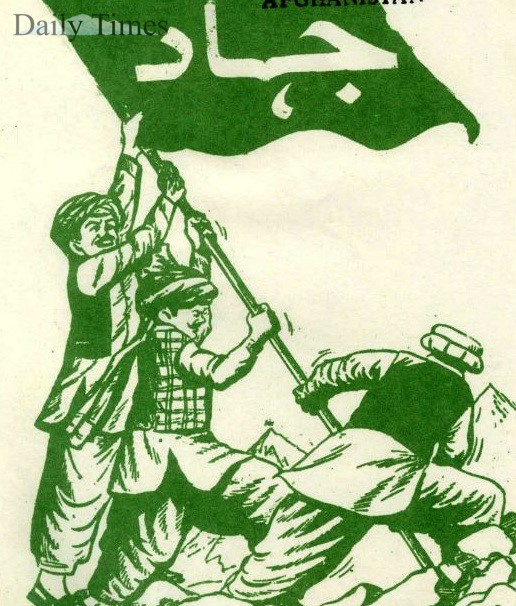 37. World Cup Hockey Champions 1982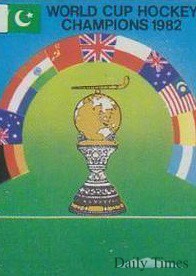 A magazine ad celebrating Pakistan's win in the final of the 1982 Hockey World Cup. This was Pakistan's 3rd hockey world cup title.
38. Bata
A 1987 Bata 'ladies shoes' magazine ad.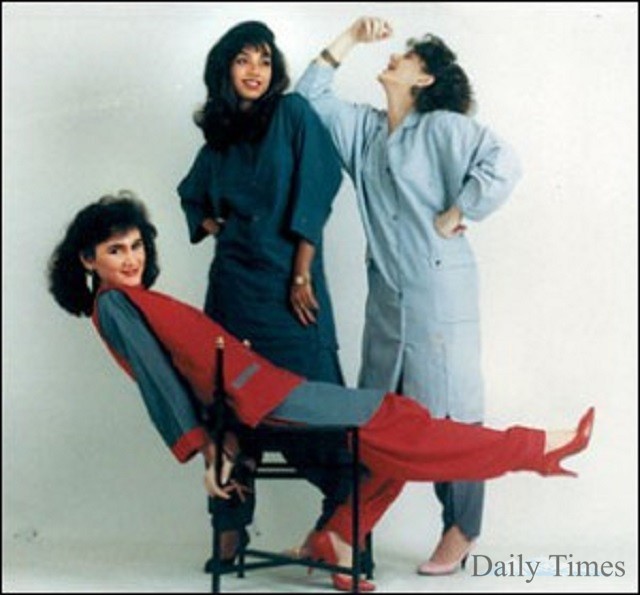 39. Power
A 1988 Power Shoes print ad featuring the then Pakistan star cricketer and captain, Imran Khan.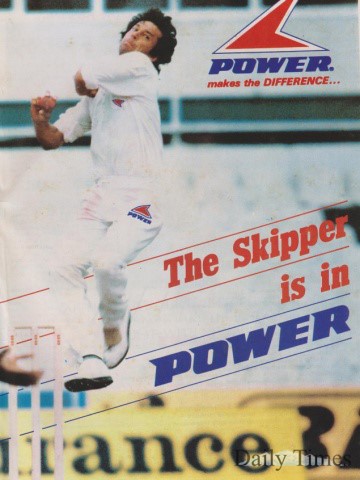 40. Sport Soap
A late 1980s soap ad featuring Pakistani opening batsman, Ramiz Raja. Were you able to recognize him?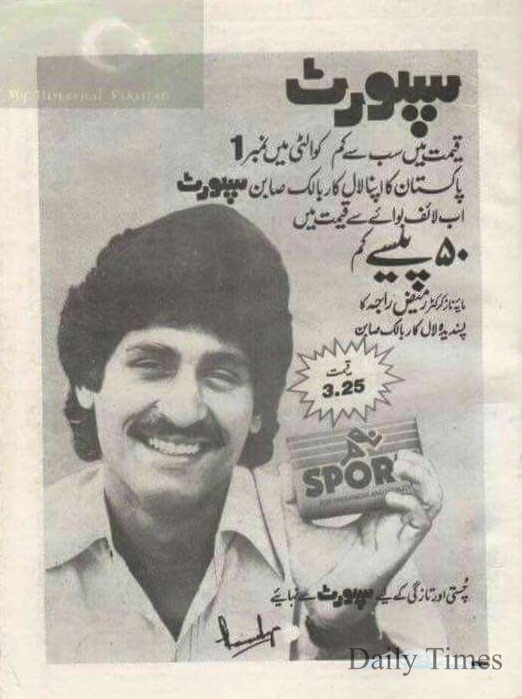 41. Pakistan International Airlines (PIA)
A 1990 magazine ad of PIA featuring the then Squash World No: 1, Jahangir Khan.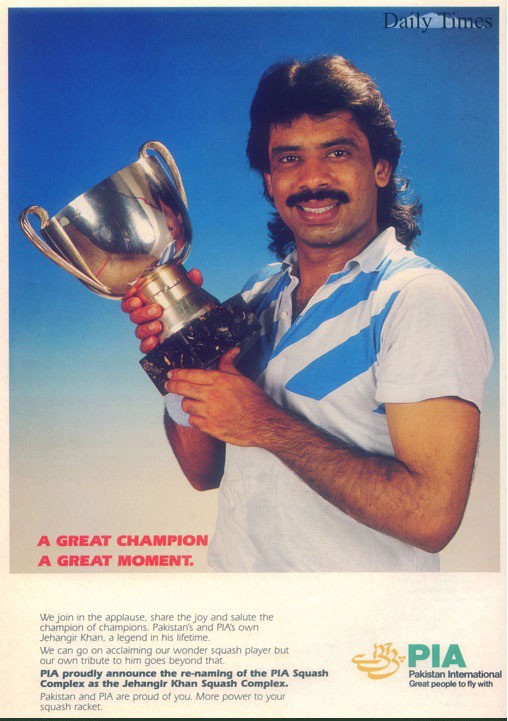 42. Hockey World Cup 1990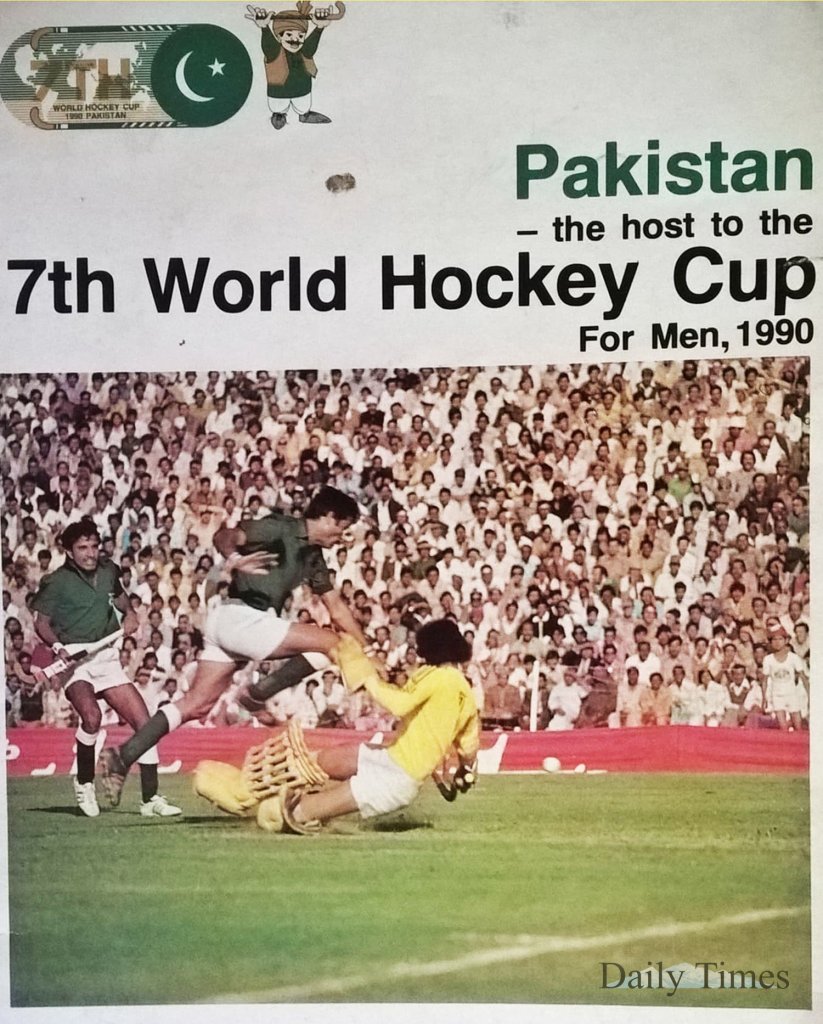 Magazine ad for the 1990 Hockey World Cup which was held in Lahore.
43. Pepsi
A 1994 Pepsi magazine ad featuring the time's leading Pakistani pop band, the Vital Signs.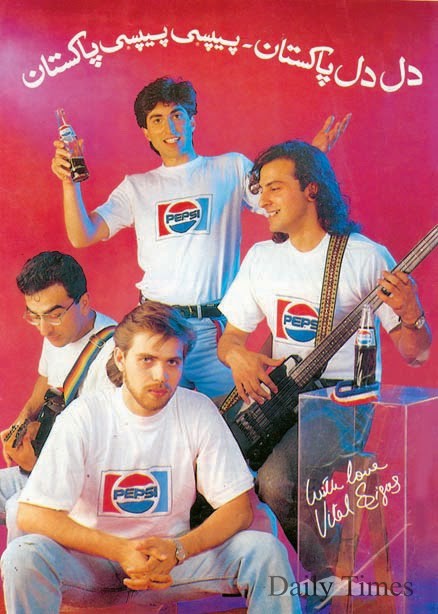 44. Roohafza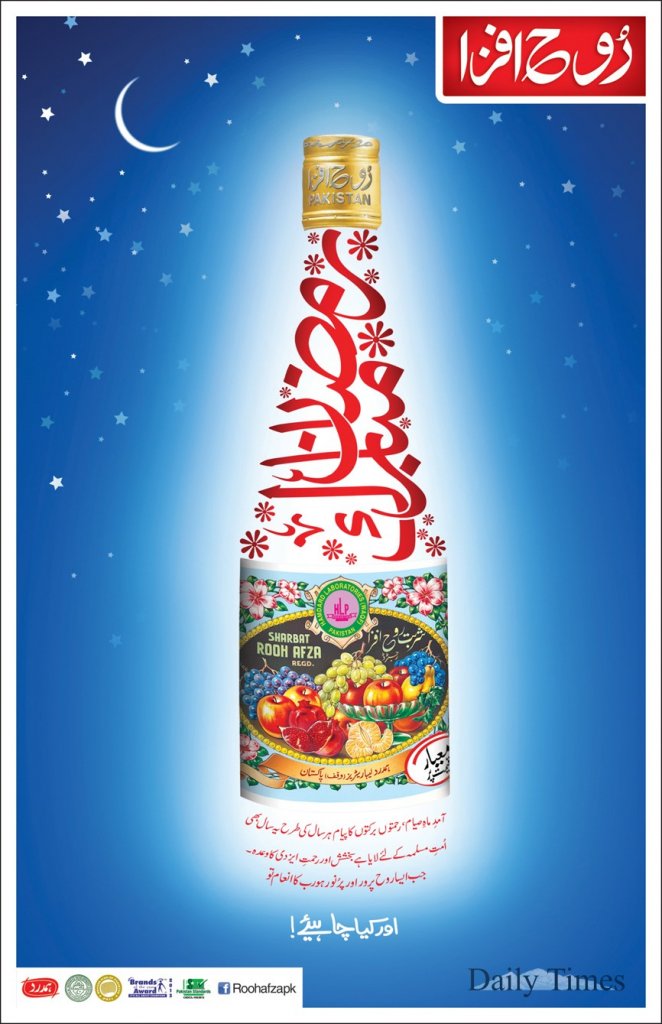 45. Press Ad
A press ad glorifying Gen Parvez Musharraf who toppled the Nawaz Sharif government in 1999. Musharraf became President till he was forced to resign after his 'king's party', the PML-Q was routed by the PPP and PML-N in the 2008 election.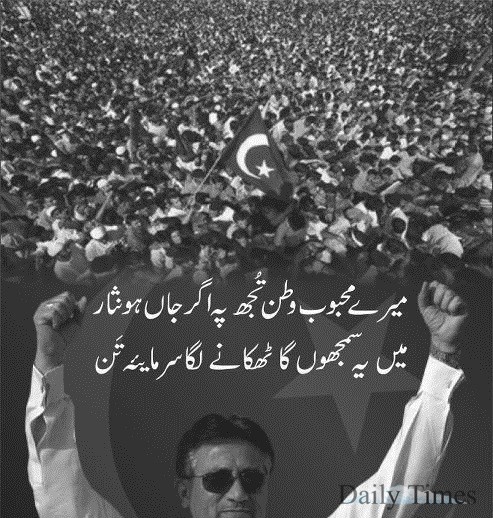 46. Bank of Punjab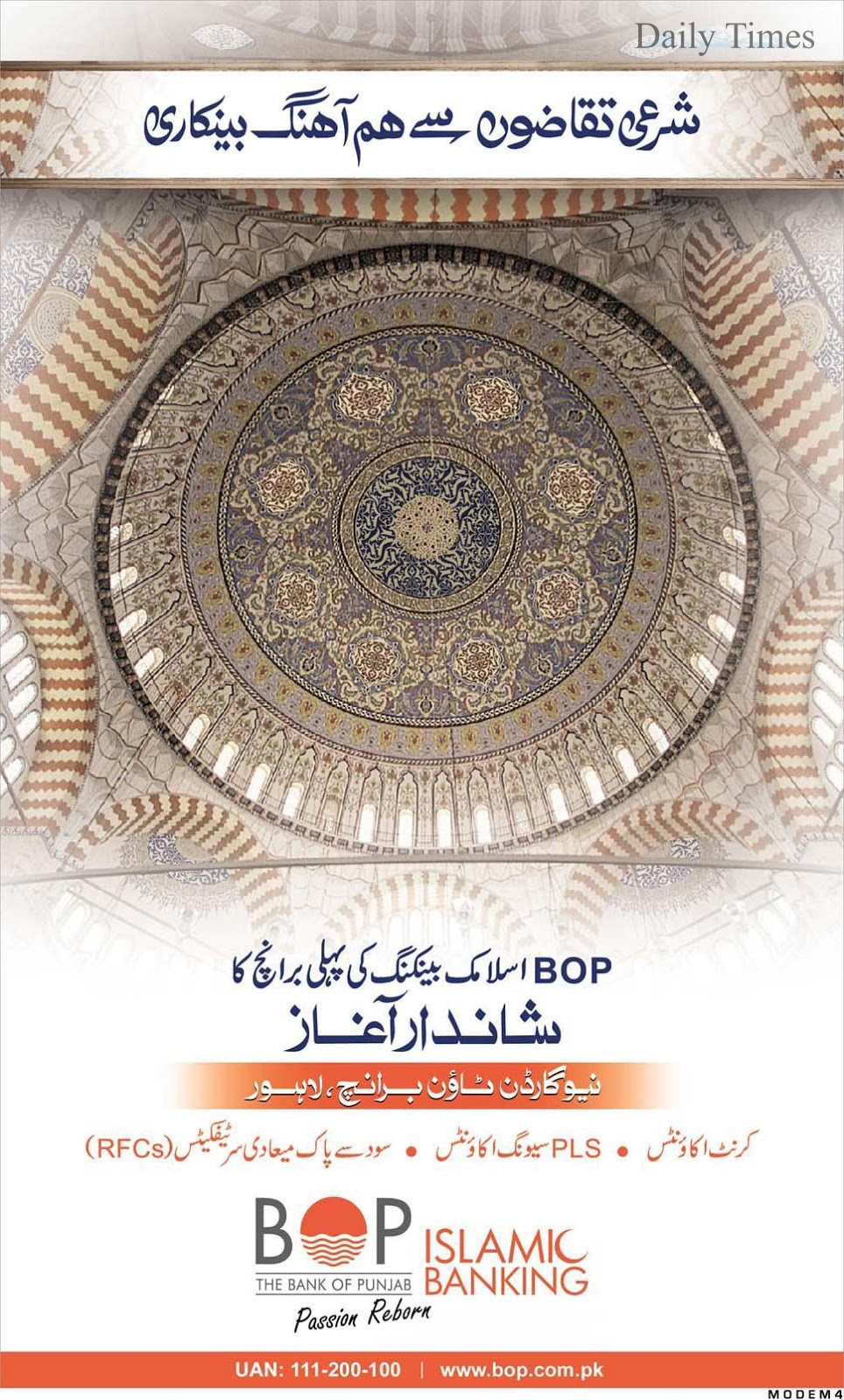 'Islamic Banking' was aggressively marketed in Pakistan in the early and mid-2000s.
Have anything to add to the post? Let us know in the comments below.
---
Contributed by: Sakina Haider