Model Sana Sarfaraz has done phenomenal work and proven her talent to the public. She also did some acting jobs; people may remember her as the youngest sister of Kasha from Zindagi Gulzar Hai. Later, she got married and has been in and out of the news. Well, she returned to being trending once again for a piece of somewhat conflicting news. It was concerning Huda Beauty.
Hudas Kattan's Husa Beauty
Huda Beauty by Huda Kattan, the Iraqi-American makeup artist, has achieved global success in the cosmetic industry. The net worth in 2019 for the artist was at $610 million. This is enough to tell that Huda Kattan does not need any verifications from anybody. But that did not stop Sana Sarfaraz from commenting on her.
On the recent photo by Huda Kattan, the caption read, 'nofilter' and 'realskin'. It also said, 'Hoping this year will see more brands and people getting around real, natural skin because REAL skin is beautiful skin, my loves – pores and all!'
It did not sit well with the model. She took it to her Instagram stories to comment on the photo.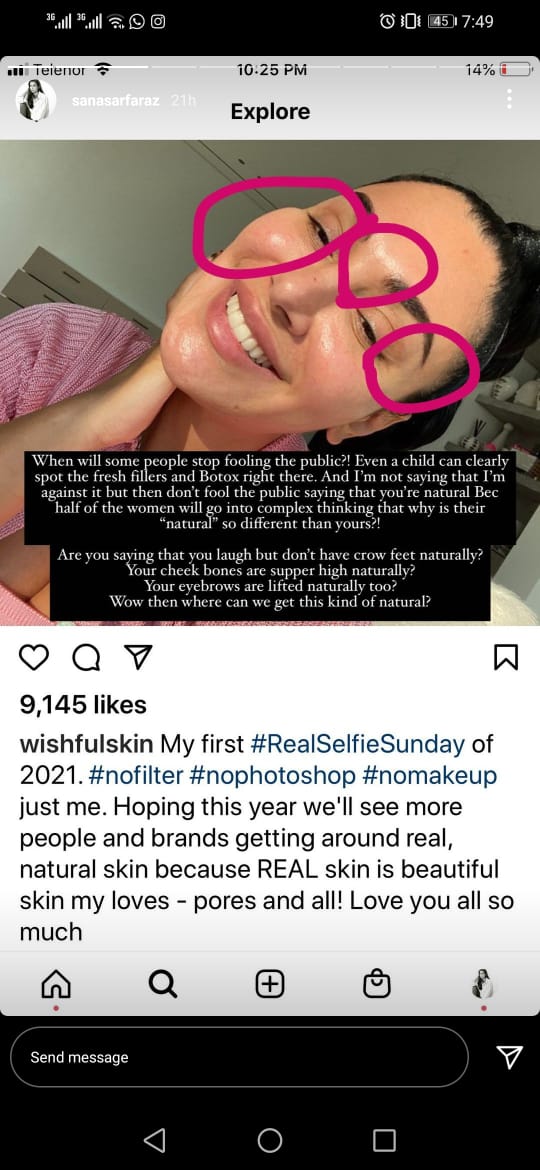 Sana Sarfaraz On Huda Beauty
Agitated, she commented in her stories:
"When will some people stop fooling the public?! Even a child can clearly spot the fresh fillers and Botox there. And I'm not saying that I'm against it, but then don't fool the public by saying that you are natural because half of the women will go into complex thinking that why is their "natural" so different than yours?!"
She also added:
"Are you saying that you laugh, but you don't have crow feet naturally? Your cheekbones are super high naturally? Your eyebrows are lifted naturally, too? Wow, then where can we get this kind of natural?"
Stay tuned to Brandsynario for the latest news and updates!