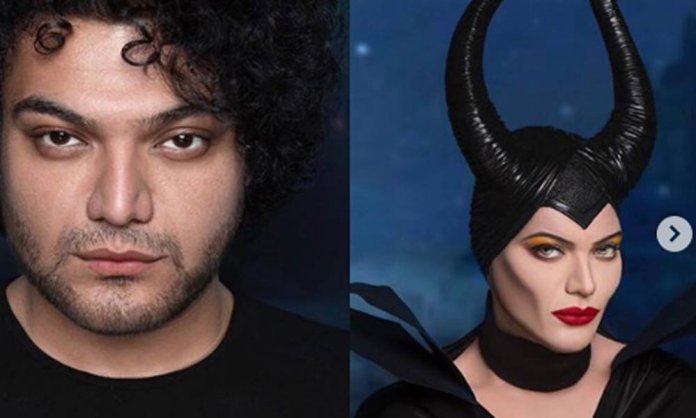 1,014 views
Makeup is an art that not many have mastered or perfected yet! However, Pakistani makeup artist and stylist Shoaib Khan proves he's got the skill and expertise.
He transforms himself into Angeline Jolie's iconic fairytale character, Maleficent and leaves everyone speechless.
"I've been wanting to do this look for so long, and finally, here it is! Inspired by the queen Angelina Jolie in Maleficent. Those striking features and bold red lips! I will never get over her," he wrote on Instagram.
The attention to detail is certainly praiseworthy. Have a look:
Dressed as Maleficent, the makeup artist added a pop of yellow to his brow bone, which is his extension to the overall look. He can also be seen flaunting red nails that match the lips.
The contour skills are totally on point, however, this isn't the first time he's shared a transformation picture.
"Makeup is a wonderful thing, but it can do a lot more than you expect! I thought it would be so cool to show you all the power of makeup," he earlier shared.
"Makeup has this reputation for being a tool we use to cover up our flaws but for me, Makeup represents art, creativity, talent & most importantly our true selves," read another post of his.
Another Pakistani artist based in the United Arab Emirates (UAE) has been influenced by the critically acclaimed Hollywood film Joker.

Mohammad Babar, who currently works for a telecommunication company, has drawn attention on social media due to his spooky Joker transformation. "I have started feeling like a celebrity," he said passionately.
What are your thoughts about the transformations? Comment and let us know.
Stay tuned to Brandsynario for more news and updates.