Rishta culture is the single most toxic culture that exists in our society or better yet in all of South Asia. It has ruined mental healths, driven people to develop low self-esteem and is tough on so many young hearts and minds. Here's how people are exposing it and writing against it.
The Thread on Twitter
This girl's tweet spiralled into a thread on Twitter. She ranted about the rishta culture on Twitter in which she found out what a woman had said to a young girl. The rishta aunty commented on the girl's hair with such a small-minded comment that it has left many baffled. Here's what was said:
My hate for rishta culture increased tenfold today after I learnt that one of the rishta ladies asked a girl, "Baal khud chotay rakhay hein ya barhtay nahi hein?"

How could someone be so small minded?

— m (@meemelif) June 6, 2021
People's Responses
Netizens on Twitter were shocked and surprised at this comment. People are now having enough of these mindless comments, irrelevant hate and whatnot in the rishta culture. This barrage of comments on possible replies and feelings is showing us just how angry millennials are:
WTF 🤦‍♂️🤦‍♂️

— Muhammad Taha Alam Khan (@Bihari_Baabu) June 6, 2021
Aisi aunties ko jawab b yae dyna chaehy k "apko kia takleef hai"

— Sheeza Fatima (@Sheeza_f) June 6, 2021
Tauba sick people

— isra. (@hawyysachiiii) June 6, 2021
Who Is At Fault?
Many people shared how it was not the rishta aunty at fault here, the girl's parents. Rishta aunties are notorious for this kind of behaviour and thinking. Haven't we learnt enough from Indian Matchmaking?
People have questions for the parents. Why would they let their daughter be treated this way by a stranger who espouses this mindset? Why would they invite such a person to their home? The reality, however, is not that ideal. 
I'm sorry. It's not the rishtay waali auntie. It's the people who invited that rishtay waali auntie. Even if it was that girl's parent.

— چوتیم سلفیٹ (@chotiumsulphate) June 6, 2021
Our culture has taught us collectively that it is the most shameful thing for parents if their daughters are not married. It has taught women that being scrutinised this way and commented on like this is normal. It is for their own benefit.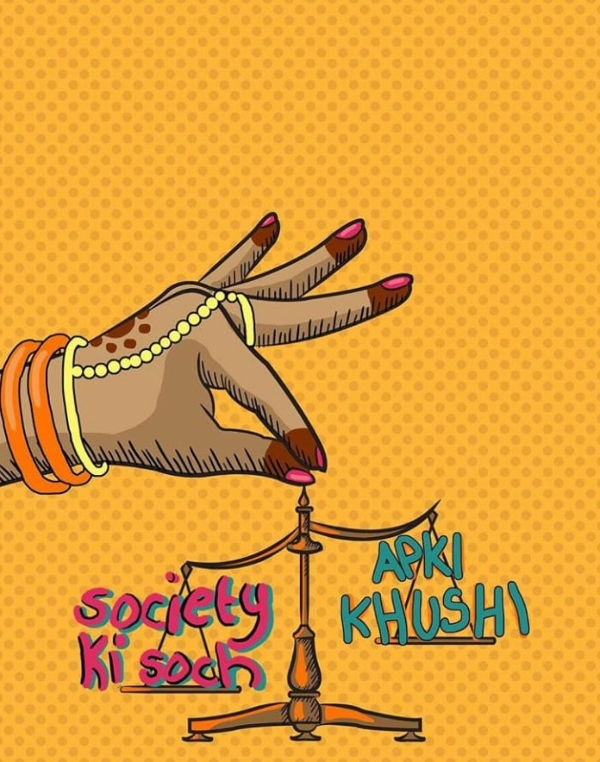 Other Experiences
Many others also felt confident enough to share their experiences. Here are all the horrifying things/words they have been subjected to. Whether it is ridiculous or hilarious, we can not tell. All we know is that women deserve better.
LMAO WTF?! I EVEN KNOW AN INCIDENT WHERE THIS AUNTIE SAID TO MY COUSIN, "HEEL WALAY JOOTAY PEHNA KARO, CHOTI LAGTI HO AISY" LMAO. I hate this culture.

— a. 🇵🇸 (@wdymnoor) June 7, 2021
My once told me "pehlay zamanay mai to larki ko chala kar bhe dekhtay thay"

Mtlb rishta lainay aye ho ya bakra -_-

— Syed Waqar Ameen (@AmeenWaqar) June 7, 2021
One rishta lady who came for my sister asked me if my sister is as gori as me? She also added that nowadays all mothers are gori but unfortunately daughters are not.

— maryam shah (@maryshah4) June 7, 2021
The Brewing Change
However, if this thread has taught us anything, it is that change is brewing. Millennials are now coming together to put an end to this culture and this toxicity. Netizens and young minds alike are realising that people do not need to change. Especially women do not have to change, the culture has to.
Be outspoken. Moun pe jawaab maaro. Nobody will take like this then.

— Jangi Tiyara (@ceilingfan32) June 7, 2021
My hate has been increasing daily too sis. The questions I've heard people ask me directly and around me is so condescending. You and every girl keep your head up because its this culture that needs to change not us.

— Twin2 (@Twineazy2) June 7, 2021
 This system has ruined lives for far too long to continue now. Be the change you wish to see in the world.
Stay tuned to Brandsynario for the latest news and updates.