Trying to step out of the house as a Pakistani girl and NOT catching any side eyes or stares is almost impossible. Some girls would silently try to ignore it, while others would be brave enough to raise a voice. Today's story is of the latter.
The Sneaky Eyes Of Pakistani Men
An incident happened when a girl in Islamabad, driving her car, caught an adult male staring at her from the side mirror of his car. The girl managed to click some pictures of the man as well as the car. Later, she addressed the situation on social media of how he kept winking at her through the mirror. This kind of behavior, she felt doesn't really suit a person who has a beard and is aged somewhere around fifty.
Well, it doesn't suit anyone but we get what she means.
Have a look at the post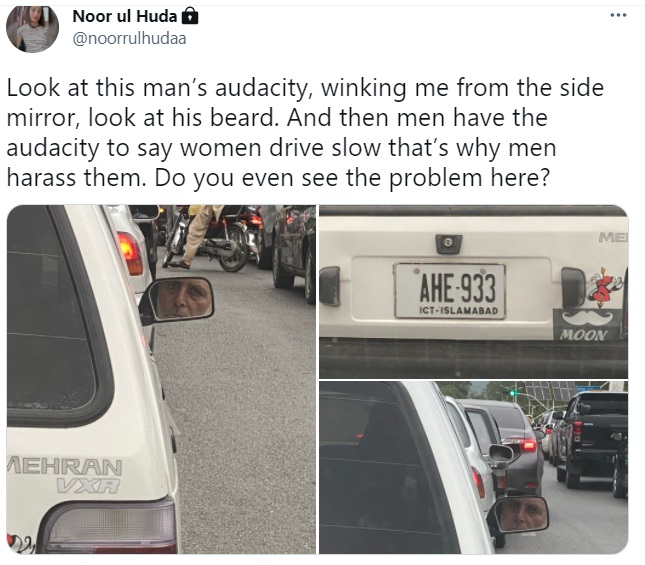 The replies to the tweet were just impossible 
May be he had/has a daughter like you…he is looking at you and thinking about her. It can be anything.
Or he is looking at the youth that you have and he doesn't.

— بلال (@diezel_engine) July 12, 2021
The post was not surprising since we are immune to seeing such cases every now and then. What was more surprising was the people defending his actions in the comments below.
The comments turned into a debate where both parties tried to justify their point. According to some, it's easy to blame the victim, meanwhile, others tried to explain that 'men will be men'.
Ofc you would blame the victim and not say a word to your own kind. You're all the same.

Chutya.

— teems. (@Chaudharyysaab) July 12, 2021
Not blaming but it is a very very small act even if its true. It could be avoided. 😀👍

— بلال (@diezel_engine) July 13, 2021
What Pakistani Women Want 
Ask women around what they want from society, and most of them are going to give you an answer like this:
"I want to be able to step out of the house comfortably."
"I hope no one stares at me or gives me looks whenever I'm waiting for/inside my car."
Stepping out of the house and not getting some side-eyes is unimaginable. Women, especially Pakistani girls, are now programmed to ignore such glances and have developed thick skin. Because what other choice do they have? However, women do secretly wish that this society could've been better for them in many ways.
Stay tuned to Brandsynario for the latest news and updates.