Gone are the days when the mindset of 'a girl's rightful place is in the kitchen' existed.
Nowadays, women have shown that they are as equally qualified for anything as their opposite gender is.
Be it as a chef, police, or even a CEO, women worldwide have come a long way. But, this marvelous achievement is not only the female gender's as males have also contributed to the roles of fathers, brothers, and teachers.
One such amazing father is Karachi's Naseeb Jamal, who owns an electrical shop in Qasba Colony. Jamal is a proud father of 8 daughters. In a country where the concept of female electricians doesn't exist, Jamal has taught his daughters a useful trait.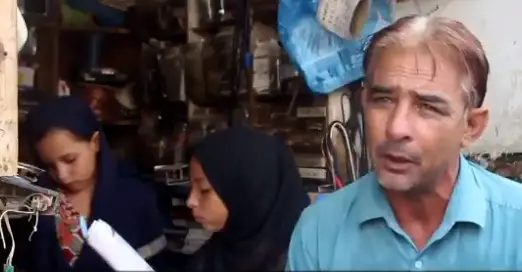 According to him, it doesn't matter what the gender of your children may be, as long as you teach them the skills needed to help survive in this world. The father, in the viral video clip, also appealed to parents to trust their girls and support them.
He said that women play a vital role in society, and parents should give them proper education and useful skills.
It has been almost 16 years that my daughters have been working with me. I have eight daughters and a son. Four of my daughters are married, while two stay at home and the other two come to work with me. – Naseeb Jamal
In the video clip, the father also shares his journey, adding that not everyone was rooting for him. He shares that many people advised him not to teach his daughters such skills and keep them at home, but that did not stop him.
Even his very own mother was against his motives!
People would gossip, calling me a rebel. Even my mother used to question my decision. She would say that what I was doing was not in line with our traditions. Also that it does not seem good for girls to sit at the shop, said Jamal.
Listening from one year and taking the criticism out the other, today, Jamal has trained 6 of his girls in these skills!
This is the way to strengthen women. They should not just be educated, but skilled as well. If they are skilled, they would bring more pride to their parents than any son.
As time passed, his relatives and the neighbors have learned how to respect his decision to involve his daughters in this profession. Jamal wishes to establish a training center where he can impart his skills to girls for free. While adding that he was determined to get his daughters educated, he said, "It is another dream they study engineering."
Although with his very little earning, he is not able to do much, he says that the respect he deserves is enough for him to live his life with his head held high.
نصیب جمال کی آٹھ میں سے چھ بیٹیاں الیکڑیشن ہیں۔ ان کا کہنا ہے کہ 'لڑکی کو اپنی کمزوری نہیں طاقت بنائیں۔' مزید دیکھیے توصیف رضی ملک کی اس ڈیجیٹل ویڈیو میں#Daughters #electrician #Karachi pic.twitter.com/x1E7VCqcEX

— Urdu News (@UrduNewsCom) September 22, 2020
Kudos to men like Jamal for empowering the women of tomorrow!
Stay tuned to Brandsynario for more news and updates.